Moderation of Islamic Education in Higher Education
A. Jauhar Fuad

Institut Agama Islam Tribakti Kediri

Asep Saiful Mila

Institut Agama Islam Tribakti Kediri
Keywords:
Moderation, Islamic Religious Education, Higher Education, Religious Moderation House
Abstract
This paper explores the moderation of Islamic Religious Education in higher education. This paper is the result of library research by collecting several research journals related to the theme of writing. Higher education as an educational institution that creates the nation's next generation plays an important role in growing the concept of religious moderation. Higher education is a representation in instilling a tolerant attitude of students towards differences in beliefs in Indonesia. Reflecting on the issue of sara that disturbs the sensitivity of certain communities, it opens up conflicts that continue to occur now and in the future. The conflict must be closed immediately in order to prevent divisions in the life of the nation and state. Disputes, strife, and bloodshed. Moderate Islam can solve all problems related to intolerance and understanding that can disrupt the stability of the country such as radicalism, extremism, as well as other forms of discrimination. In this context, to strengthen the ideology and character of the nation's generation, universities must effectively instill and strengthen an understanding of religious moderation. For example, carrying out the function of moderating religious houses, providing moderate Islamic learning and realizing inter-religious harmony.
Downloads
Download data is not yet available.
References
Al Faruq, Umar, dan Dwi Noviani. "Pendidikan moderasi beragama sebagai perisai radikalisme di lembaga pendidikan." Jurnal TAUJIH: Jurnal Pendidikan Islam 14, no. 1 (Januari 2021): 59–77.
Al-Madani, Khalid. "Integrasi Interkoneksi Pendidikan Multikultural Berbasis Moderasi Islam Melalui Kurikulum Keagamaan Pendidikan Tinggi." TRILOGI: Jurnal Ilmu Teknologi, Kesehatan, Dan Humaniora 1, no. 2 (20 Desember 2020): 46–55. https://doi.org/10.33650/trilogi.v1i2.2860.
Anwar, Rosyida Nurul, dan Siti Muhayati. "Upaya Membangun Sikap Moderasi Beragama Melalui Pendidikan Agama Islam Pada Mahasiswa Perguruan Tinggi Umum." Al-Tadzkiyyah: Jurnal Pendidikan Islam 12, no. 1 (11 Juli 2021): 1–15. https://doi.org/10.24042/atjpi.v12i1.7717.
Aziz, Abdul, dan Najmudin Najmudin. "Moderasi Beragama Dalam Bahan Ajar Mata Kuliah Pendidikan Agama Islam (Pai) Di Perguruan Tinggi Umum Swasta (Studi Di STIE Putra Perdana Indonesia Tangerang)." Jurnal Pendidikan Karakter JAWARA (Jujur, Adil, Wibawa, Amanah, Religius, Akuntabel) 6, no. 2 (1 Desember 2020). https://jurnal.untirta.ac.id/index.php/JAWARA/article/view/9778.
Chadidjah, Sitti, Agus Kusnayat, Uus Ruswandi, dan Bambang Syamsul Arifin. "Implementasi Nilai-Nilai Moderasi Beragama Dalam Pembelajaran PAI: Tinjauan Analisis Pada Pendidikan Dasar Menengah dan Tinggi." Al-Hasanah : Islamic Religious Education Journal 6, no. 1 (26 Juni 2021): 114–24. https://doi.org/10.51729/6120.
Ekawati, Ekawati, Mundzier Suparta, dan Khaeron Sirin. "Moderasi Kurikulum Perguruan Tinggi Islam Dalam Deradikalisasi Agama Di Indonesia." Istiqro 16, no. 01 (2018): 139–78.
Fuad, A. Jauhar. "Akar Sejarah Moderasi Islam Pada Nahdlatul Ulama." Tribakti: Jurnal Pemikiran Keislaman 31, no. 1 (13 Januari 2020): 153–68. https://doi.org/10.33367/tribakti.v31i1.991.
Fuad, A. Jauhar, dan Zaenal Arifin. "The Religious Moderation of Nahdlatul Ulama's Higher Education." Dalam 1st Virtual Workshop on Writing Scientific Article for International Publication Indexed SCOPUS, disunting oleh Avid Leonardo Sari, Irwandi, dan Robbi Rahim, 357–62. Sciendo, 2022. https://doi.org/10.2478/9788366675827-064.
Fuad, A. Jauhar, dan Suko Susilo. "Mainstreaming Of Islamic Moderation In Higher Education: The Radical Experience Conter." Dalam Proceedings of Annual Conference for Muslim Scholars, 3:467–83. Surabaya: Kopertais IV, 2019. http://proceedings.kopertais4.or.id/index.php/ancoms/article/view/261.
Hefni, Wildani. "Moderasi Beragama Dalam Ruang Digital: Studi Pengarusutamaan Moderasi Beragama Di Perguruan Tinggi Keagamaan Islam Negeri." Jurnal Bimas Islam 13, no. 1 (21 Juli 2020): 1–22. https://doi.org/10.37302/jbi.v13i1.182.
Mahyuddin. "Peran Strategis IAIN Ambon dan IAKN Ambon Dalam Merawat Toleransi Sosial dan Moderasi Beragama di Ambon Maluku." KURIOSITAS: Media Komunikasi Sosial dan Keagamaan 13, no. 1 (27 Agustus 2020): 103–24. https://doi.org/10.35905/kur.v13i1.1410.
Marfu'ah, Usfiyatul, Mubasyarah, Dian Adi Perdana, dan Afidatul Asmar. "Institusionalisasi Nilai Toleransi Di Perguruan Tinggi; Refleksi Atas Rumah Moderasi." PROSIDING MUKTAMAR PEMIKIRAN DOSEN PMII 1, no. 1 (27 Juli 2021): 249–58.
Murtadlo, Muhamad. Pendidikan Moderasi Beragama: Membangun Harmoni, Memajukan Negeri. Jakarta: LIPI Perss, 2021. https://doi.org/10.31219/osf.io/3mr5s.
———. "Reproduksi Paham Keagamaan Dan Respon Terhadap Tuduhan Radikal (Studi Kasus Pesantren Ngruki Pasca Bom Bali 2002)." Harmoni 16, no. 1 (30 Juni 2017): 75–93. https://doi.org/10.32488/harmoni.v16i1.62.
Musyafak, Najahan, Imam Munawar, Noor Lailatul Khasanah, dan Fitri Ariana Putri. "Dissimilarity Implementasi Konsep Moderasi Beragama Di Perguruan Tinggi Keagamaan Islam." Prosiding Muktamar Pemikiran Dosen Pmii 1, no. 1 (27 Juli 2021): 453–64.
Purwanto, Sigit. "Pendidikan Nilai Dalam Pagelaran Wayang Kulit." Ta'allum: Jurnal Pendidikan Islam 6, no. 1 (6 Maret 2018): 1–30. https://doi.org/10.21274/taalum.2018.6.1.1-30.
Salamah, Nur, Muhammad Arief Nugroho, dan Puspo Nugroho. "Upaya Menyemai Moderasi Beragama Mahasiswa IAIN Kudus Melalui Paradigma Ilmu Islam Terapan." QUALITY 8, no. 2 (2 November 2020): 269–90. https://doi.org/10.21043/quality.v8i2.7517.
Sodikin, Ahmad, dan Muhammad Anas Ma`arif. "Penerapan Nilai Islam Moderat Dalam Pembelajaran Pendidikan Agama Islam di Perguruan Tinggi." EDUKASI: Jurnal Penelitian Pendidikan Agama dan Keagamaan 19, no. 2 (27 Agustus 2021): 188–203. https://doi.org/10.32729/edukasi.v19i2.702.
Sumarto, Sumarto. "Rumah Moderasi Beragama IAIN Curup dalam Program Wawasan Kebangsaan, Toleransi dan Anti Kekerasan." Jurnal Literasiologi 5, no. 2 (23 April 2021). https://doi.org/10.47783/literasiologi.v5i2.221.
Triputra, Dedi Romli, dan Budi Adjar Pranoto. "Persepsi Mahasiswa Terhadap Implementasi Pembelajaran Pai Berbasis Moderasi Islam Dalam Menangkal Sikap Intoleran Dan Faham Radikal." Annizom 5, no. 3 (28 Desember 2020). https://doi.org/10.29300/nz.v5i3.3868.
Waseso, Hendri Purbo, dan Anggitiyas Sekarinasih. "Moderasi Beragama Sebagai Hidden Curiculum Di Perguruan Tinggi." EDUCANDUM 7, no. 1 (20 Agustus 2021): 91–103.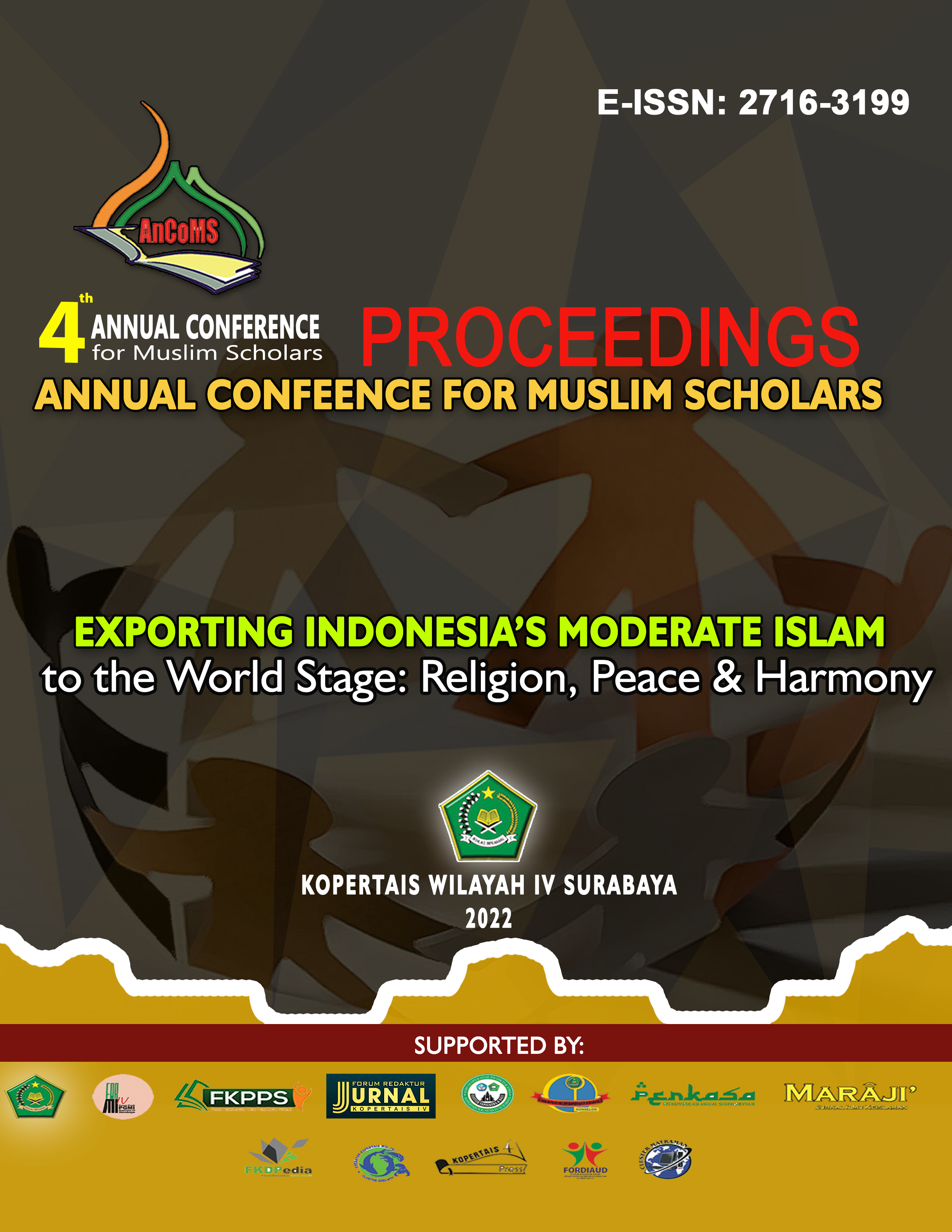 How to Cite
Fuad, A., & Mila, A. (2022). Moderation of Islamic Education in Higher Education. Proceedings of Annual Conference for Muslim Scholars, 6(1), 908-922. https://doi.org/10.36835/ancoms.v6i1.447
Copyright (c) 2022 A. Jauhar Fuad
This work is licensed under a Creative Commons Attribution-ShareAlike 4.0 International License.