Peran Kiai Langgar dalam Merawat Ajaran Islam Wasatiyah di Madura
Samsul AR

Sekolah Tinggi Ilmu Bahasa Arab (STIBA DUBA) Darul Ulum Banyuanyar Pamekasan

Moh. Supriyadi

Sekolah Tinggi Ilmu Bahasa Arab (STIBA DUBA) Darul Ulum Banyuanyar Pamekasan
Keywords:
Islam Wasatiyah, Kiai langgar, and Role.
Abstract
The Indonesian plurality needs to be preserved and maintained in order to continue the unity of Indonesia. One of the Islamic teachings that taught plurality is the understanding of islam wasatiyah. This understanding needs to be taught to the generations of nations so that the generations of nations become the generations that can be spread out of Islamic teachings. One of the most important things to teach islam wasatiyah is a kiyai langgar. The presence of kiai langgar (priest) in the middle of the rural community is very necessary because the kiai become an example and role model for the societies. Kiai langgar becomes a magnet for society because his word becomes an argument for the element of society. Even, from long time ago up to this time, kiai langgar is being an educational subject, a local wisdom consevionest, and an Indonesian consevionest unity values. Although His existence has not recognized by everyone, but he has been consistently continued contributing to the Indonesian people.  And also his existence became an oasis in the lives of the Indonesian people. The presence of a kiai Langgar becomes a blessing for the villager. the presence of kiai langgar becomes a solver of society's problems in daily life. He becomes a place where people can complain of grief and all the problems of conditionality, and become an avenger if there is a dispute between society and others. This main role becomes kiai langgar is an important man to teach Islamic religion from the village. This research studies the role of kiai langgar in treating Islamic wasatiyah teachings on Madura Island. This study uses qualitative methods with discrete analysis approaches.
Downloads
Download data is not yet available.
References
Agama, K. (2019). Moderasi Beragama. Jakarta: Badan Litbang dan Diklat Kementerian Agama RI Gedung Kementerian Agama RI.
Al-Quthubi, M. b.-A. (tt). Al-Jami' Li Ahkam Al-Quran (Tafsir AlQurthubi). Kairo: Kairo: Maktabah Al-Iman.
Arif, K. M. (2020). Moderasi Islam (Wasathiyah Islam) Perspektif Al-Qur'an, As-Sunnah Serta Pandangan Para Ulama dan Fuqaha. Al-Risalah: Jurnal Studi Agama dan Pemikiran Islam 11.1, 22-42. doi:https://doi.org/10.34005/alrisalah.v11i1.592
Dirdjosanjoto, P. (2013). Memelihara Umat; Kiai Pesantren-Kiai Langgar di Jawa. Yogyakarta: Cet. II Lkis Pelangi Aksara.
indonesia.go.id. (2022, 03 22). indonesia.go.id. Diambil kembali dari indonesia.go.id: https://www.indonesia.go.id/profil/agama
Maulana, M. F. (2022, 02 20). https://www.nu.or.id/opini/upaya-memahami-islam-nusantara. Diambil kembali dari https://www.nu.or.id/opini/upaya-memahami-islam-nusantara: https://www.nu.or.id/opini/upaya-memahami-islam-nusantara-KDkzv
MUI. (2022, 02 20). mui-10-prinsip-islam-wasathiyah-modal-penting-lawan-terorisme-dan-ekstremisme. Diambil kembali dari https://nasional.sindonews.com: https://nasional.sindonews.com mui-10-prinsip-islam-wasathiyah-modal-penting-lawan-terorisme-dan-ekstremisme-1643220116/20.
Muttaqin, R. A. (2020). Kiai Langgar sebagai Episentrum Pendidikan Islam Masyarakat Desa Meninjo Ranuyoso Lumajang. Tarbiyatuna: Jurnal pendidikan Islam 13.1, 1-21. doi:https://doi.org/10.36835/tarbiyatuna.v13i1.606
Qutub, S. (TT). Tafsir Fi Zilal al-Qur"an, Juz IV. (Beirut:: Dar al-Ma"rifah.
Saihu, M. (2021). PEDIDIKAN MODERASI BERAGAMA: KAJIAN ISLAM WASATHIYAH MENURUT NURCHOLISH MADJID. Andragogi: Jurnal Pendidikan Islam Dan Manajemen Pendidikan Islam, 3.1, 16-34. doi:https://doi.org/10.36671/andragogi.v4i01.151
Samsul, A. R. (2020). Peran Guru Agama Dalam Menanamkan Moderasi Beragama. Al-Irfan: Journal of Arabic Literature and Islamic Studies 3.1, 3.1, 37-51. doi:https://doi.org/10.36835/al-irfan.v3i1.3715
Shihab, M. Q. (1996). Wawasan al-Qur"an: Tafsir Maudhu"I atas berbagai Persoalan Umat. Bandung: Mizan.
Sholichin, M. (2012). TIPOLOGI KIAI MADURA (Telaah Terhadap Silsilah dan Keberagamaan Prilaku Kiai-Kiai di Pamekasan. KARSA: Jurnal Sosial dan Budaya Keislaman, 41-53. doi:https://doi.org/10.19105/karsa.v11i1.147.
Thubany, S. H. (2012). Peranan Guru Ngaji Dan Penanaman Nilai-Nilai Fundamental Islam: Fenomena Habitus Dalam Mengembalikan Arah Pendidikan Islam Di Indonesia. Annual Conferen on Islamic Schoolar (Ancoms) (hal. 2531-2851). Surabaya: UINSA. Diambil kembali dari http://digilib.uinsby.ac.id/7520/
Wardi, M. (2016). Pilihan Belajar Al-Qur'an Di Madura; Konversi Dari Langgar Ke Taman Pendidikan Al-Qur'an. Kabilah: Journal of Social Community 1.1, 72-93. Dipetik 20 03, 2022, dari http://ejournal.kopertais4.or.id/madura/index.php/kabilah/article/view/1711.
Zakariyya, A. H. (1972). Mu"jam Maqayis al-Lughah, Juz III. Mesir: Mustafa AlBab al-Halabi.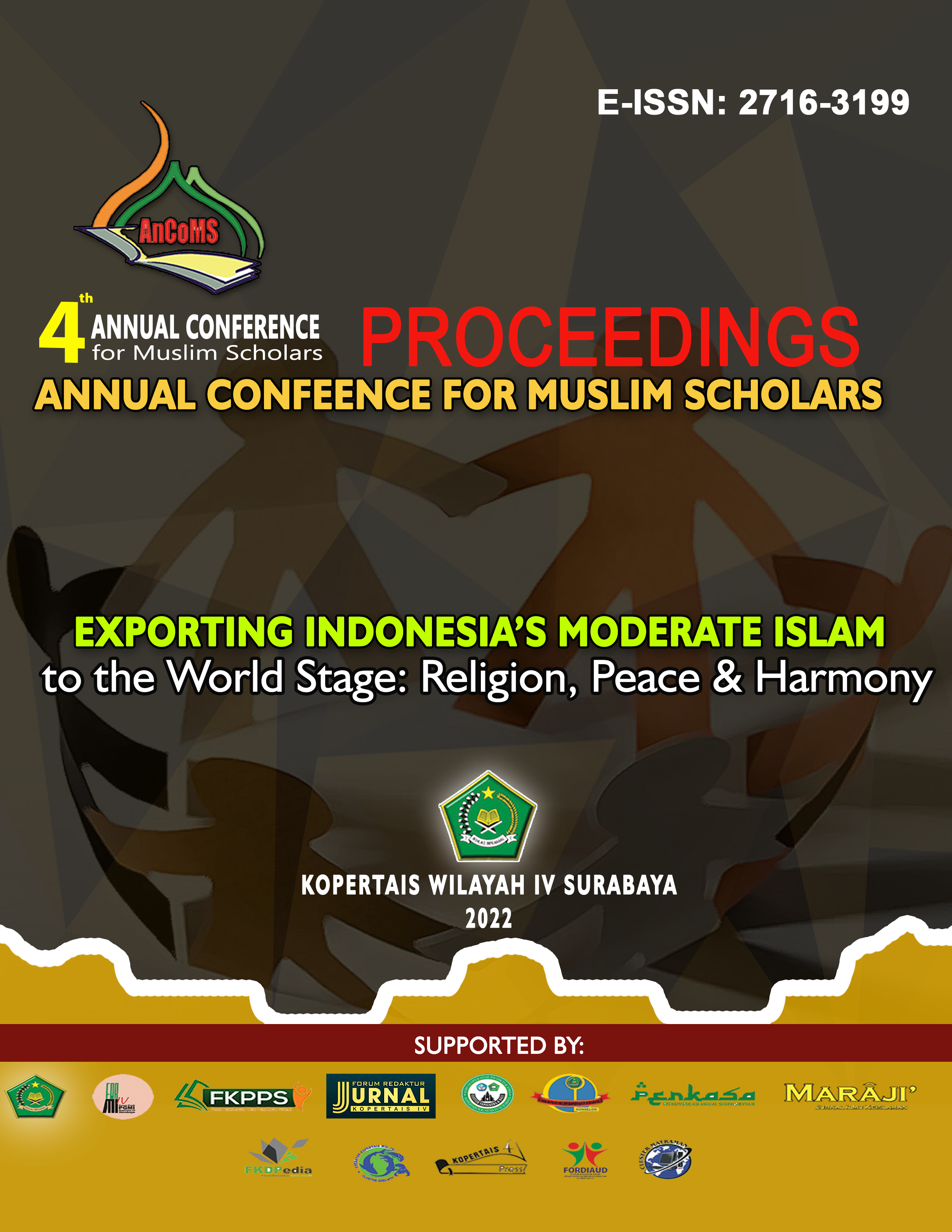 How to Cite
AR, S., & Supriyadi, M. (2022). Peran Kiai Langgar dalam Merawat Ajaran Islam Wasatiyah di Madura. Proceedings of Annual Conference for Muslim Scholars, 6(1), 679-690. https://doi.org/10.36835/ancoms.v6i1.359
Copyright (c) 2022 Samsul AR
This work is licensed under a Creative Commons Attribution-ShareAlike 4.0 International License.