Toleransi Berbasis Mashlahah
Menakar Urgensitas antara Kemaslahatan Agama dan Kemaslahatan Bangsa
Keywords:
Tolerance, Welfare of the Nation, Welfare of the Religion
Abstract
Religion and the nation is a unity can not be separate. Keeping religion means keeping the nation. And vice versa, keeping the nation is sure to keep religion. It can not be said that religion is more important than a nation, or vice versa. Both must be taken care of and cared for properly and wisely, in order to bring peace and harmony into difference. Tolerance is the main attitude in living a diverse life with differences, in order to gain common good. Welfare, security and mutual affection are the main goals. Therefore, if the benefit that is important only by individuals or groups, then should prioritize the benefit of all parties that are general. Thus, the nations welfare that includes all the differences should take precedence over the religions welfare that is personal and not the principle.
Downloads
Download data is not yet available.
References
Abdul Hamid, Nizhamuddin. (t.t). Mafhum al-Fiqhul Islami, Beirut: Muawassa'ar Rislah.
Al-Buthi, Said Ramadhan. (t.t). Dhawabith al-Mashlahah, Bairut: Dar al-Fik.
Al-Ibrahimy, Musa Ibrahim. (1989). al-Madkhal Ushul Fiqh, Mesir: Dar al-'Ammar.
Ali Na'im, Abdul Aziz. Ushul Ahkam asy-Syar'iyah. Maktabah as-Syamilah
Al-Thabraniy, Sulaiman Bin Ahmad Bin Ayyub Abu al-Qasim. al-Mu'jam al-Kabīr, Maktabah Syamilah
Ar-Raisuni, Ahmad. (1992). Nazhariyah al-Maqashid 'inda as-Syathibi, Riyadh: Dar- al-Alamiyah.
Az-Zuhaili, Wahbah. (t.t). Ushulu al-Fiqh al-Islami, Bairut: Dar al-Fikr.
Dali, Peunoh. (1988). Menelusuri Pemikiran Mashlahat dalam Hukum Islam, dalam Iqbal Abdurrauf Saimina (ed), Polemik Reaktualisasi Ajaran Islam, Jakarta: Pustaka Panjimas.
Khalaf, Abdul Wahhab. Ilmu Ushul al-Fiqh, Jakarta: Dar al-Fir
Munawwir, Ahmad Warson. (t.t). Kamus Munawwir, Suarabaya: Pustaka Progresif.
Sulaiman bin Abdul Qawi,. (1989). Najamuddin. Syarah Muhtashar ar-Raudhah, Markaz al-Harf.
Walzer, Michale. On Toleration, London: Yale University Press
Yasid, Abu. (2004). Islam Akomodatif: Rekontruksi Pemahaman Islam sebagai Agama Universal, Yogyakarta: LkiS.
Zuhaili, Wahbah. (t.t). Ushul Fiqh Islamy, Bairut: Dar al-Fikr.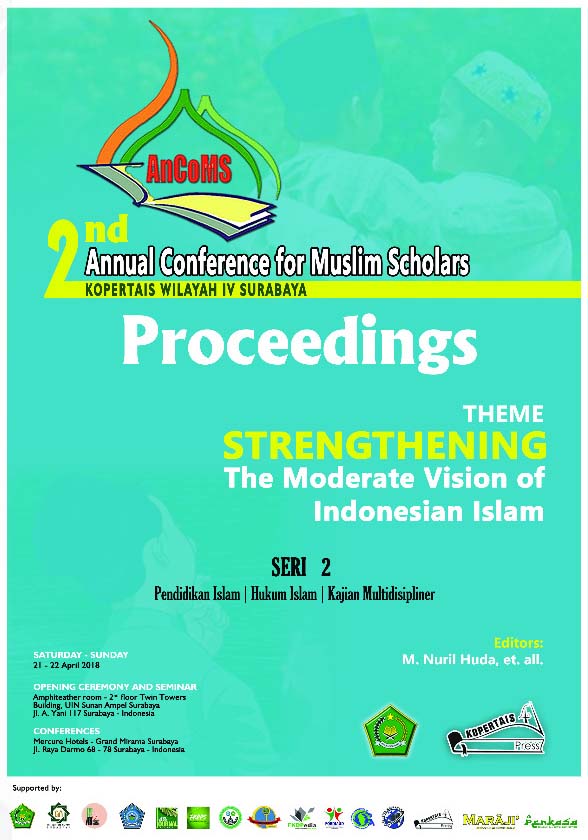 How to Cite
Jumari, J. (2018). Toleransi Berbasis Mashlahah. Proceedings of Annual Conference for Muslim Scholars, (Series 2), 1044-1054. https://doi.org/10.36835/ancoms.v0iSeries 2.204