Aspek Pengembangan Internalisasi Nilai Moderasi Islam pada Santri
(Studi Kasus di Pondok Pesantren Qomaruddin Gresik)
Mochamad Chairudin

INSTITUT AGAMA ISLAM QOMARUDDIN GRESIK
Keywords:
Internalization, Islamic Moderation, Student
Abstract
Pesantren are institutions of educational institutions that still exist from all changes. A manifestation of the development of pesantren that brings the principle of moderation of Islam in Indonesia.Seperti phenomena process of internalization of Islamic Moderation values ​​at Students in boarding Qomaruddin Gresik. Its existence as the oldest cottage on the north coast as the transfer of cultural access but still maintaining the habits of pesantren despite being squeezed by industrialization. This makes the study of the internalization of the Santri Moderation in Qomaruddin Gresik pesantren interesting. This research uses qualitative descriptive approach, case study research, observation data collection method, interview, documentation, and literature review. The concept of internalization of Moderation values ​​in Santri is an attempt to realize the process of taking Islamic Moderation by Santri to be manifested in everyday behavior. The implementation of internalization of Islamic Moderation values ​​in the Islamic School at the Qomaruddin Gresik pesantren is done through the development of efforts in the process of value internalization, the development of strategies and methods and aspects that have an important role in internalizing the value of Islamic Moderation.
Downloads
Download data is not yet available.
References
Abd. Rouf Djabir,Dkk,2013, Kepesantrenan Tradisi pesantren ditinjau dari berbagai aspek, Gresik, STAI-Q Press
Chabib Thoha,1996, Kapita Selekta Pendidikan Islam, Yogyakarta: Pustaka Pelajar
Departemen Agama RI,2012, Moderasi Islam (Tasfsir al-Qur'an Tematik), (Jakarta : Lajnah Pentashihan Mushaf al - Qur'an, ) cet.1
http://myhendrakm.blogspot.co.id/2015/11/pendidikan-pesantren-dan-pengembangan.html diakses tanggal 31-03-2018
J.P. Chaplin, 2005, Kamus Lengkap Psikologi,Jakarta: Raja Grafindo Persada
Muhaimin,1996, Strategi Belajar Mengajar,Surabaya: Citra Media
Marzuki Wahid, dkk, Ed.1999, Pesantren Masa Depan; Wacana Pemberdayaan dan Transformasi Pesantren, Bandung, Pustaka Hidayah
Muktar An Nadwi, KHRM. Sholeh Mushthofa, rekontruksi Pendidikan Pesantren Pondok pesantren Qomaruddin Qomaruddin Sampurnan Bungah Gresik, Budi Daya Sukses, Surabaya, 2000
Noeng Muhadjir, 1998, Metodologi Penelitian Kualitatif, Yogyakarta: Rake Sarasin
Observasi di Lokasi PP Qomaruddin Gresik, tanggal 12 Januari 2018
Ramayulis, 2012,Sejarah Pendidikan Islam, Jakarta: Kalam Ilmu
Rohmat Mulyana,2004, Mengartikulasikan Pendidikan Nilai ,Bandung: Alfabeta
S. Margono,2000, Metodologi Penelitian Pendidikan, Jakarta: Rineka Cipta
Soedijarto,1993,Menuju Pendidikan Nasional Yang relevan dan Bermutu, Jakarta: Balai Pustaka
Yasmadi, 2002, Modernisasi Pesantren, Ciputat Press, Jakarta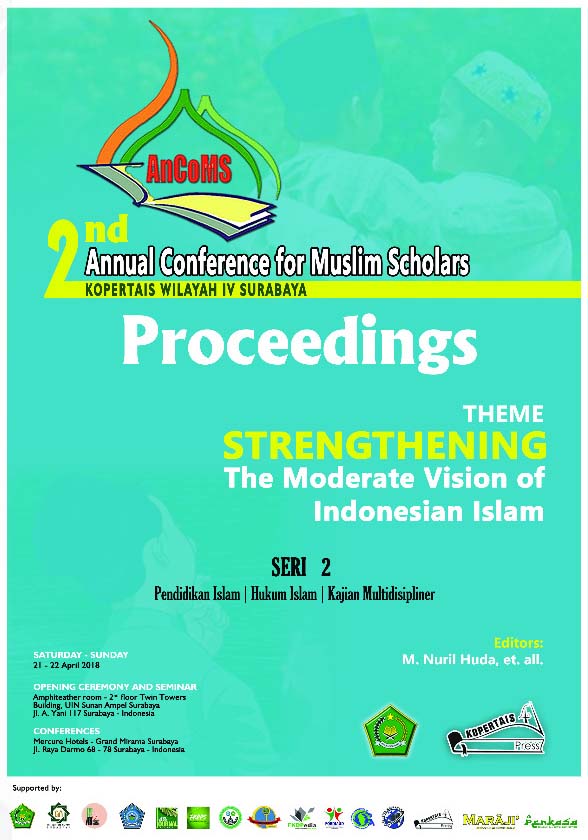 How to Cite
Chairudin, M. (2018). Aspek Pengembangan Internalisasi Nilai Moderasi Islam pada Santri. Proceedings of Annual Conference for Muslim Scholars, (Series 2), 683-690. https://doi.org/10.36835/ancoms.v0iSeries 2.170