Pendidikan Pesantren untuk Perdamaian Dunia
Mochamad Chairudin

Institut Agama Islam Qomaruddin Gresik
Keywords:
Education, Islamic boarding school, World peace.
Abstract
Typologically, Islamic boarding school education has had an influence on civilization in Indonesia. Islamic boarding schools in Indonesia play three important roles in Islamic civilization. First, Islamic boarding schools function as centers for religious studies that give birth to Muslim scholars, so that they can develop Islamic teachings. Second, is the act of openness to modernization by considering selectivity acts that function as a filter. Third, pesantren creates a link to connect religion, culture, and local wisdom. Islamic Boarding School as a miniature of peace, is a place that aims to form a community of rahmatan lil alamin, a moderate friendly Islam in a plural and multicultural society so that it can create world peace
Keywords: 
Downloads
Download data is not yet available.
References
Amri Syafri Ulil, "Pendidikan Berbasis Pesantren: Membentuk Karakter Pribadi Muslim", diakses pada 12 Februari 2022 dari http://www.stidnatsir.ac.id.
Asrohah, Hanun, Transformasi Pesantren: Pelembagaan, Adaptasi, dan Respon Pesantren dalam Menghadapi Perubahan Sosial,Jakarta: Dwi Putra pustakajaya, 2013
Departemen Agama RI, Pembelajaran Pondok pesantren : Suatu Kajian Komparatif, Jakarta : Departemen Agama RI,2002
_____________, Pola Pembelajaran di Pesantren, Jakarta,Ditjen Kelembagaan Agama Islam, 2003
Dian Nafi' M. Ed., Praksis Pembelajaran Pesantren, Yogyakarta, El-Kis, 2007
Haedari ,Amin, Panorama Pesantren dalam Cakrawala Modern. Jakarta, Diva Pustaka. 2004
Masyhud ,Sulthon, dkk., Manajemen Pondok Pesantren, Jakarta: Diva Pustaka, 2003
Nata ,Abuddin, Sejarah Pertumbuhan dan Perkembangan Lembaga-Lembaga Pendidikan Islam di Indonesia, Jakarta: PT. Grasindo, 2001
"Santri Indonesia Untuk Perdamaian Dunia,"www.balitbangdiklat.kemenag.go.id, diakses 12 Februari 2022, http://www.balitbangdiklat. kemenag.go.id /berita/santri-indonesia-untuk-perdamaian-dunia.
Thonthowi , "Pendidikan dan Tradisi (Menakar Tradisi Pendidikan Pesantren)", dalam Tadris Jurnal Pendidikan Islam, Vol. III, no. 2 ,2008
Wahid ,Abdurrahman,., Pondok Pesantren Masa Depan, dalam Pesantren Masa Depan : Wacana Pemberdayaan dan Tansformasi Pesantren, Jakarta, Pustaka Hidayah, 1999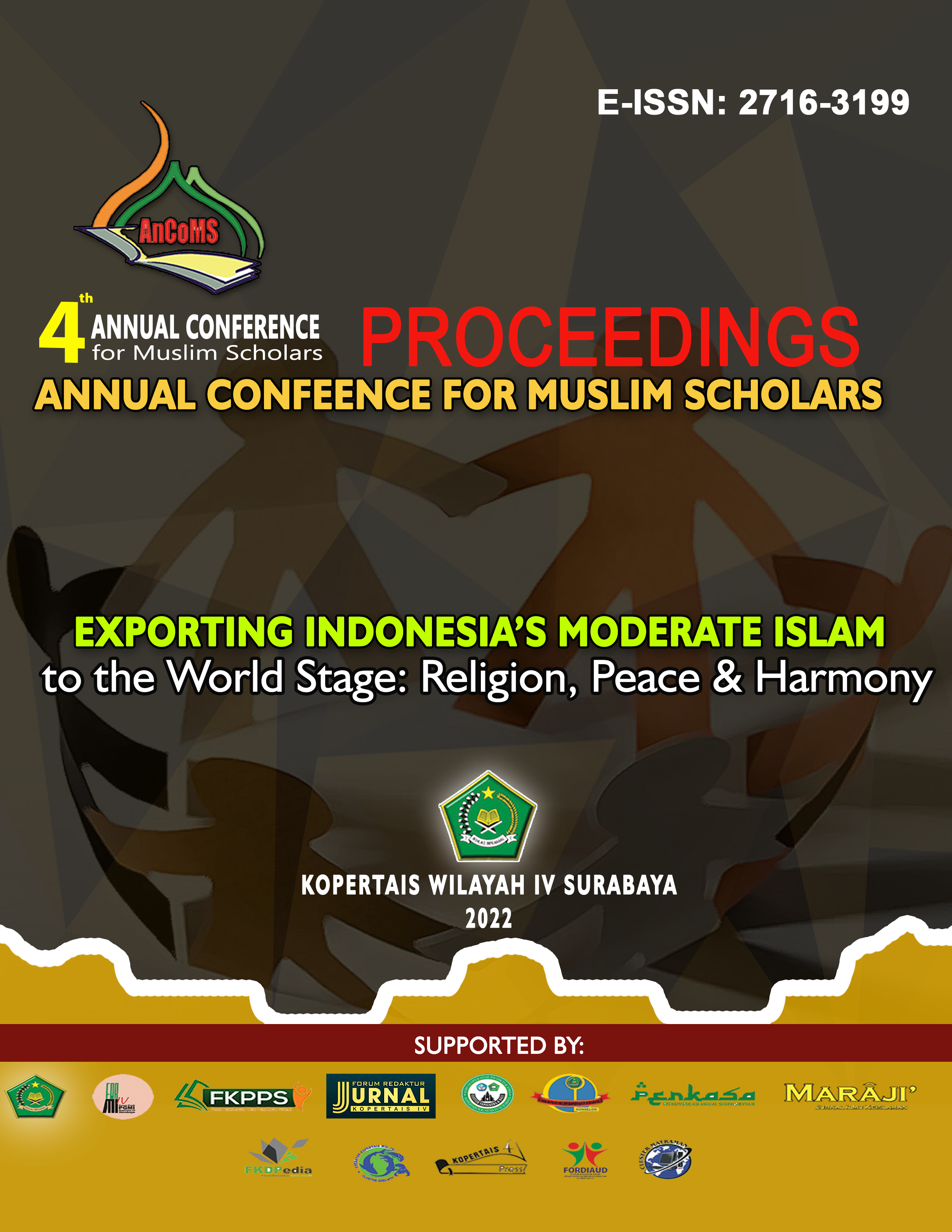 How to Cite
Chairudin, M. (2022). Pendidikan Pesantren untuk Perdamaian Dunia. Proceedings of Annual Conference for Muslim Scholars, 6(1), 104-110. https://doi.org/10.36835/ancoms.v6i1.401
Copyright (c) 2022 MOCHAMAD CHAIRUDIN
This work is licensed under a Creative Commons Attribution-ShareAlike 4.0 International License.