Islamisme dan Post-Islamisme Kyai: Memantapkan Nalar dan Sikap Islamisme Ala Intelektual Pesantren
Atmari Atmari

STAI AL AZHAR MENGANTI GRESIK
Keywords:
Islamisme, Post-Islamisme, Intelektual Pesantren, and Kyai
Abstract
This paper is more inclined to the side of conception: how exactly Islamism and Post-Islamism is firmly held by the kyai as intellectual pesantren, not the only pesantren leader. Islamism and Post-Islamism are very consistent, transmitted, and transmitted to all communities around the pesantren, or exemplified and taught to the students in the pesantren environment. This paper also wants to highlight and describe some views of pesantren leaders who have works / ideas that are disseminated, rewritten, and can be read as intellectual products. This paper will be approached using phenomenological theory and symbolic interactionism, and the ethical procedures contained in qualitative research. As a result, based on this series of research, it is found that there is a consistent and changing pattern in the context of pesantren Islamic thought. The consistent thing is how the nationalist-religious epistemology construct that is held tehuh as the derivative legacy of the previous kyai. While that is changing is the way and the process of packaging a more modern pesantren-based scholarship study.
Downloads
Download data is not yet available.
References
Abdurahman Mas'oed, Intelektual Pesantren; Perhelatan Agama dan Tradisi (Jakarta; Kencana, 2006)
Ahmad Syafi'i Maarif, Politik Identitas dan Masa Depan Pluralisme Kita, (Jakarta; Democracy Project, 2012
Ali Maschan Moesa, Nasionalisme Kiai (Jogjakarta; LKiS, 2007)
Asef Bayat, . "The Coming of a Post-Islamist Society". Critique: Critical Middle Eastern Studies. Routledge. No 5 vol 9 1996
-------------- "Post-Islamism at Large", in Post-Islamism: The Changing Faces of Political Islam, (New York, NY: Oxford University Press, 2013)
Azyumardi Azra, Azyumardi Azra, Jaringan Ulama Timur Tengah dan kepulauan Nusantara Abad XV11& XV111, Akar pembaruan Islam Indonesia, Cet. 2, (Jakarta: Kencana, 2005)
Carool Kersten, Cosmopolitan and Heritics; New Muslim Intellectuals and the Study of Islam (Colombia; Columbia University Press, 2011), Lihat juga Carool Kersten, Islam in Indonesia; the contest for society, ideas, and values (London; Oxford University Press, 2016)
Farish A Noor, Yogindar Sikand, dan Martin Van Bruinessen, ed, The Madrasa in Asia; Political Activism and Transnational Linkage (Amsterdam; Amsterdam University Press, 2008).
Hans Abdiel Harmakaputra, "Islamism And Post-Islamism "Non-Muslim" in Socio-Political Discourses of Pakistan, the United States, and Indonesia, dalam jurnal Al Jamiah; Journal of Islamic Studies Vol 53 No 1 Tahun 2015
KH. Afifuddin Muhajir, Fiqh Tata Negara (Jogjakarta; Ircisod, 2017)
M. C. Ricklefs, Sejarah Indonesia Modern 1200-2008 terj. Tim Serambi (Jakarta Serambi Ilmu Semesta, 2008)
Martin Van Bruisennen, "Tradisional and Islamist Pesantrens in Contemporary Indonesia" dalam Fasrish A Noor edt. Madrasa in Asia; Political Activism and Transnational Linkages (Amsterdam; Amsterdam University Press, 2008)
Masdar Hilmy, "Akar-Akar Transnasional Hizbut Tahrir Indonesia" dalam Jurnal Islamica, Vol 6 No 1 Tahun 2011,
Mastuki Hs, "Kebangkitan Santri-Cendikia; Jejak Historis, Basis Sosial, dan Persebarannya (Jakarta; Pustaka Kompas, 2016)
Muhaimin, Nalar Politik Santri di Pilkada Serentak, (Jember: IAIN Jember Press, 2017)
Mursyid, "Desain Pendidikan Toleransi di Pondok Pesantren" (Disertasi UIN Sunan Ampel Surabaya Tahun 2016)
Noorhaidi Hasan, "Post-Islamist Politics in Indonesia", in Post-Islamism: The Changing Faces of Political Islam, ed. by Asef Bayat (New York, NY: Oxford University Press, 2013)
Peter Mandaville, Transnational Muslim Politics; Re-Imaging The Umma (London: Routledge, 2001)
Robert W. Hefner, "Islamic School, Social Movement, and Democracy in Indonesia", dalam Robert W. Hefner edit, Making Modern islam Politic of Education in South Asia (USA: Hawai University Press, 2009), 58.
Rudi al Hana, Dakwah Kultural vis a vis Dakwah Radikal (Penelitian Lemlit UINSA, Tahun 2016)
Rumadi, Post-Tradisionalisme Islam; Wacana Intelektualisme dalam Komunitas NU (Jakarta; Fahmina Institute, 2008)
Yudi Latief, Geneologi Íntelegensia; Pengetahuan dan Kekuasaan Intelegensia Muslm (Jakarta; Kencana Gramedia Group, 2013)
Zainul Milal Bazawie, Mastepiece Islam Nusantara; Jejaring dan Sanad Ulama'-Santri (Jakarta; Pustaka Kompas, 2016)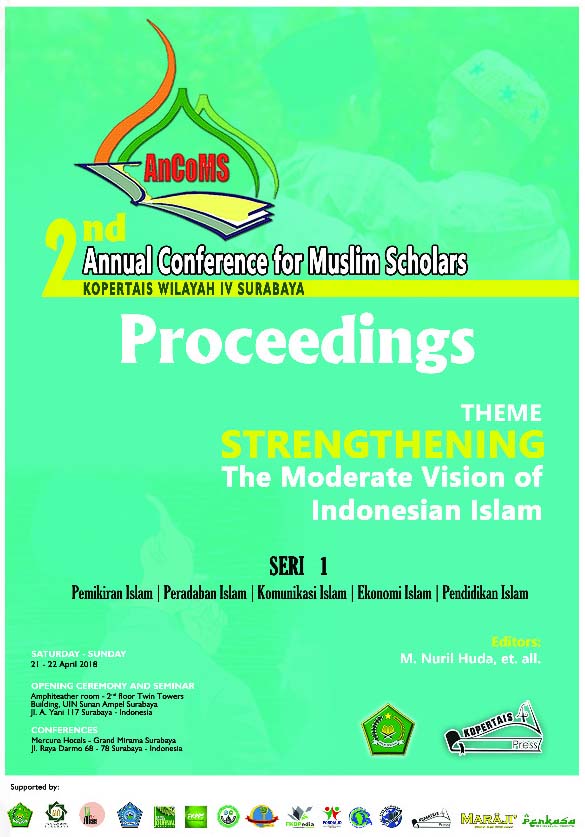 How to Cite
Atmari, A. (2018). Islamisme dan Post-Islamisme Kyai: Memantapkan Nalar dan Sikap Islamisme Ala Intelektual Pesantren. Proceedings of Annual Conference for Muslim Scholars, (Series 1), 26-38. https://doi.org/10.36835/ancoms.v0iSeries 1.109