Anatomi dan Aktualisasi Islam Moderat di Tengah Gelombang Gerakan Islam Kontemporer di Indonesia
Achmad Muhibin Zuhri

Universitas Islam Negeri Sunan Ampel Surabaya
Keywords:
Moderate Islam, Anatomy, Actualisation, Islam Movement
Abstract
The article aims to emphasize conceptually and operationally that moderate Muslims are those who reject extreme religious models and declare violence and terrorism as views and behaviours that are not justified by religion. In addition, moderate Muslim groups reject the idea of a single truth from groups or individuals who monopolize the definition of Islam and prefer to seek common ground with other faith groups rather than the spirit of difference. Amid a wave of contemporary Islamic movements in Indonesia, both political and puritanical, Islamic moderatism in Indonesia anatomically displays its actualization in various segments of life. According to this study's findings, Islam wasathiyah shows a willing, tolerant and open religious attitude and respects various views on religious, social, political and state systems aspects.
Downloads
Download data is not yet available.
References
Abu al Husain Ahmad Ibn Faris, Mu'jam Maqayis al-Lughagh, (t.tp: Dar al-Fikr, 1399/1979), jilid. VI.
Achmad Satori Ismail, dkk., Islam Moderat: Menebar Islam Rahmatan lil 'Alamin, (Jakarta: Pustaka Ikadi, 2007).
Agnia Addini, "Fenomena Gerakan Hijrah di Kalangan Pemuda Muslim Sebagai Mode Sosial", Journal of Islamic Civilization. Vol. 1, No. 2, (2019).
Ahmad bin Muhammad al Muqri al-Fayumi, al Mishbah al-Munir fî Garib asy-Syarh al-Kabir (Beirut: al Maktabah al Ilmiah, t.th), jilid. II.
Ahmad Najib Burhani "Al-Tawassut wa-l'tidal: The NU and Moderatism in Indonesian", Islam. Asian Journal of Social Science. 40. (2012).
Aksa, "Gerakan Islam Transnasional: Sebuah Nomenklatur, Sejarah dan Gerakannya di Indonesia", Yupa: Historical Studies Journal, Vol. 1 No. 1 (2017).
Ali Muhammad Muhammad ash-Shalabi, al-Wasathiyyah fi Al-Qur'an, (Kairo: Maktabat at Tabi'in, 1422/2001)
Darori Amin (ed)., Islam dan Kebudayaan Jawa, (Yogyakarta: Gama Media, 2000)
Greg Fealy & Antonio Bubalo, Jejak Kafilah: Pengaruh Radikalisme Timur Tengah di Indonesia (terj) (Bandung: Mizan, 2007).
Ibn Manzhur, Lisan al-'Arab, (Beirut: Dar ash-Shadir, t.th), cet. ke-1, jilid. VII.
Iffati Zamima, " Moderatisme Islam dalam Konteks Keindonesiaan: Studi Penafsiran Islam Moderat M. Quraish Shihab", Al-Fanar: Jurnal Ilmu al-Quran dan Tafsir, Vol. 1 No. 1 (2018).
Khaled M. Abou El-Fadl, Speaking in God's Name: Islamic Law, Authority, and Women, terj. R. Cecep Lukman Yasin, Atas Nama Tuhan: Dari Fikih Otoriter ke Fikih Otoritatif, (Jakarta: Serambi Ilmu Semesta, 2004).
M. A Muqtedar Khan, "Islamic Democracy and Moderate Muslims: The Straight Path Runs Through the Middle", American Journal of Islamic Social Sciences, Vol. 22 No. 3 (2005).
M. Hanafi, "Konsep al-Wasathiyyah Dalam Islam", Harmoni: Jurnal Multikultural dan Multireligius, Vol. VIII, (Oktober-Desember, 2009).
Majd ad-Dîn al-Fairuz Abadi, al-Qamus al-Muhith, (t.tp: Mu'assasah ar Risalah, t.th)
Masdar Hilmy, "Akar-Akar Transnasionalisme Islam Hizbut Tahrir Indonesia (HTI). Jurnal Islamica, Vol. 6, No.1 (2011).
....................., Quo-vadis Islam moderat Indonesia? Menimbang kembali modernisme Nahdlatul Ulama dan Muhammadiyah. Jurnal MIQOT Vol. 36. No. 2 (2012).
Muammad Bakry, Andi Aderus Banua, dkk, Konstruksi Islam Moderat: Menguak Rasionalistas, Humanitas dan Universalitas Islam, (Yogjakarta: ICATT Press, 2018).
Muhammad Abd al-Qadir ar-Razi, Mukhtar ash-Shihhah, (Beirut: Maktabah Lubanan Naasyirun, 1415/1995), jilid. I
Muklis M. Hanafi, "Peran Al-Azhar dalam Penguatan Moderasi Islam" Paper pada Seminar Ikatan Alumni Al-Azhar Internasional (IAAI) cabang Indonesia bekerja sama dengan Kedutaan Besar Mesir di Jakarta dan Fakultas Dirasat Islamiyah UIN Syarif Hidayatullah Jakarta
Raghib al-Ashfahani, Mufradat Alfazh Al-Qur'an (Damaskus: Dar al-Qalam, t.th).
Ratno Lukito. Islamic Law And Adat Encounter: The Experience of Indonesia, (Jakarta: Logos, 2001).
Rijal Mumazziq Zionis, "Peta Gerakan Islam Radikal Kontemporer di Indonesia", Falasifa Vol. 11 No. 2 (2020).
Yusuf Qardhawi, Keluwesan dan Keluasan Syari'ah Islam dalam Menghadapi Perubahan Zaman, terj. Tim Pustaka Firdaus, (Jakarta: Pustaka Firdaus, 1996).
Zahara, M.N., Wildan, D., Komariah, S, "Gerakan Hijrah: Pencarian Identitas Untuk Muslim Milenial di Era Digital", Indonesian Journal of Sociology, Education, and Development, No. 2, Vol. 1 (2020).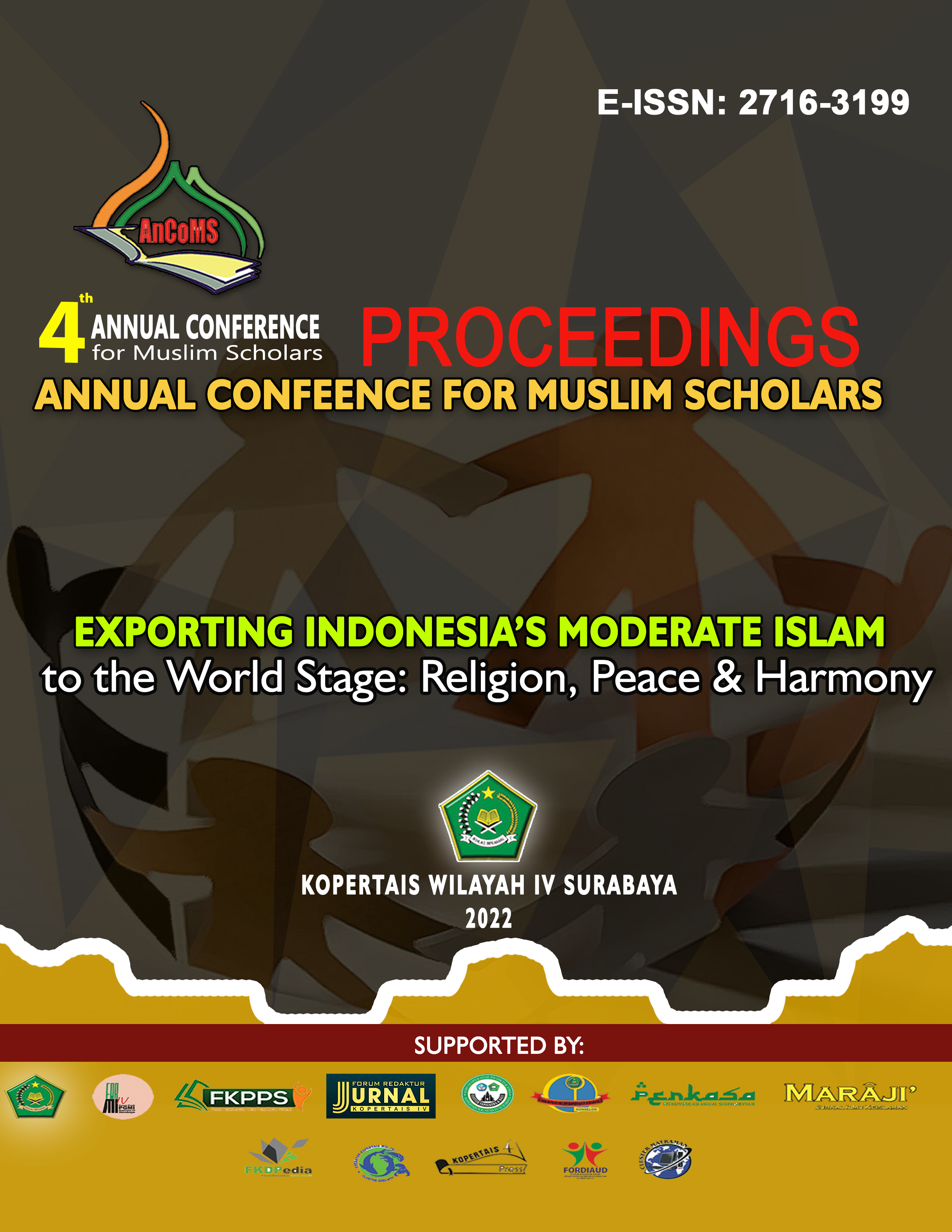 How to Cite
Zuhri, A. M. (2022). Anatomi dan Aktualisasi Islam Moderat di Tengah Gelombang Gerakan Islam Kontemporer di Indonesia. Proceedings of Annual Conference for Muslim Scholars, 6(1), 1098-1111. https://doi.org/10.36835/ancoms.v6i1.463
Copyright (c) 2022 Achmad Muhibin Zuhri
This work is licensed under a Creative Commons Attribution-ShareAlike 4.0 International License.