Telaah Literasi Traceability Supply Chain Process sebagai Bagian dari Jaminan Produk dan Industri Halal
Moch. Mahsun

Universitas Islam Negeri Maulana Malik Ibrahim Malang, Institut Agama Islam Syarifuddin, Lumajang

Nur Hasib

Universitas Islam Negeri Sunan Ampel Surabaya

Moh. Shohib

Akademi Komunitas Teknologi Syarifuddin Lumajang
Keywords:
Traceability Suply Chain Process, Product and Halal Industry, Continuous Improvement
Abstract
Traceability halal berfungsi sebagai penampung informasi kegiatan dalam proses menghasilkan produk halal. Traceability Suply Chain Process merupakan bagian dari jaminan produk halal yang berperan sebagai bukti pelacakan dalam proses produksi, distribusi sampai pada transaksi ke konsumen, termasuk di Industri. Perkembangan industri sendiri saat ini mulai mengarap terhadap menjaga nilai kehalalan produk yang dikenal dengan dari hulu ke hilir. Setiap proses perlu adanya pengawalan kehalalannya hingga sampai ke konsumen secara terjamin, termasuk produk import/export. Penelitiaan ini merupakan telaah literasi tentang Continuous Improvement Halal Quality dari Traceability Suply Chain Process. Penelitian juga dapat berkonstribusi sebagai bentuk pengembangan proses dalam pemberian label 'halal' berkualitas secara terus menerus. Baik sebelum dilakukan sertifikasi halal atau sesudah dilakukan sertifikasi halal dari Lembaga sertifikas atau dalam mewujudkan pusat halal logistics Industri 4.0 di Indonesia .
Downloads
Download data is not yet available.
References
Afrin, Afroza Bulbul, and Rafikul Islam. "A Conceptual Model of Continuous Improvement in Total Quality Management from Islamic Perspective." Australian Academy of Business and Economics Review 4, no. 1 (2018): 1–16.
Aziz, Fauzan, Retno Setyorini, and Yulia Nur Hasanah. "Analisis Halal Supply Chain Pada Usaha Mikro Kecil Menengah (UMKM) Makanan Di Kota Bandung." Jurnal Ilmiah Ekonomi Islam 7, no. 1 (2021): 293. https://doi.org/10.29040/jiei.v7i1.1936.
Dilla, Zahro Ubay, and Muhamad Said Fathurohman. "Implementasi Halal Traceability Supply Chain Dengan Model Supply Chain Operation Reference (Scor) Industri Makanan Halal." Jurnal Ekonomi Syariah Teori Dan Terapan 8, no. 5 (2021): 617. https://doi.org/10.20473/vol8iss20215pp617-629.
Dini Wahyuni, and Nurul Arfidhila. "Traceability Pada Rantai Pasok Pangan Halal: Review Literatur." Talenta Conference Series: Energy and Engineering (EE) 2, no. 4 (2019). https://doi.org/10.32734/ee.v2i4.649.
Dr. H. Mastuki, M.Ag. "Update Sertifikasi Halal Di Indonesia: Ekspektasi Dan Kenyataan." Kementerian Agama RI, 2021.
Fariq, Maulana Muchammad, Isnaini Nur, Zuraidah Dea Nur, and Amrozi Yusuf. "Supply Chain Management Model for Agricultural Industrial Products and Derivatives." Journal of Chemical Information and Modeling 6, no. 1 (2020): 2443–3548.
Fernando, M S Yudi. "Industry in Malaysia (A..." Journal of Food Technology 8, no. 3 (2010): 74–81.
Gunawan, I, I Vanany, E Widodo, and I J Mulyana. "Improving Traceability System in Indonesian Coconut Oil Company." In 2018 IEEE International Conference on Industrial Engineering and Engineering Management (IEEM), 51–55, 2018. https://doi.org/10.1109/IEEM.2018.8607800.
Haryono, Haryono, and Dwi Iryaning Handayani. "Pemodelan Sistem Traceability Halal Supply Chain Dalam Menjaga Integritas Produk Makanan Halal Dengan Pendekatan Interpretive Structural Modeling (ISM)." PROZIMA (Productivity, Optimization and Manufacturing System Engineering) 2, no. 2 (2019): 70. https://doi.org/10.21070/prozima.v2i2.2196.
INSIGHT:Buletin Ekonomi Syariah. "Potensi Indonesia Jadi Pusat Logistik Halal Dunia." Komite Nasional Ekonomi Dan Keuangan Syariah (KNEKS). Jakarta, 2020.
Jan, Walden. "Strategi Pemasaran PT . Mustika Ratu Tbk . Dalam Upaya Memasuki Pasar Internasional," no. marketing mix (n.d.).
Kartasasmita, Agus Gumiwang. "Kawasan Industri Halal Jadi Pondasi Global Halal Hub." Kementerian Perindustrian RI, 2021.
Khan, Saber. "Pemasaran Produk Halal Bukan Sekedar Pemasaran Yang Berbasis Transaksional." Detikfood, 2015.
Komite Nasional Keuangan Syariah. "Masterplan Ekonomi Syariah Indonesia 2019-2024." Kementerian Perencanaan Pembangunan Nasional/ Badan Perencanaan Pembangunan Nasional, 2018, 1–443. https://knks.go.id/storage/upload/1573459280-Masterplan Eksyar_Preview.pdf.
Machmudin. "Presiden Jadikan Making Indonesia 4.0 Sebagai Agenda Nasional." Kementerian Informasi dan Komunikasi Republik Indonesia, 2018.
Mahsun, Moch. "Implementasi Total Quality Management Dalam Pelayanan Penerimaan Mahasiswa Baru Di Institut Agama Islam Syarifuddin." In Seminar Nasional Pendidikan, 48, 2019.
Mastuki. "Posisioning BPJPH Dalam Ekosistem Jaminan Produk Halal." Jakarta, 2021.
Mui, Fatwa-fatwa, Muhammad Anwar Fathoni, Tian Nur, Arief Rahmawan, Komite Nasional Keuangan Syariah, Buletin Ekonomi Syariah, Lady Yulia, et al. "Halal Control Activities and Assurance Activities in Halal Food Logistics." Jurnal Ilmiah Ekonomi Islam 8, no. 1 (2021): 44–57. https://doi.org/10.1016/j.sbspro.2014.01.1107.
Nasution, Lokot Zein. "Penguatan Industri Halal Bagi Daya Saing Wilayah." Journal of Regional Economics Indonesia 1, no. 2 (2020).
Nugroho, Arif Julianto Sri, Roos Kities Andadari, and Eric Kunto Aribowo. "Supply Chain and Purchasing Behavior of Halal Chicken Meat." Share: Jurnal Ekonomi Dan Keuangan Islam 7, no. 2 (2018): 162–79. https://doi.org/10.22373/share.v7i2.3493.
Prayudanti, A. A., and S. Sucipto. "Halal and Safety Traceability of Material, Production, and Serving of Local Food in Surabaya: A Review." IOP Conference Series: Earth and Environmental Science 924, no. 1 (2021). https://doi.org/10.1088/1755-1315/924/1/012002.
RI, Kominfo. "Apa Itu Industri 4.0 Dan Bagaimana Indonesia Menyongsongnya." Kementerian Informasi dan Komunikasi Republik Indonesia, 2021.
Shivakumar, Kirti Nandavanam, Ameet Kulkarni, and Salil Joshi. "Kaizen Implementation and Chalenges at Expert Engeuneering Enterprises. Professor , KLS Lnstitute of Management Education and Research KLS Lnstitute of Management Education and Research No . 77," no. March (2019): 0–26. https://doi.org/10.13140/RG.2.2.32116.19841.
Tieman, Marco, Jack G A J van der Vorst, and Maznah Che Ghazali. "Principles in Halal Supply Chain Management." Journal of Islamic Marketing 3, no. 3 (January 2012): 217–43. https://doi.org/10.1108/17590831211259727.
Tri, Desy, Ani Rakhmanita, and Anggraini Anggraini. "Implementasi Kaizen Dalam Meningkatkan Kinerja Pada Perusahaan Manufaktur Di Tangerang." Jurnal Ecodemica: Jurnal Ekonomi, Manajemen, Dan Bisnis 3, no. 2 (2019): 198–206. https://doi.org/10.31311/jeco.v3i2.6077.
Wahyuni, Hana, Iwan Vanany, and Udisubakti Ciptomulyono. "Food Safety and Halal Food in the Supply Chain: Review and Bibliometric Analysis." Journal of Industrial Engineering and Management 12, no. 2 (2019): 373–91. https://doi.org/10.3926/jiem.2803.
Yulia, Lady. "Halal Products Industry Development Strategy Strategi Pengembangan Industri Produk Halal." Jurnal Bisnis Islam 8, no. 1 (2015): 121–62. https://jurnalbimasislam.kemenag.go.id/jbi/article/view/171/118.
Zainuddin, Nizamuddin, Adam Mohd Saifudin, Norita Deraman, and Azim Azuan Osman. "The Effect of Halal Traceability System on Halal Supply Chain Performance." International Journal of Supply Chain Management 9, no. 1 (2020): 490–98.
Zulfakar, Mohd Hafiz, Ferry Jie, and Caroline Chan. "Halal Food Supply Chain Integrity: From a Literature Review to a Conceptual Framework." Proceedings of the 10th ANZAM Operations, Supply Chain and Services Management Symposium, no. 61 4 (2012): 1–23.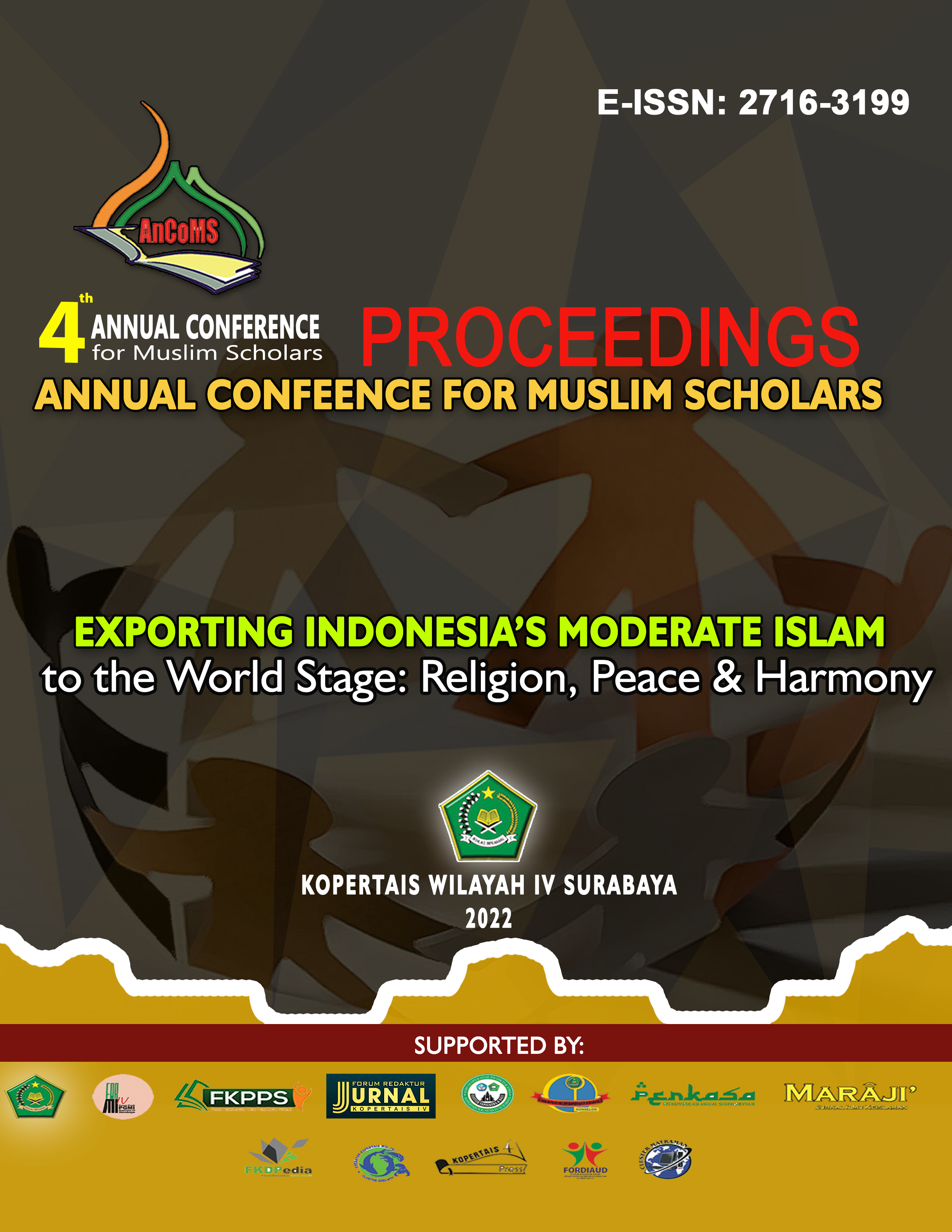 How to Cite
Mahsun, M., Hasib, N., & Shohib, M. (2022). Telaah Literasi Traceability Supply Chain Process sebagai Bagian dari Jaminan Produk dan Industri Halal. Proceedings of Annual Conference for Muslim Scholars, 6(1), 176-188. https://doi.org/10.36835/ancoms.v6i1.454
Copyright (c) 2022 Moch. Mahsun
This work is licensed under a Creative Commons Attribution-ShareAlike 4.0 International License.