Moderasi Beragama di Era Disrupsi Digital
Suheri Suheri

STAI At Taqwa Bondowoso

Yeni Tri Nurrahmawati

STAI At Taqwa Bondowoso
Keywords:
Moderation of Religion, Transformation, Digital, Social Media.
Abstract
This study is to describe and utilize social media platforms as a strategy and media for preaching in conveying the values ​​of religious moderation in the era of digital disruption. The objects studied are the largest social media platforms used in Indonesia including Youtube, Whatsapp, Facebook, Instagram and so on. The type of research used is field research with a qualitative approach. The data collection technique used is qualitative by observing various videos, narrations, voices, flayers or images on various social media platforms. Then the data was analyzed using the interactive model analysis of Miles and Huberman. The results of this study indicate that conveying religious moderation to the millennial generation of digital disruption requires transformation and a da'wah approach that is in harmony with their world, namely the transformation of the value of religious moderation from oral to online, the transformation of traditional da'wah into digital technology, the transformation from the delivery of the real world to the virtual world, transformation from local to global, the transformation from conventional is slow, takes space and time and even tends to take a long time towards fast and instant da'wah.
Downloads
Download data is not yet available.
References
Adler, R. B., & Rodman, G. E. O. R. G. E. (2006). Perceiving the self. Making connections: Readings in relational communication (4th ed., pp. 75-79). Los Angeles, CA: Roxbury.
Cahyono, G., & Hassani, N. (2019). Youtube Seni Komunikasi Dakwah Dan Media Pembelajaran. Jurnal Dakwah, 23.
Flew, T. (2002). Educational media in transition: Broadcasting, digital media and lifelong learning in the knowledge economy. International Journal of Instructional Media, 29(1), 47-60.
Globalwebindex Q3 2019 link : https://blog.gwi.com/chart-of-the-week/valentines-trends-2022/ diakses pada 20 Februari 2022
Gushevinalti, G., Suminar, P., & Sunaryanto, H. (2020). Transformasi Karakteristik Komunikasi Di Era Konvergensi Media. Bricolage: Jurnal Magister Ilmu Komunikasi, 6(01), 083-099.
Piliang, Y. A. (2004). Iklan, Informasi, atau Simulasi?: Konteks Sosial dan Kultural Iklan. Mediator: Jurnal Komunikasi, 5(1), 63-73.
Sumber website resmi BPS : https://www.bps.go.id/indicator/12/1886/1/jumlah-penduduk-hasil-proyeksi-menurut-provinsi-dan-jenis-kelamin.html diakses pada 20 Februari 2022
Times Indonesia, Ringkasan hasil riset tim Times Indonesia tahun 2020 . 7
Ummah, A. H. (2020). DAKWAH DIGITAL DAN GENERASI MILENIAL (Menelisik Strategi Dakwah Komunitas Arus Informasi Santri Nusantara). TASÂMUH, 18(1), 54–78. https://doi.org/10.20414/tasamuh.v18i1.2151
Witro, D., Putri, L. A., & Oviensy, V. (2019). Kontribusi media sosial terhadap produktivitas karyawan generasi milenial PT Perkebunan Nusantara VI Kayu Aro. Ekonomi & Bisnis, 18(2), 119-125.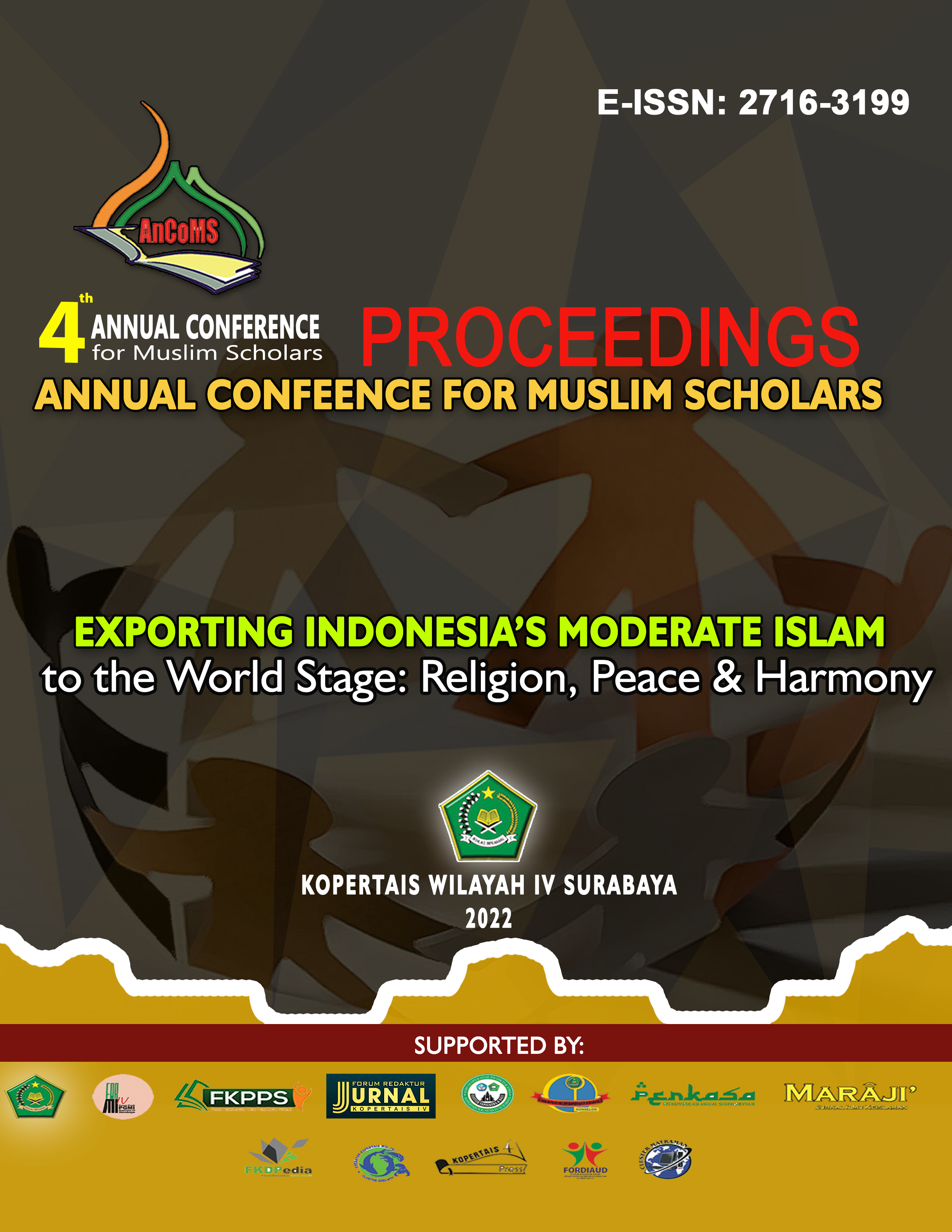 How to Cite
Suheri, S., & Nurrahmawati, Y. (2022). Moderasi Beragama di Era Disrupsi Digital. Proceedings of Annual Conference for Muslim Scholars, 6(1), 933-944. https://doi.org/10.36835/ancoms.v6i1.453
Copyright (c) 2022 Suheri
This work is licensed under a Creative Commons Attribution-ShareAlike 4.0 International License.