Penguatan Islam Moderat di Era Disrupsi
Alimul Muniroh

IAI Tarbiyatut Tholabah
Keywords:
moderate Islam, disruption, millennial generation
Abstract
There were two points that moderate Islamic groups face when coexisting with the millennial generation in Indonesia. The first was the strengthening of radical militant groups, and the second was the emergence of the era of disruption. Changes in the pattern of movement patterns from radical militant groups had become a separate dynamic for socio-political discourse in Indonesia. Meanwhile, the era of disruption was like a demand and necessity for the millennial generation, so that both radical militant groups and moderate Islamic groups must be good at playing a role in this era of disruption. This paper explains how to strengthen moderate Islam in the millennial generation in Indonesia.
Downloads
Download data is not yet available.
References
Azra, Azyumardi, Pendidikan Islam: Tradisi dan Modernisasi di Tengah Tantangan Milenium III. Jakarta: Kencana PrenadaMedia Group, 2014.
Hasanah, Iva dan Abdul Fatah. "Suara Simpang Kasus Sampang: Konflik Sunni-Syi'ah Perspektif Perempuan" dalam Mohammad Iqbal Ahnaf dkk (ed.). Praktik Pengelolaan Keragaman di Indonesia Kontestasi dan Koeksistensi. Yogyakarta: Center for Religious and Cross-cultural Studies/CRCS) Sekolah Pascasarjana. Universitas Gadjah Mada, 2015.
Hilmy, Masdar "Whither Indonesia's Islamic Moderatism? A Reexamination on the Moderate Vision of Muhammadiyah and NU," Journal of Indonesian Islam 7, no. 1 (Juni 2013): 25.
https://republika.co.id/berita/nasional/hukum/18/03/01/p4x4kc382-bnpt-sebut-radikalisme-disebarkan-lewat-media-sosialOnline. Diakses tanggal 10 Oktober 2021
https://www.voaindonesia.com/a/ada-hubungan-antara-kelompok-teroris-dan-organisasi-muslim-fundamentalis-117270128/90414.html kelompok Radikal dan Teroris di Indonesia Menguat (voaindonesia.com). diakses tanggal 11 Oktober 2021.
Kamali, Mohammad Hashim. The Middle Path of Moderation in Islam: the Qur'ānic Principle of Wasaṭhiyyah. New York: Oxford University Press, 2015.
Kasali, Rhenald. 2017. Disruption: Tak Ada yang Tak Bisa Diubah Sebelum Dihadapi, Motivasi Saja Tidak Cukup, Jakarta: Gramedia Pustaka Utama.
Suharto, Toto. "Gagasan Pendidikan Muhammadiyah dan NU Sebagai Potret Pendidikan Islam Moderat di Indonesia". ISLAMICA; Jurnal Studi Keislaman. Vol. 9. No. 1. September. Surabaya: Kopertais IV. 2014.
Suharto, Toto. "Indonesianisasi Islam: Penguatan Islam Moderat Dalam Lembaga Pendidikan Islam di Indonesia", Al-Tahrir, Vol. 17. No. 1 Mei. Solo: Fakultas Tarbiyah dan Ilmu Keguruan IAIN Surakarta. 2017.
Wahid, Abdurrahman.. 2006 Islamku Islam Anda Islam Kita: Agama Masyarakat Negara Demokrasi, Jakarta: The Wahid Institute.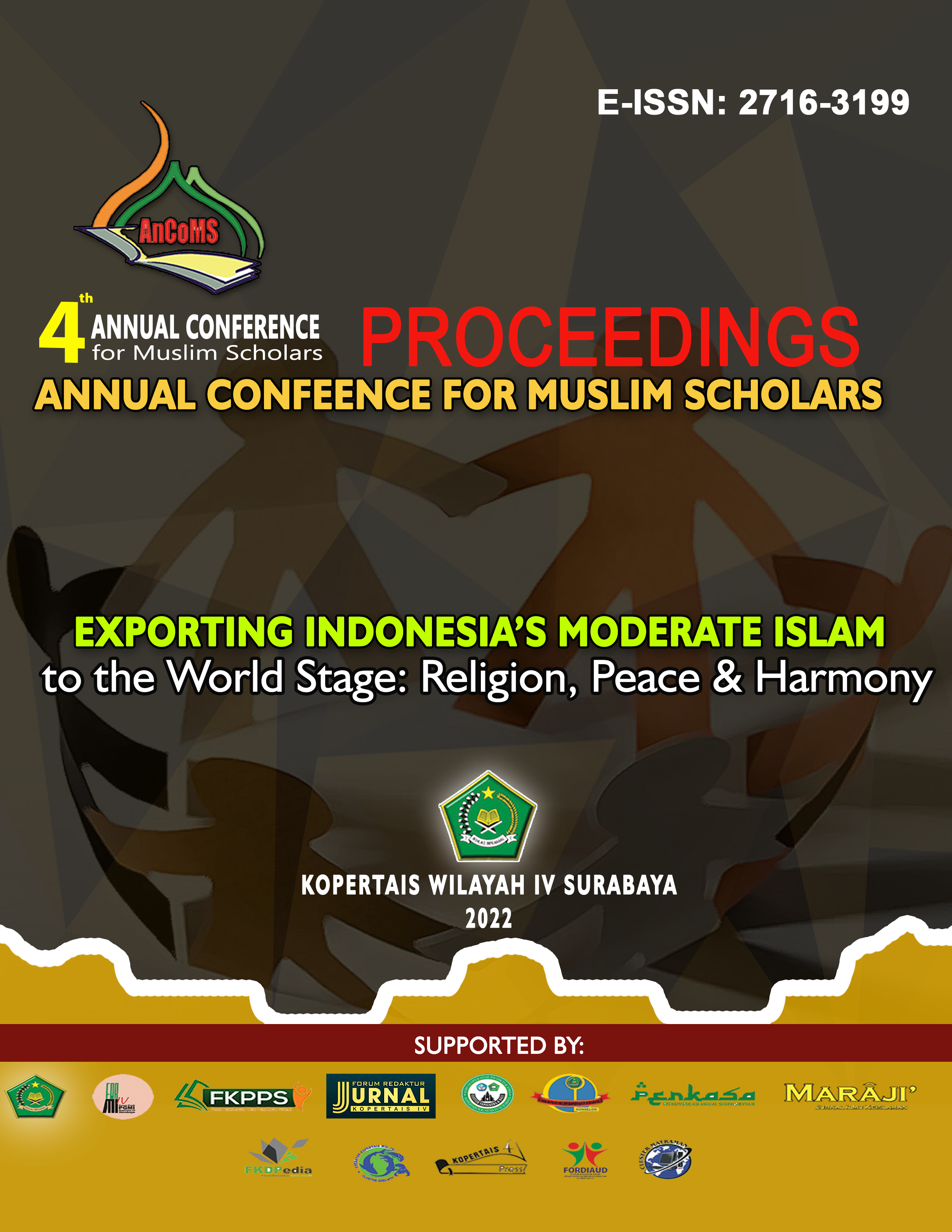 How to Cite
Muniroh, A. (2022). Penguatan Islam Moderat di Era Disrupsi. Proceedings of Annual Conference for Muslim Scholars, 6(1), 1234-1244. https://doi.org/10.36835/ancoms.v6i1.444
Copyright (c) 2022 Alimul Muniroh
This work is licensed under a Creative Commons Attribution-ShareAlike 4.0 International License.