Pendidikan Islam Multikultural sebagai Upaya Meneguhkan Moderasi Islam di Pesantren
Siti Rohmaturrosyidah Ratnawati

Institut Agama Islam Negeri Ponorogo

Kharisul Wathoni

Institut Agama Islam Negeri Ponorogo
Keywords:
Multicultural Islamic Education, Moderation of Islam, Pesantren
Abstract
Violence, conflict, and terrorism in the name of religion often occur in Indonesia. These led to the emergence of prejudice and public perception that pesantren as educational institution which contributed to growing the seeds of fanaticism and radicalism. However, not all pesantrens act as they think and accuse. There are still a lot of pesantrens that remain consistent in instilling the values of Islam's moderation in their students to this day, including Pondok Modern Arrisalah, one of pesantrens in Ponorogo that has implemented multicultural Islamic education because it has many students with different backgrounds in terms of region, ethnicity, language, culture, and class. This study aims to describe and analyze the implementation of multicultural Islamic education at Pondok Modern Arrisalah Slahung Ponorogo as an effort to strengthen the moderation vision of Islam to its students. The researcher in this case used the type of field research and a qualitative descriptive approach. The research data were collected through interview, observation, and documentation techniques. The results show that Pondok Modern Arrisalah has implemented multicultural Islamic education which can be seen from various aspects, namely the curriculum, supporting programs and activities, the creation of a religious-multicultural culture and gender relation in it.
Downloads
Download data is not yet available.
References
Ahmad Darmadji. "Pondok Pesantren dan Deradikalisasi Islam di Indonesia." Millah 11, no. 1 (2011): 235–52.
Arifin, Zainal. "Pendidikan Multikultural-Religius untuk Mewujudkan Karakter Peserta Didik yang Humanis-Religius." Jurnal Pendidikan Islam 1, no. 1 (2012): 89–103.
Baidhawy, Zakiyuddin. Pendidikan Agama Berwawasan Multikultural. Jakarta: Erlangga, 2005.
"Inilah Deretan Aksi Bom Bunuh Diri di Indonesia." www.kompas.com, 2018. https://nasional.kompas.com/read/2018/05/14/13533731/inilah-deretan-aksi-bom-bunuh-diri-di-indonesia.
Irham. "Islamic Education at Multicultural Schools." Jurnal Pendidikan Islam 3, no. 2 (2017): 141–54.
Muqoyyidin, Andik Wahyun. "Membangun Kesadaran Inklusif-Multikultural untuk Deradikalisasi Pendidikan Islam." Jurnal Pendidikan Islam 2, no. 1 (2013): 131–51.
Naim, Ngainun, dan Achmad Sauqi. Pendidikan Multikultural: Konsep dan Aplikasi. Yogyakarta: Ar-Ruzz Media, 2011.
Nurhayati, Anin. Kurikulum Inovasi: Telaah Terhadap Pengembangan Kurikulum Pendidikan Pesantren. Yogyakarta: Teras, 2010.
Ratnawati, Siti Rohmaturrosyidah. "Multicultural-Based Islamic Religious Education in Ahmadiyya's School: a Strategy to Strengthen the Moderation Vision of Indonesian Islam in School." Cendekia: Jurnal Kependidikan dan Kemasyarakatan 18, no. 1 (2020): 117–37.
Saleh, M. Nurul Ikhsan. Peace Education: Kajian Sejarah, Konsep dan Relevansinya dengan Pendidikan Islam. Yogyakarta: Ar-Ruzz Media, 2012.
Shaleh, Badrus. Budaya Damai dalam Komunitas Pesantren. Jakarta: Pustaka LP3ES, 2007.
Yaqin, M. Ainul. Pendidikan Multikultural: Cross-Cultural Understanding untuk Demokrasi dan Keadilan. Yogyakarta: Pilar Media, 2005.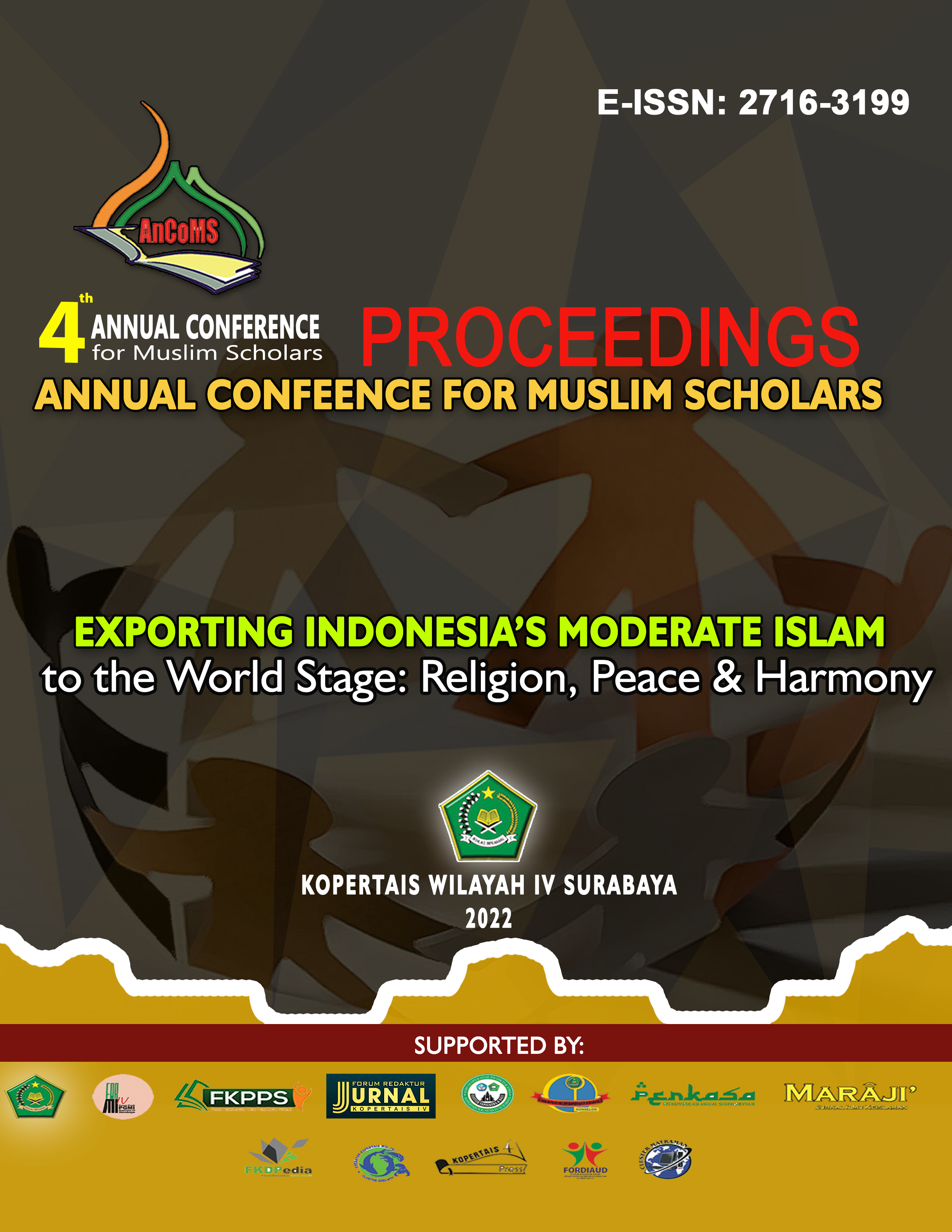 How to Cite
Ratnawati, S., & Wathoni, K. (2022). Pendidikan Islam Multikultural sebagai Upaya Meneguhkan Moderasi Islam di Pesantren. Proceedings of Annual Conference for Muslim Scholars, 6(1), 826-833. https://doi.org/10.36835/ancoms.v6i1.425
Copyright (c) 2022 Siti Rohmaturrosyidah Ratnawati
This work is licensed under a Creative Commons Attribution-ShareAlike 4.0 International License.