Koloman dan Transformasi Nilai Persaudaraan dalam Merajut Kerukunan Bermasyarakat (Studi Koloman di Dusun Sumberjati Laok Bungbaruh Kadur Pamekasan)
Ali Ridho

IAI Al-Khairat Pamekasan

Ernaka Heri Putra Suharyanto

Institut Agama Islam Darullughah Wadda'wah Bangil
Keywords:
Koloman, Brotherhood, Harmony
Abstract
Harmony in society is the main capital for upholding the unity and integrity of the nation, when many parties make efforts to undermine unity and integrity in various ways ranging from spreading hoax news, inciting, takfiri, etc., then the column that became the routine of rural communities became the solution to this very worrying condition. This study aims to 1) describe the column model that transforms into community harmony. 2) reveal the steps taken by the community in maximizing the role of the columnist, and 3) reveal the impact of the implementation of the column on community harmony as an offer of the concept of world community harmony through small steps for a very big goal. This research uses a descriptive qualitative research method with a case study type, data collected through interviews, observations, and documentation notes. Data analysis used the Spradley Analysis Model with data collection, reduction, presentation, and conclusion drawing. From the research conducted, the conclusions are as follows 1). In the Monday night column in Sumber Jati Bungbaruh Hamlet, Kadur Pamekasan carries the concept of togetherness and concern for others. 2) column members eliminate egocentricity for the sake of the greater interest, in addition to carrying out religious activities (tahlilan and shalawatan) as well as solving social problems, and 3) impact the most real thing is harmony and religious people because it eliminates egocentricity for the sake of togetherness, security, and comfort.
Downloads
Download data is not yet available.
References
Afifa, Intan Dwi Khusnul, and Maya Mustika Kartika Sari. "Proses integrasi sosial masyarakat multietnik di desa sumbertanggul kecamatan mojosari kabupaten mojokerto." Kajian Moral dan Kewarganegaraan 7, no. 3 (November 21, 2019). https://ejournal.unesa.ac.id.
"Akulturasi Dan Asimilasi; Pengertian, Perbedaan & Contoh." Accessed March 30, 2022. https://tirto.id/akulturasi-dan-asimilasi-pengertian-perbedaan-contoh-f8Co.
Arianto, Henry. "Dasar hukum indonesia dan islam" 16 (2019): 6.
Arif, Muhamad. "Model Kerukunan Sosial Pada Masyarakat Multikultural Cina Benteng (Kajian Historis Dan Sosiologis)." SOSIO-DIDAKTIKA: Social Science Education Journal 1, no. 1 (June 29, 2014): 52–63.
Aziz, Fathul Aminudin. "Mengikis Arogansi Berdakwah Melalui Pendekatan Manajemen Perencanaan Islami." KOMUNIKA: Jurnal Dakwah Dan Komunikasi 13, no. 1 (August 27, 2019): 43–56. https://doi.org/10.24090/komunika.v13i1.2029.
Ciciria, Deri, Lian Ferliana, and Wellfarina Hamer. "Analisis Konflik Antara Masyarakat Dengan Pemerintah Desa Di Desa Wonosari, Kecamatan Pekalongan Lampung Timur." SOCIAL PEDAGOGY: Journal of Social Science Education 2, no. 2 (July 10, 2021): 15–27.
Fauzy, Bachtiar, and Amira Arraya. "Dinamika Akulturasi Arsitektur Pada Masjid Sulthoni Plosokuning Di Sleman, Yogyakarta." Research Report - Engineering Science 2 (2015). https://journal.unpar.ac.id/index.php/rekayasa/article/view/1540.
Indarwati, Karomah. "Penerapan Pendidikan Multikultural Di Pondok Pesantren Al-Muayyad Surakarta." Comm-Edu (Community Education Journal) 1, no. 3 (September 29, 2018): 121–32. https://doi.org/10.22460/comm-edu.v1i3.1358.
"Kewirausahaan Islam: Penerapan Konsep Berwirausaha Dan Bertransaksi Syariah Dengan Metode Dimensi Vertikal (Hablumminallah) Dan Dimensi Horizontal (Hablumminannas) - Neliti." Accessed March 30, 2022. https://www.neliti.com/publications/289456/kewirausahaan-islam-penerapan-konsep-berwirausaha-dan-bertransaksi-syariah-denga.
Lestari, Gina. "Bhinnekha Tunggal Ika: Khasanah Multikultural Indonesia Di Tengah Kehidupan Sara." Jurnal Ilmiah Pendidikan Pancasila Dan Kewarganegaraan 28, no. 1 (June 27, 2016). https://doi.org/10.17977/jppkn.v28i1.5437.
Miwa Patnani, M. Si. "Upaya meningkatkan kemampuan problem solving pada mahasiswa." Jurnal Psikogenesis 1, no. 2 (2013): 130–42. https://doi.org/10.24854/jps.v1i2.43.
Nawi, Moh, and Abdurrahman Rifki. "Koloman Khotmil Qur'an Dalam Mengatasi Kenakalan Remaja Di Desa Blu'uran Karang Penang Sampang." DA'WA: Jurnal Bimbingan Penyuluhan & Konseling Islam 1, no. 1 (September 16, 2021). https://doi.org/10.36420/dawa.v1i1.11.
Putra, Wahyu Ilhami. "Proses Akulturasi Masyarakat Paser Dan Masyarakat Transmigran Jawa Di Kecamatan Long Kali Kabupaten Paser Kalimantan Timur." Phinisi Integration Review 1, no. 1 (February 20, 2017): 1–14. https://doi.org/10.26858/pir.v1i1.5222.
Ramlan, Ashari, Andi Agustang, and Ahmadin Ahmadin. "Integrasi Sosial Masyarakat Bugis Dan Ara Di Desa Ujung Kepulauan Selayar." Phinisi Integration Review 5, no. 1 (February 28, 2022): 32–43. https://doi.org/10.26858/pir.v5i1.31797.
Syarif, Zainuddin, and Abdul Mukti Thabrani. "Entrepreneurship pada Masyarakat Kelompok Tani Melalui Pendidikan Koloman Sholawatan." NUANSA: Jurnal Penelitian Ilmu Sosial dan Keagamaan Islam 17, no. 1 (June 29, 2020): 75–92. https://doi.org/10.19105/nuansa.v17i1.3011.
Ubaidillah, Afif. "Peran Hakamaian Dalam Pencegahan Perceraian Di Masyarakat (Studi Kasus Di Kelurahan Patemon Kec. Pamekasan Kab. Pamekasan)." Diploma, Institut Agama Islam Negeri Madura, 2020. https://doi.org/10/afif%20ubaidillah_18201402010004_BAB%20V.pdf.
Widodo, Anton, Muhajir Muhajir, Andi Rahmad, and Agam Anantama. "Dakwah Di Kalangan Buruh Tani ( Studi Fenomenologi Pada Masyarakat Petani Di Kecamatan Sukadana Kabupaten Lampung Timur)." Jurnal At-Taghyir: Jurnal Dakwah Dan Pengembangan Masyarakat Desa 3, no. 2 (June 30, 2021): 187–214. https://doi.org/10.24952/taghyir.v3i2.3973.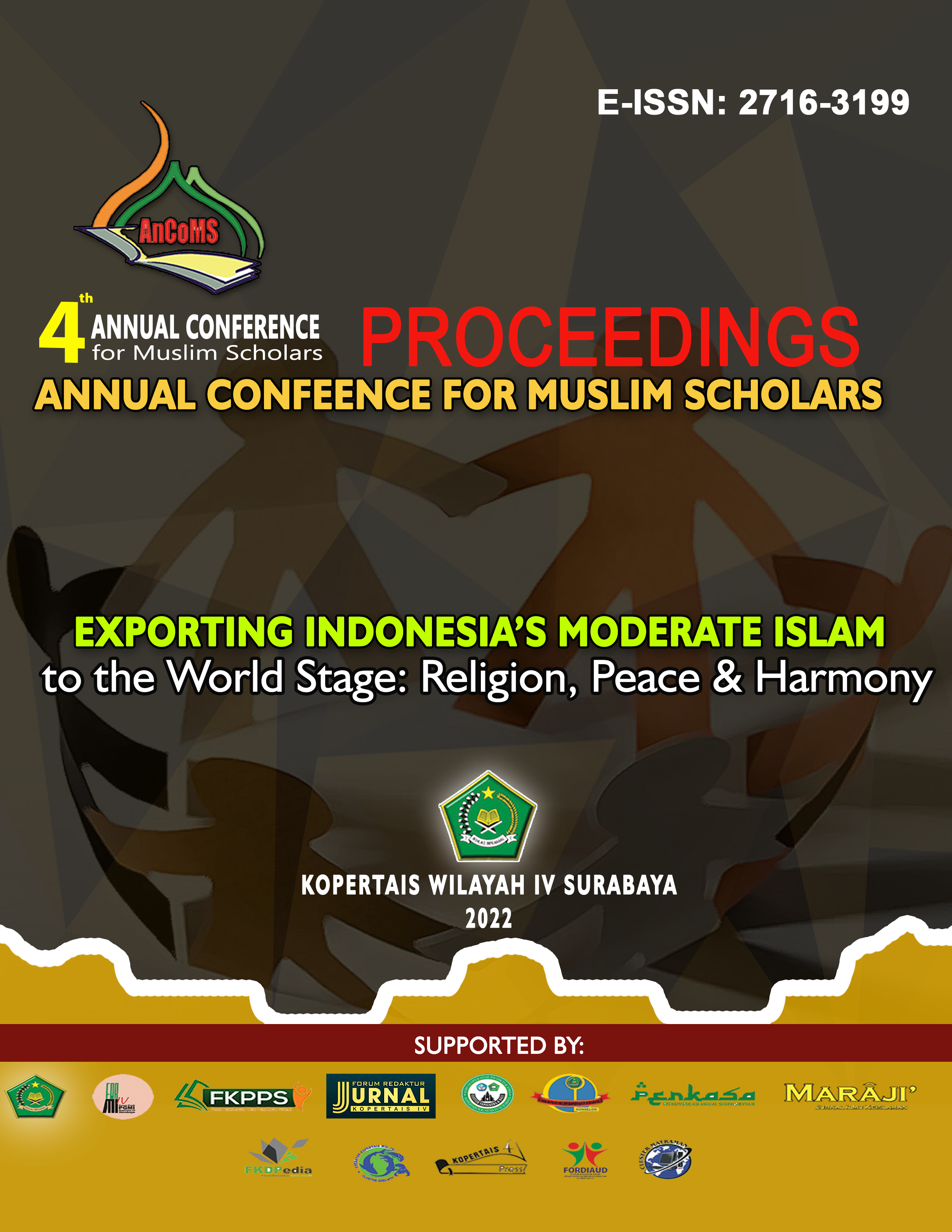 How to Cite
Ridho, A., & Suharyanto, E. H. P. (2022). Koloman dan Transformasi Nilai Persaudaraan dalam Merajut Kerukunan Bermasyarakat (Studi Koloman di Dusun Sumberjati Laok Bungbaruh Kadur Pamekasan). Proceedings of Annual Conference for Muslim Scholars, 6(1), 166-175. https://doi.org/10.36835/ancoms.v6i1.414
Copyright (c) 2022 Ali Ridho
This work is licensed under a Creative Commons Attribution-ShareAlike 4.0 International License.