Pemikiran Moderasi Beragama tentang Sistem Ketatanegaraan Islam (Studi Komparasi Pemikiran Gus Dur dan KH Afifuddin Muhajir)
Ahmad Muzakki

UNZAH Genggong Probolinggo

Abu Yazid Adnan Quthny

UNZAH Genggong Probolinggo
Keywords:
Islamic State System, Gus Dur, KH Afifuddin Muhajir
Abstract
Gus Dur and KH Afifuddin Muhajir are two intellectual figures of Nahdlatul Ulama who have deep mastery in the fields of Fiqh and Usul Fiqh. His deep mastery of these two scientific fields led them to become moderate, contextualist, and substantive fiqh experts. They both have contributed ideas that are important in the concept of the Islamic state system. Their thoughts are able to provide textual and contextual answers to groups that require the establishment of an Islamic state. Uniquely, the answers presented are based on Islamic texts contained in fiqh books. There are two important issues discussed in this article. First, the principles of the Qur'an and Hadith regarding the Islamic state system. Second, the religious moderation thought of Gus Dur and KH Afifuddin Muhajir about the Islamic state administration system. After going through the discussion, it was concluded that among the principles of the state administration system from the perspective of the Al-Quran and Hadith are justice, equality, collective deliberation, freedom, and supervision of the people. The establishment of an Islamic state is included in the realm of ijtihadiyyah because there are no standard rules in the Qur'an and Hadith related to certain forms and systems of government. The religious moderation thoughts of Gus Dur and KH Afifuddin Muhajir about the Islamic state administration system include that religion must be the moral and ethical foundation in the state, while the state must be a protector for the whole community. For both of them, the most important thing is to fight for Islamic values ​​and realize the maqosid sharia of establishing a state, not institutional Islamic formalism.
Downloads
Download data is not yet available.
References
Syafi'i, Anwar, 1995, Pemikiran Dan Aksi Islam Indonesia: Sebuah Kajian Politik Tentang Cendekiawan Muslim Orde Baru, (Cet. I; Jakarta: Paramadina).
Zulyadain, 2015, Relasi Antara Islam, Negara, Pluralisme, Dan Pribumisasi Dalam Kaca Mata Gus Gur, Tasamuh, Jurnal Studi Islam, Volume 7, Nomor 1, April.
Syaiful, Arif, 2020, Moderasi Beragama dalam Diskursus Negara Islam: Pemikiran KH. Abdurrahman Wahid, Jurnal Bimas Islam Vol 13 No. 1.
Muhajir, Afifuddin, 2017, Fiqh Tata Negara: Upaya Mendialogkan Sistem Ketatanegaraan Islam, (Yogyakarta, IRCiSoD).
Abdur Rahman, Sayyid, 1998, BughiyatulMustarshidin, (Surabaya, Al-Hidayah).
Tholchah Hasan, 1999, Hak Sipil dan Hak Rakyat dalam Wacana Fiqh, dalam Jurnal Khazanah, Vo 1, No 4, ( Malang, UNISMA).
Aswab Mahasin dalam Imam Aziz, et.al., (ed). 1999, Agama, Demokrasi dan Keadilan, (Jakarta, Gramedia).
Abul A`la Maududi, 1985, Hak Asasi Manusia Dalam Islam, (Human Rights in Islam), terj. Achmad Nashir Budiman, (Bandung, Pustaka).
Wafi, Ali Abdul Wahid, 2000, Kebebasan Dalam Islam (al-Hurriyat Fi al-Islâm), terj. H. S. Agil Husin al-Munawar, dan Lukman Hakim Zainuddin, Dina Utama(Semarang, Toha Putra Group,).
Muzakki, Ahmad 2018, Etika Politik Rakyat Dan Pemerintah Perspektif Fiqh, JurnalLisan al-Hal, Vol 12 No 1: JUNI, (Situbondo, Ibrahimy).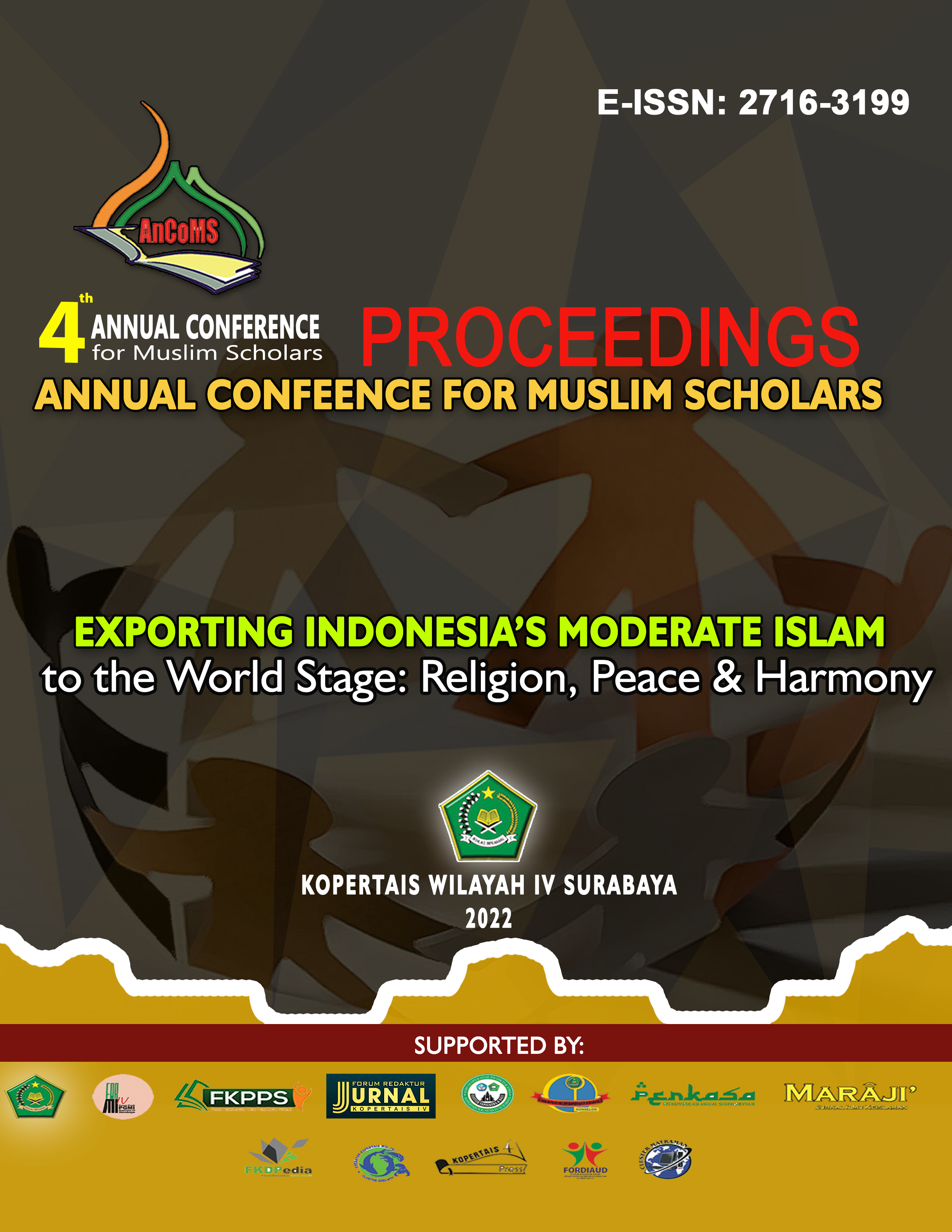 How to Cite
Muzakki, A., & Quthny, A. (2022). Pemikiran Moderasi Beragama tentang Sistem Ketatanegaraan Islam (Studi Komparasi Pemikiran Gus Dur dan KH Afifuddin Muhajir). Proceedings of Annual Conference for Muslim Scholars, 6(1), 156-165. https://doi.org/10.36835/ancoms.v6i1.413
Copyright (c) 2022 Ahmad Muzakki
This work is licensed under a Creative Commons Attribution-ShareAlike 4.0 International License.