Pendekatan Humanistik dalam Internalisasi Nilai-Nilai Keislaman Generasi Milenial melalui Budaya "Ngarung": Studi Fenomenologi Moderasi Beragama Karang Taruna Kecakot di Kota Kediri
Binti Su'aidah Hanur

STAI Badrus Sholeh Purwoasri Kediri

Tahta Ahlamil Hubb Hubb

STAI Badrus Sholeh Purwoasri Kediri

Eva Ma'rifatul Choirina

STAI Badrus Sholeh Purwoasri Kediri
Keywords:
Ngarung, Indonesia's Moderate Islam, Youth Generation
Abstract
Youth generation is a potential generation which well known as professional, energic, and inovative generation. They tend to tolerate toward cultural differences and care to their surrounding because they have grown to accept and appreciate what have been existed in their surroundings. There are two youth organisations in Kediri residence which have synergized in developing milenial activities namely "Ngarung or Ngaji Turut Warung", they are Karang Taruna and Lajnah Matan. Ngarung as an activity to insert islamic knowledge among youth generation is in line with the Indonesia's Moderate Islam which is one of its indicators is tolerance. This paper tries to investigate how far their successfulness in developing moderate islam in their social life. Fenomenology studies which is developed in this paper would describe how huge the effect resulted from this activity
Downloads
Download data is not yet available.
References
Anwari, Kholis, and M. Sholihun. "Pendekatan Humanisme Religius Mbah Yai Nur Salim Jabung Dalam Pendidikan Islam." Akademika : Jurnal Manajemen Pendidikan Islam 3, no. 2 (2021): 133–141.
Budiati, Indah, Yusi Susianto, Widhiarso Ponco Adi, Sofaria Ayuni, Henri Asri Reagan, Putri Larasaty, Nia Setiyawati, Aprilia Ira Pratiwi, and Valent Gigih Saputri. "Profil Generasi Milenial Indonesia" (2018): 1–153. www.freepik.com.
Danil, Muhammad. "Terhadap Generasi Milenial Di Era Digitalisasi." PROFETIKA, Jurnal Studi Islam 21, no. 2 (2020): 223–230.
Kementerian Agama Republik Indonesia. Implementasi Moderasi Beragama Dalam Pendidikan Islam. Kelompok Kerja Implementasi Moderasi Beragama Direktorat Jenderal Pendidikan Islam Kementerian Agama Republik Indonesia Bekerjasama Dengan Lembaga Daulat Bangsa, 2019.
Khakim, Muhammad Salisul, Anike Febriyani Nugraha, Sukanti Sukanti, and Aliefah Rachma Sarwedi. "Kontribusi Mahasiswa Daerah Dalam Penanganan Intoleransi Melalui Sinergi Perguruan Tinggi Di Diy." Jurnal Pendidikan Kewarganegaraan 10, no. 1 (2020): 62.
Mardawani, Lusiana. "Peran Mahasiswa Dalam Upaya Membentuk Generasi Muda Berkarakter Melalui Pendekatan Humanis Berbasis Kearifan Lokal Suku Dayak Di Desa Telaga II." Jurnal PEKAN 3, no. 1 (2018): 1–9. http://jurnal.stkippersada.ac.id/jurnal/index.php/PEKAN/article/download/184/160.
Matan Indonesia. "Sejarah Matan," 2016. http://matanindonesia.blogspot.com/2016/03/sejarah-matan.html.
Moustakas, Clark. Phenomenological Research Methods. Edited by Astrid Virding. SAGE Publication, 1994. 1st ed. Thousand Oaks, California 91320: Sage Publications Inc. United States of America, n.d.
Said, Nur, and Jawa Tengah. "Untuk Humanisme Islam Di Indonesia." Edukasia : Jurnal Penelitian Pendidikan Islam 12, no. 2 (2017): 409–434. http://journal.iainkudus.ac.id/index.php/Edukasia/article/view/2445.
"Subnetwork - Wikipedia Bahasa Indonesia, Ensiklopedia Bebas," n.d. https://id.wikipedia.org/wiki/Subnetwork.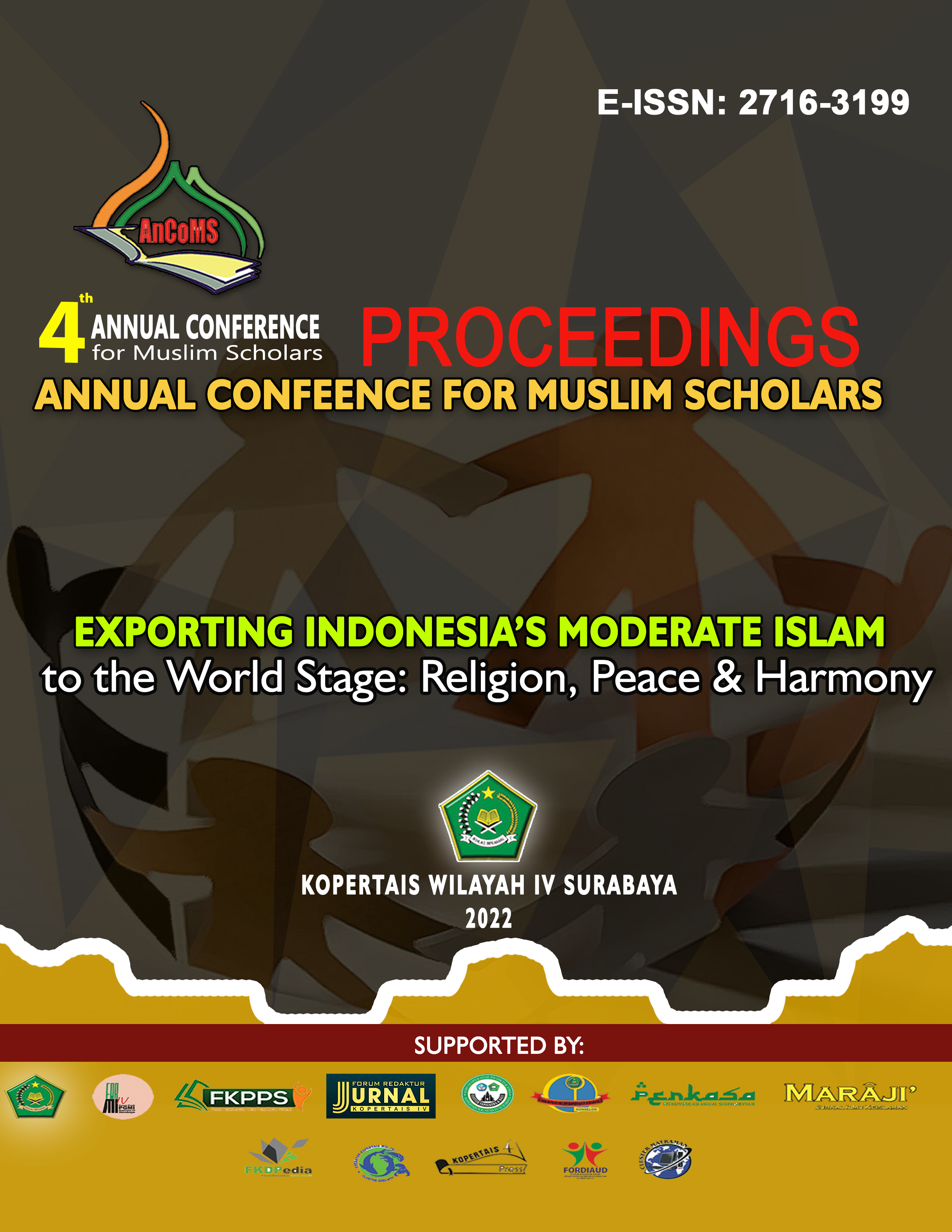 How to Cite
Hanur, B., Hubb, T. A. H., & Choirina, E. M. (2022). Pendekatan Humanistik dalam Internalisasi Nilai-Nilai Keislaman Generasi Milenial melalui Budaya "Ngarung": Studi Fenomenologi Moderasi Beragama Karang Taruna Kecakot di Kota Kediri. Proceedings of Annual Conference for Muslim Scholars, 6(1), 1042-1050. https://doi.org/10.36835/ancoms.v6i1.398
Copyright (c) 2022 Binti Su'aidah Hanur
This work is licensed under a Creative Commons Attribution-ShareAlike 4.0 International License.