Concepts of Religious Moderation Education at TAPAL KUDA: Linguistic Analysis and Local Wisdom
Muta'allim Muta'allim

Sekolah Tinggi Ilmu Tarbiyah (STIT) Togo Ambarsari Bondowoso

Misbahul Munir

Sekolah Tinggi Ilmu Tarbiyah Togo Ambarsari Bondowoso

Akhmad Ghasi Pathollah

Sekolah Tinggi Ilmu Tarbiyah Togo Ambarsari Bondowoso

Luthfiyatun Nawiroh

Sekolah Tinggi Ilmu Tarbiyah Togo Ambarsari Bondowoso

Muhalli Muhalli

Sekolah Tinggi Ilmu Tarbiyah Togo Ambarsari Bondowoso
Keywords:
conflicts, linguistic analysis and local wisdom, religious moderation, Tapal Kuda
Abstract
Indonesia is called a plural country because it consists of various ethnic groups, races, religions, cultures and languages. Thus, the Indonesian people are prone to conflict, especially those related to religious differences. This phenomenon often occurs among teenagers, especially at Tapal Kuda area. The factors that underlie this are the existence of personal interests, the influx of radicalism, economic business, lack of tolerance, increasing politics, fading of local wisdom, excessive sensitivity, miscommunication, and lack of tabayyun attitude. Therefore, this study presents the concept of religious moderation in order to stem this. This study aims to stem the conflict with the concept of religious moderation through a linguistic approach and local wisdom. This research is a qualitative research with observation and interview methods. The data were obtained from interviews with the Tapal Kuda speakers by voice recording and field note-taking. In addition, the researchers also used reflective-introspective methods. The results of this study indicate that (1) The underlying factors are the existence of personal interests, the entry of radicalism, economic business, lack of tolerance, increasing politics, fading of local wisdom, excessive sensitivity, miscommunication, and lack of tabayyun attitude. (2) the concept of religious moderation with a linguistic approach and local wisdom as an alternative solution in stemming conflicts.
Downloads
Download data is not yet available.
References
Afrianty, Dina, Islamic education and youth extremism in Indonesia, Journal of Policing, Intelligence and Counter Terrorism, Vol. 7, No. 2, 2012.
Akhmadi, Agus, MODERASI BERAGAMA DALAM KERAGAMAN INDONESIA. Jurnal Diklat Keagamaan, Vol. 13, No. 2, 2019.
Anwar, Rosyida Nurul & Muhayati, Siti, UPAYA MEMBANGUN SIKAP MODERASI BERAGAMA MELALUI PENDIDIKAN AGAMA ISLAM PADA MAHASISWA PERGURUAN TINGGI UMUM. Al-Tadzkiyyah: Jurnal Pendidikan Islam Vol. 12. No. 1, 2021.
Arif, Khairan M, KONSEP DAN IMPLEMENTASI MODERASI BERAGAMA DI INDONESIA. Al-Risalah: Jurnal Studi Agama dan Pemikiran Islam Vol. 12. No. 1, 2021.
Azzuhri, Muhandis., Farmawati, Cintami., & Amalia, Zahida Putri, Resolution of Religion Conflicts Through Communication Strategies in Gharib Fil Ma'na Hadiths. Jurnal Penelitain, Vol. 15, No. 2, 2018.
Bräuchler, B, Cultural Solutions to Religious Confl icts ? Th e Revival of Tradition in the Moluccas, Eastern Indonesia, 37, 872–891, 2009.
Danandjaja, James, Folklor Indonesia: Ilmu gossip, dongeng, dll. Jakarta Pustaka Utama Grafiti, 1997.
Darsita, Hubungan antara bahasa dan kebudayaan menurut cara opandang stukturalisme Claude Levi Strauss. Al-Turas, Vol. 9. No. 2, 2003.
Data Konflik Sosial, Diakses pada 17 April 2017, dari http://kesbangpol.kemendagri.go.id/index.php/subblog/pages/2015/350/, 2015.
Data-Konflik-Sosial Dissanayake, W, Asian approaches to human communication: retrospect and prospect. Intercultural Communication Studies, Vol. 12. No. 4, 2003.
Fahmi, T., & Akbar, M. Z, Pemetaan daerah rawan konflik sosial di Kabupaten Tanggamus. Jurnal Sosiologi, Vol. 17. No. 2, 2015.
Haryono, Akhmad dan Sofyan, Akhmad, PENGGUNAAN BAHASA DAN GAYA BAHASA SEBAGAI BENTUK KEARIFAN LOKAL MADURA YANG BERFUNGSI SEBAGAI RESOLUSI KONFLIK. Sawerigading, Vol. 16, No. 3, 2010.
______, PEMAHAMAN TERHADAP KEARIFAN LOKAL MADURA: Sebagai Antisipasi Era Golobalisasi & Informasi Menuju Tercapainya Keharmonisan Hidup Antaretnis Dalam Perspektif Bahasa dan Budaya. Kepel Press: Prosiding Seminar Nasional: Identitas dan Kearifan Masyarakat dalam Bhasa dan Sastra, 2013.
Jati, Wasisto Raharjo, KEARIFAN LOKAL SEBAGAI RESOLUSI KONFLIK KEAGAMAAN. Walisongo, Vol. 21, No. 2, 2013.
Karim, Abdul., Nensia., Aldeia, AM Saifullah., Aflahah, St., Muslim, Abu, MODERASI BERAGAMA DALAM PRAKTIK BOBAHASAAN MONGONDOW (TEKS DAN MAKNA KEARIFAN LOKAL BERBAGAI SIKAP KEBAHASAAN DAN LIRIK LAGU). Jurnal Lektur Keagamaan, Vol. 19, No. 1, 2021.
Muta'allim, Dkk. KEANEKARAGAMAN BUDAYA, BAHASA DAN KEARIFAN LOKAL MASYARAKAT INDONESIA (Resolusi, Pergeseran, Pemertahanan & Konservasi Kearifan Lokal di Indonesia). Purbalingga: Eureka Media Aksara, 2022.
Nazmudin, Kerukunan dan Toleransi Antar Umat Beragama dalam Membangun Keutuhan Negara Kesatuan Republik Indonesia (NKRI). Journal of Government and Civil Society Vol. 1, No. 1, 2018.
Neumeyer, H, Unity in diversity or diversity in unity: Indonesia's process of political decentralisation and its effects on conflicts. Law and Politics in Africa, Asia, and Latin America, Vol. 39, No. 3, 2006.
Putra, M. G. Bagus Ani, Peran Kearifan Lokal dalam Resolusi Konflik Keyakinan Beragama di Jawa Timur. Masyarakat, Kebudayaan dan Politik Vol. 26, No. 1, 2013.
Raziqy, Moh. Arif, Analisis Wacana Penjagaan Rumah Ibadah Agama Lain. Religious: Jurnal Studi Agama-agama dan Lintas Budaya Vol. 4, No. 1, 2020.
Ritonga, Apri Wardana, KONSEP INTERNALISASI NILAI-NILAI MODERASI BERAGAMA BAGI GENERASI MILENIAL BERBASIS AL. al-Afkar, Journal for Islamic Studies. Vol. 4, No. 1, 2021.
Sofyan, Akhmad, Fungsi Bittowa pada Masyarakat Madura. Jurnal Ilmu-ilmu Humaniora Vol.3, No.1, 2001.
Suherman, Ansar, KEARIFAN LOKAL SEBAGAI BASIS KOMUNIKASI PEMERINTAH DALAM PENYELESAIAN KONFLIK SOSIAL DAN KOMUNAL. Jurnal Dialektika, Vol. 3, No. 2, 2018.
Yanti, Betria Zarpina & Witro, Doli, ISLAMIC MODERATION AS A RESOLUTION OF DIFFERENT CONFLICTS OF RELIGION. Andragogi: Jurnal Diklat Teknis Pendidikan dan Keagamaan Vol. 8, No. 1, 2020.
Widiyowati, Estu., Kriyantono, Rachmat., Dwi Prasetyo, Bambang, MODEL MANAJEMEN KONFLIK BERBASIS KEARIFAN LOKAL: KONFLIK PERGURUAN PENCAK SILAT DI MADIUN – JAWA TIMUR. Jurnal Komunikator Vol. 10, N0. 1, 2018.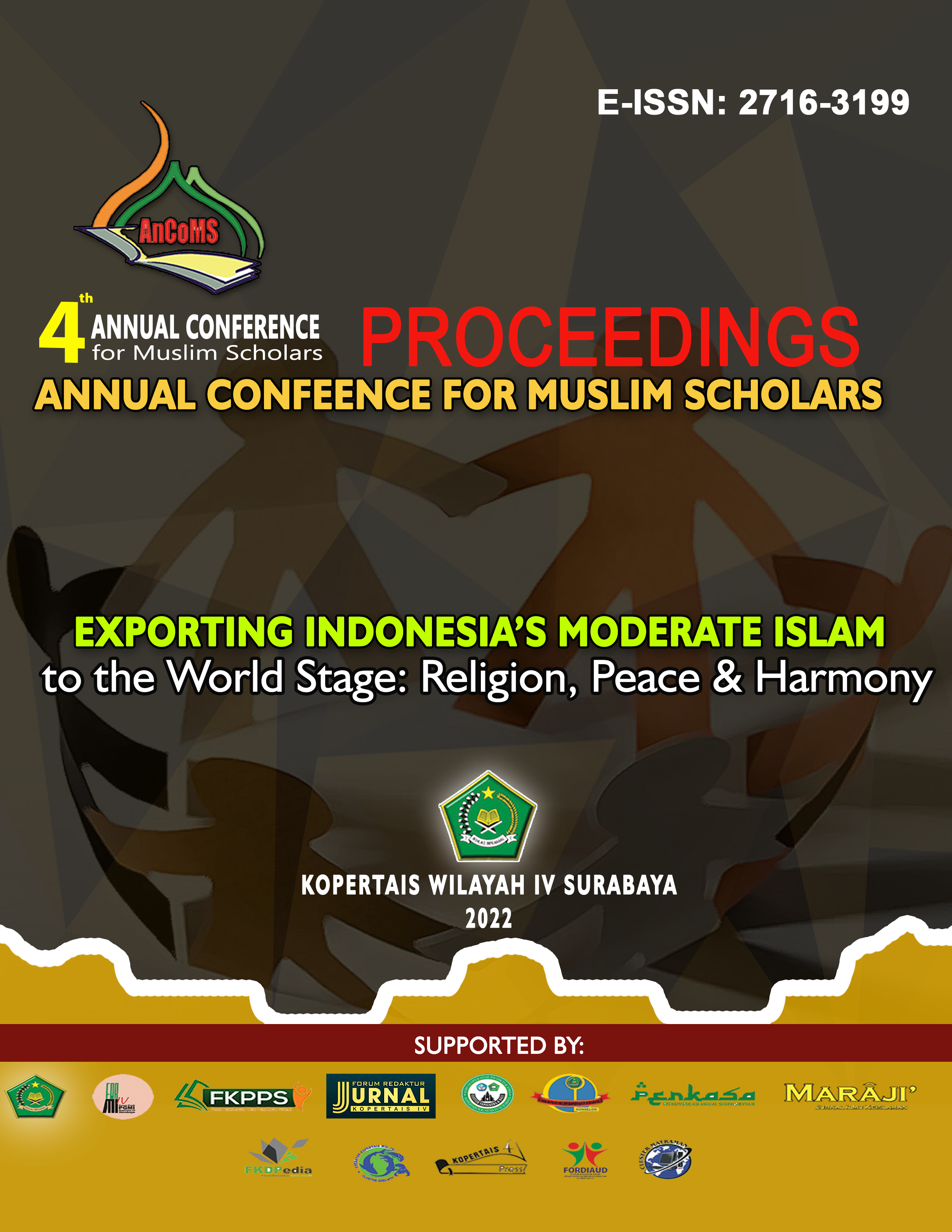 How to Cite
Muta'allim, M., Munir, M., Pathollah, A., Nawiroh, L., & Muhalli, M. (2022). Concepts of Religious Moderation Education at TAPAL KUDA: Linguistic Analysis and Local Wisdom. Proceedings of Annual Conference for Muslim Scholars, 6(1), 798-811. https://doi.org/10.36835/ancoms.v6i1.395
Copyright (c) 2022 Muta'allim
This work is licensed under a Creative Commons Attribution-ShareAlike 4.0 International License.