Urgensi Pengarusutamaan Moderasi Beragama melalui Aktualisasi Doktrin Aswaja An-Nahdliyah di Sekolah
Muhammad Fahmi

Universitas Islam Negeri Sunan Ampel

Senata Adi Prasetia

Universitas Islam Negeri Sunan Ampel Surabaya

Abd. Rouf

Sekolah Dasar Negeri Sawunggaling Surabaya

Syaifuddin Syaifuddin

Universitas Islam Negeri Sunan Ampel Surabaya

Sukron Djazilan

Universitas Nahdlatul Ulama Surabaya

Muhammad Salman Alfarizi

Universitas Islam Negeri Sunan Ampel Surabaya

Adam Sukron Ma'mun

Institut Agama Islam Al Khoziny
Keywords:
Moderasi Beragama, Aswaja An-Nahdliyah, dan Sekolah.
Abstract
The challenge in the life of religious people today is the extremism movement. Extremism is part of the form of a transnational movement that can have two pole dimensions, the left pole (secularism) and the right pole (textual-radicalism). In responding to this challenge, the religious moderation movement needs to be realized as a counter in dealing with it. This article explains the importance of mainstreaming religious moderation through aswaja an-nahdliyah education in schools in Indonesia. Through reading for text on relevant documents and content analysis, this article produces three substantive ideas. First, the mainstreaming of religious moderation needs to be realized in various fields and levels in every element of life, especially in educational institutions. Second, aswaja an-nahdliyah education (tawazun, tasamuh, tawasuth) contains teachings that are relevant to the substance of the policy and practice of religious moderation. Third, mainstreaming religious moderation can be realized through the practice of aswaja an-nahdliyah education in schools in Indonesia. Therefore, in order to equip the nation's children with the understanding and behavior of religious moderation, and prevent extremism movements, aswaja an-nahdliyah education needs to be made into the curriculum in every school in Indonesia.
Downloads
Download data is not yet available.
References
Abdallah. "Exclusivism and Radicalism in Schools: State Policy and Educational Politics Revisited." Studia Islamika 23.3 (2016).
Abu al-Qasim al-Junaid, Rasa'il al-Junaid (Kairo: Bar'i Wajday, 1988).
Aceng Abdul Aziz, dkk, Implementasi Moderasi Beragama Dalam Pendidikan Islam (Jakarta: Kelompok Kerja Implementasi Moderasi Beragama Direktorat Jenderal Pendidikan Islam Kemenag RI Bekerjasama dengan Lembaga Daulat Bangsa, 2019).
Ali Khaidar, Nahdlatul Ulama dan Islam Indonesia; Pendekatan Fiqih dalam Politik (Jakarta: Gramedia, 1995)
Didin Wahyudin, "Pendidikan Aswaja sebagai upaya menangkal radikalisme," Dinamika Penelitian: Media Komunikasi Penelitian Sosial Keagamaan 17.2 (2017).
Donald E. Smith menyebut KH. Hasyim Asyari dengan, The Ulama' scholar's of Islamic law, played a major role in Indonesia struggles against imperialism.
Harun Nasution, Teologi Islam; Aliran-Aliran, Sejarah Analisa Perbandingan (Jakarta: UI Pres, 2008).
https://theconversation.com/countering-the-rise-of-radicalism-in-private-islamic-schools-in-indonesia-96730, (17 Mei 2018), diakses 2 November 2021
Ibn Katsir, Tafsir al-Qur'an al-Adzim (Beirut: Dar al-Fikr, n.d.).
Kemenag RI, "Kemenag Susun Modul Moderasi Beragama Guru PAI", https://kemenag.go.id/read/kemenag-susun-modul-moderasi-beragama-guru-pai-8npyv, diakses 2 November 2021.
Kemenag RI, Moderasi Beragama (Jakarta: Badan Litbang dan Diklat Kementerian Agama RI, 2019).
KH Muchotob Hamzah, Pengantar studi aswaja an-nahdliyah (Yogyakarta: LKiS Pelangi Aksara, 2017).
M. Quraish Shihab, Wasathiyah; Wawasan Islam tentang Moderasi Beragama (Jakarta: Lentera Hati, 2019).
Masdar Hilmy, Islam Profetik: Substansiasi Nilai-Nilai Agama dalam Ruang Publik (Yogyakarta: Kanisius, 2008).
Muhyiddin Abdusshomad, "Karakter Tawassuth, Tawazun, I'tidal, dan Tasamuh dalam Aswaja" dalam https://islam.nu.or.id/post/read/16551/karakter-tawassuth-tawazun-i039tidal-dan-tasamuh-dalam-aswaja, diakses 2 Oktober 2021.
Said Agil Siraj, " Ahlussunnah wal Jama'ah di Awal Abd XXI", Aula,no. 8, Agustus 1998.
Said Aqil Siradj, Ahlussunah Wal Jamaah dalam Lintas Sejarah (Yogyakarta: LKPSM, 1998).
Said Aqil Siradj, Ahlussunnah wal Jama'ah; Sebuah Kritik Historis (Jakarta: Pustaka Cendikiamuda, 2008).
Said Aqil Siradj, Islam Nusantara: Dari Ushul Fiqih hingga Paham Kebangsaan, Editor Ahmad Sahal & Munawir Aziz (Bandung: Mizan, 2015).
Setara Institute, "Lampu Kuning Meningkatnya Radikalisme di Sekolah-Sekolah Indonesia", dalam https://setara-institute.org/lampu-kuning-meningkatnya-radikalisme-di-sekolah-sekolah-indonesia/, diakses 2 November 2021.
Syekh Ali Jum'ah," Siapakah Ahlussunnah wal Jama'ah?" terj. KH. Ahmad Ishomuddin, dalam https://www.nu.or.id/post/read/70944/siapakah-ahlussunnah-wal-jamaah, diakses 2 Oktober 2021.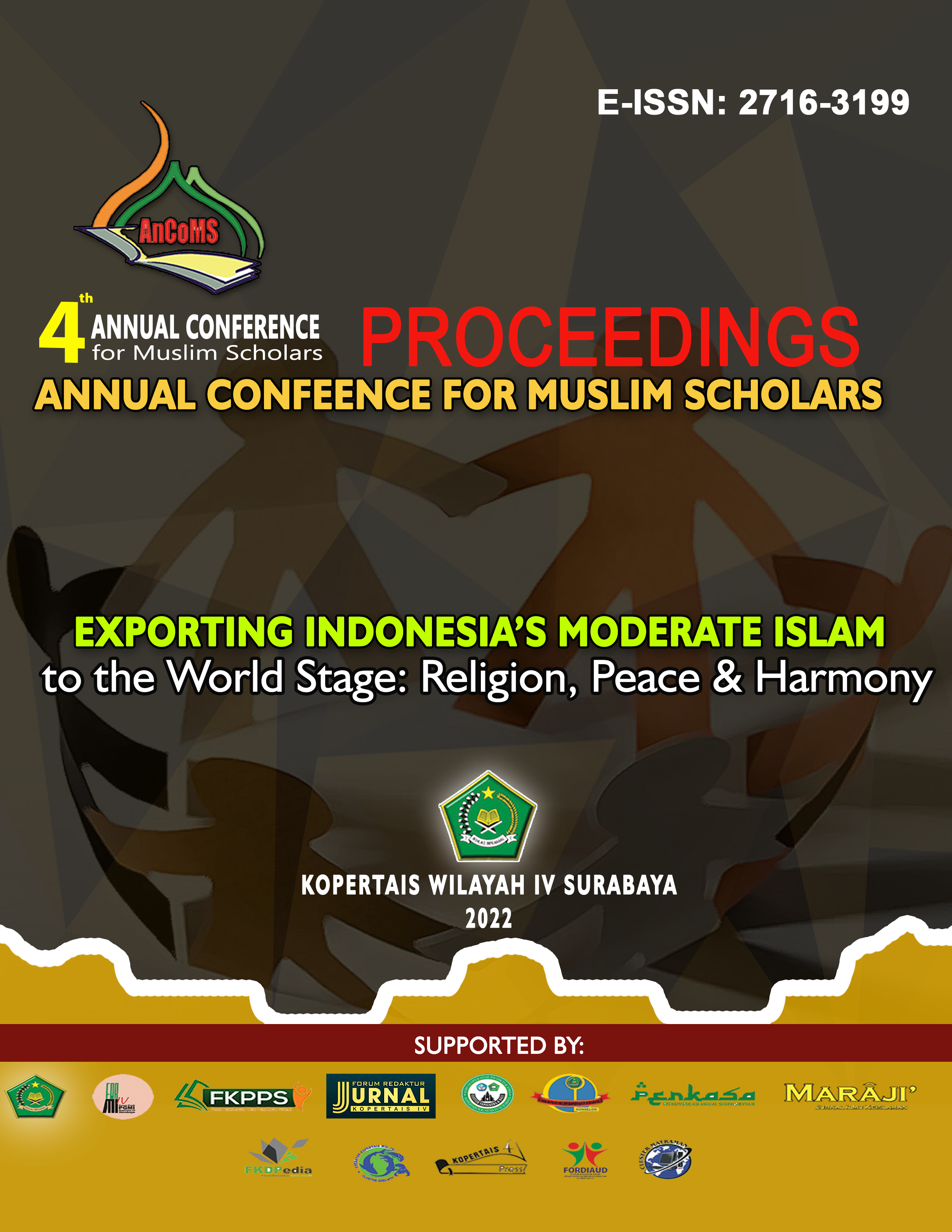 How to Cite
Fahmi, M., Prasetia, S. A., Rouf, A., Syaifuddin, S., Djazilan, S., Alfarizi, M. S., & Ma'mun, A. S. (2022). Urgensi Pengarusutamaan Moderasi Beragama melalui Aktualisasi Doktrin Aswaja An-Nahdliyah di Sekolah. Proceedings of Annual Conference for Muslim Scholars, 6(1), 1027-1041. https://doi.org/10.36835/ancoms.v6i1.390
Copyright (c) 2022 Muhammad Fahmi
This work is licensed under a Creative Commons Attribution-ShareAlike 4.0 International License.