The Role of Women as Movers of Religious Moderation Through The Family
Luciana Anggraeni

Universitas Muhammadiyah Malang

R. Tanzil Fawaiq Sayyaf

Universitas Muhammadiyah Malang
Keywords:
Women, Religious Moderation, Family.
Abstract
Amid the issue of Indonesian religious extremism, the role of women in strengthening literacy and religious moderation in the family is a serious concern. Preventing cases of radicalism can start from the closest point, namely the family. This is important to study because the role of women in the family is not only as mothers, but women can carry out their multi-role as individuals, wives, mothers, and community mobilizers in the implementation of religious moderation. Through parenting applied by mothers to children, they can integrate the values of justice and togetherness so children learn to respond to differences wisely. The role of mothers and women amid the Covid-19 pandemic is completing domestic work and indirectly acting as teachers for children. In this situation, mothers must be wise and need to supervise their children using technology, which is the main door for children to receive information. This study examines the role of women in the family as movers of religious moderation in Indonesia. The research method used is library research, which will focus on the literature, while the analysis used is descriptive-analytical. The result of this research is that women as mothers can instill values of religious moderation through child-rearing, women as wives can work together with their husbands in fostering a household ark that integrates the value of religious moderation in educating children as a mother, and the nuclear family. While women as a society have the potential to maintain and maintain inter-religious harmony, this potential is underutilized.
Downloads
Download data is not yet available.
References
Abdullah, Raihanah, Asadullah Ali, and Siti Aminah Hamid. "Gender Equality, Islam, and Law." Journal of Oriental Studies, 2015.
Akhmadi, Agus. "Moderasi Beragama Dalam Keragaman Indonesia Religious Moderation in Indonesia ' S Diversity." Jurnal Diklat Keagamaan 13, no. 2 (2019): 45–55.
Al, Jurnal, Andi Bahri, S Sekolah, Tinggi Agama, and Islam Negeri. "Perempuan Dalam Islam (Mensinerjikan Antara Peran Sosial Dan Peran Rumah Tangga)." Al-Maiyyah 8, no. 2 (2015): 179–99. https://www.neliti.com/id/publications/285750/.
Daimah, Daimah. "Peran Perempuan Dalam Membangun Kerukunan Umat Beragama : Studi Komparatif Indonesia Dan Malaysia." El-Tarbawi 11, no. 2 (2018): 127–42. https://doi.org/10.20885/tarbawi.vol11.iss2.art3.
Hanapi, Agustin. "PERAN PEREMPUAN DALAM ISLAM" 1, no. 1 (2015): 15–26.
Hilmy, Masdar. "Whither Indonesia's Islamic Moderatism?: A Reexamination on the Moderate Vision of Muhammadiyah and NU." Journal of Indonesian Islam 7, no. 1 (2013): 24–48. https://doi.org/10.15642/JIIS.2013.7.1.24-48.
Huda, M. Thoriqul. "Pengarusutamaan Moderasi Beragama; Strategi Tantangan Dan Peluang FKUB Jawa Timur." Tribakti: Jurnal Pemikiran Keislaman 32, no. 2 (2021): 283–300. https://doi.org/10.33367/tribakti.v32i2.1745.
kementrian RI. "Moderasi Beragama," 219AD, 162.
Komnas Perempuan. Perempuan Dalam Himpitan Pandemi: Lonjakan Kekerasan Siber, Perkawinan Anak, Dan Keterbatasan Penanganan Di Tengah Covid-19, Catatan Tahunan Kekerasan Terhadap Perempuan Tahun 2020. Catatan Tahunan Tentang Kekerasan Seksual Terhadap Perempuan. Vol. 1, 2021. https://komnasperempuan.go.id/uploadedFiles/1466.1614933645.pdf.
Muliadi, Erlan. "Inside the Gender Jihad: Women's Reform in Islam." Choice Reviews Online 44, no. 06 (2007): 44-3255-44–3255. https://doi.org/10.5860/choice.44-3255.
Munafakat, Fiqh. "IN RIGHT Jurnal Agama Dan Hak Azazi Manusia Vol. 4, No. 1, November 2014." Ahmad Zainut Tauhid 4, no. 1 (2014).
Musjtari, Dewi Nurul. "Peran Dan Tugas Perempuan Dalam Keluarga." 26 Maret 2016, no. 2 (2016).
PEREMPUAN, HUMAS KEMENTERIAN PEMBERDAYAAN ANAK, DAN PERLINDUNGAN. "PEREMPUAN DALAM PUSARAN TERORISME, HARUS DICEGAH BERSAMA." Rabu, 07 April 2021. Accessed March 11, 2022. https://www.kemenpppa.go.id/index.php/page/read/29/3132/perempuan-dalam-pusaran-terorisme-harus-dicegah-bersama.
Qibtiyah, Alimatul, Maria Ulfah Anshor, Siti Aminah Tardi, Olivia Chadijah Salampessy, and Andy Yentriyani. "Menguatkan Upaya Mengatasi Kerentanan Perempuan Pada Terorisme." Jakarta, 22 Agustus, 2021. https://komnasperempuan.go.id/siaran-pers-detail/siaran-pers-komnas-perempuan-memperingati-hari-internasional-mengenang-and-menghormati-korban-terorisme-21-agustus-jakarta-22-agustus-2021.
Rachman, Tahar. "MODERASI BERAGAMA BERBASIS SOSIO KULTURAL PADA GENERASI MILENIAL DESA BALUN KECAMATAN TURI KABUPATEN LAMONGAN." Angewandte Chemie International Edition, 6(11), 951–952. 18, no. 2 (2018): 10–27.
Riniti Rahayu, Luh, and Putu Surya Wedra Lesmana. "Potensi Peran Perempuan Dalam Mewujudkan Moderasi Beragama Di Indonesia." Pustaka : Jurnal Ilmu-Ilmu Budaya 20, no. 1 (2020): 31. https://doi.org/10.24843/pjiib.2020.v20.i01.p05.
Riza Mahardhika, M.Si, Jeanne Francois, M.Si (Han), Juniawan Priono, M.Si (Han), Lifani Kurnia, M.Si (Han), Zuhria Ninda, M.Si. "Penguatan Partisipasi Perempuan Bela Negara." Jakarta: KEMENTERIAN PEMBERDAYAAN PEREMPUAN DAN PERLINDUNGAN ANAK REPUBLIK INDONESIA, 2018.
Samsidar, S. "Peran Ganda Wanita Dalam Rumah Tangga." Jurnal Studi Gender Dan Anak 12, no. 2 (2019): 655–63.
Saputro, M Endy. "Probabilitas Teroris Perempuan Di Indonesia." Jurnal Ilmu Sosial Dan Ilmu Politik 14, no. Vol 14, No 2 (2010): Membedah Radikalisme di Indonesia (2010): 211–28. http://jurnalsospol.fisipol.ugm.ac.id/index.php/jsp/article/view/30.
Syarifuddin, Achmad. "Peran Strategis Kaum Perempuan Dalam Mewujudkan Masyarakat Religi." Raden Fatah 12, no. 1 (2017): 21–32. http://jurnal.radenfatah.ac.id/index.php/annisa/article/view/1520.
Zakiyah. "Penguatan Moderasi Beragama Dan Kebangsaan Oleh Masyarakat Menengah Muslim," 2019, 1–11. simlitbangdiklat.kemenag.go.id.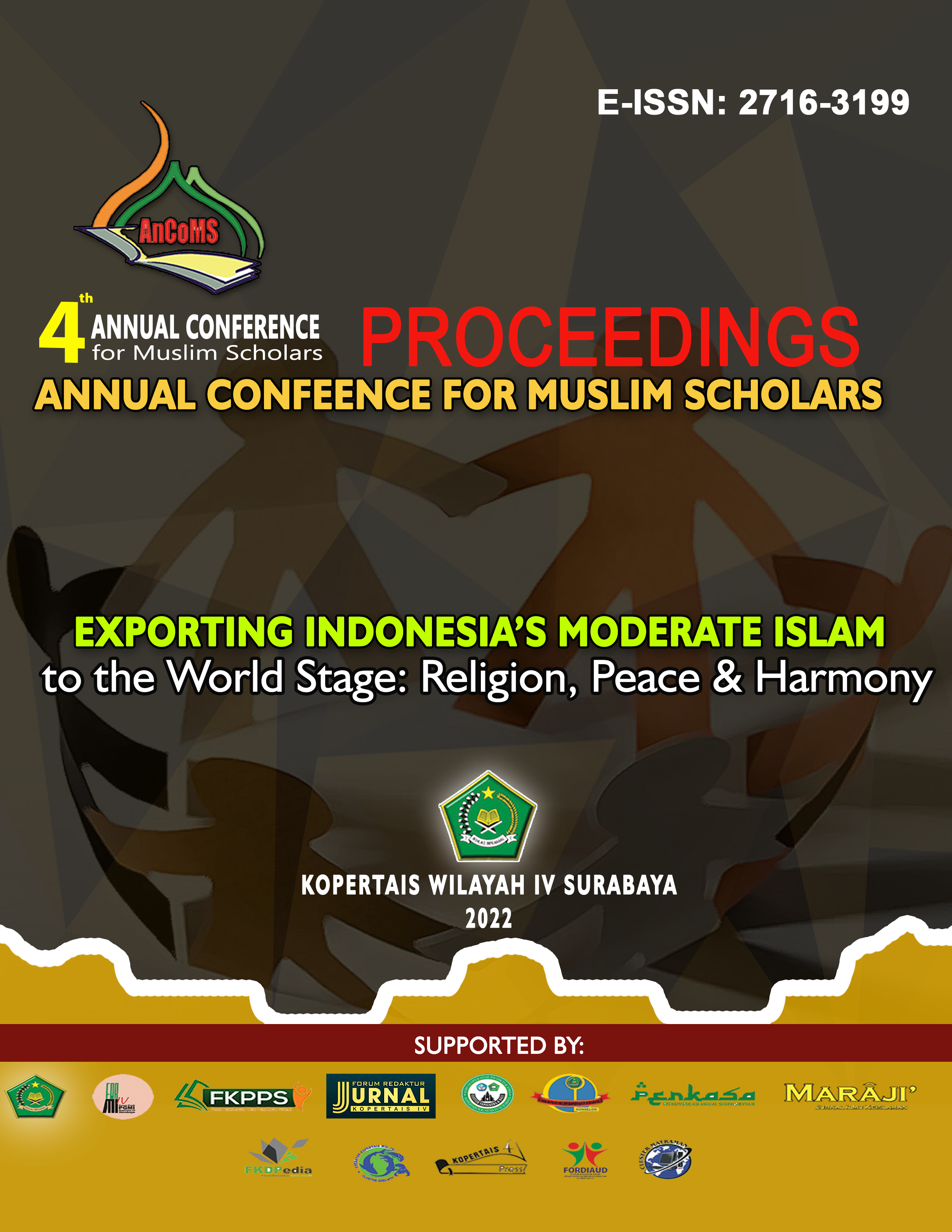 How to Cite
Anggraeni, L., & Sayyaf, R. (2022). The Role of Women as Movers of Religious Moderation Through The Family. Proceedings of Annual Conference for Muslim Scholars, 6(1), 787-799. https://doi.org/10.36835/ancoms.v6i1.388
Copyright (c) 2022 Luciana Anggraeni
This work is licensed under a Creative Commons Attribution-ShareAlike 4.0 International License.