Internalisasi Nilai-Nilai Multikultural dalam Mengembangkan Sikap Moderasi Beragama (Studi Kasus di PMD. Gontor Ponorogo)
Muhammad Yusron Maulana El-Yunusi

Universitas Sunan Giri Surabaya
Keywords:
Internalization; Multi Cultural Value; Religius Moderation
Abstract
The existence of many kinds of cultures, also its cases have happened, there is an influence towards educational systems. Even, they are able to link or cooperate. Then, the multi cultural education gives awareness that the differences. Some researchers have chosen a Islamic boarding school, GONTOR as a researching object because it has a good receiver of acceptance background. The main aim of that research is to comprehend the moderation and the internal values of cultures which developed. This research is qualitative. Technically, data collection has been done by observation, interview and documentation. The values of multi cultures which developed by PMD Gontor in forming the attitudes of religious moderation on Santri (students) consist of The Five Values, PMDG also develops a motto. The modern values implementated in teaching, forming 'pesantren' culture as well as extra and intra curricula.
Downloads
Download data is not yet available.
References
Yaqin, M. 2005. Ainul Pendidikan Multikultural: Cross-Cultural Understanding Untuk Demokrasi dan Keadilan. Yogyakarta: Pilar Media.
Banks, James A. 2006. Race, Culture and Education. New York: Roudledge.
Soeroso, Andreas. Sosiologi 2 SMA kelas XI. Perpustaakan Nasional: Quadra, 2008.
Munir, Abdul Mulkhan. 2005. Kesalehan Multicultural Ber-Islam Secara Autentik-Kontekstual di Aras Peradaban Global, Pusat Study Agama Dan Peradaban (PSAP) Muhammadiyah. Jakarta Pusat.
Harahap, Ahmad Rivai. 2004. Multikulturalisme dan Penerapannya dalam pemeliharaan kerukunan Umat Beragama".
Shihab, M.Quraish. 2019. Wasathiyyah : wawasan Islam tentang moderasi beragama. Lentera Hati, Tangerang.
Misrawi, Zuhairi. 2010. Hadratussyaikh Hasyim Asy'ari Moderasi, Keutamaan, dan Kebangsaan. Jakarta: PT Kompas Media Nusantara.
Suharto, Ahmad. 2011. Staf. Sekretaris Pimpinan Pondok, Darussalam Gontor, Modern Islamic Boarding School. Ponorogo: Darussalam Press PMD.Darussalam Gontor.
Zarkasyi, Imam. Pidato Pada Resepsi Kesyukur¬an Setengah Abad dan Peresmian Masjid Jami' Pondok Modern Gontor, tanggal 3 Maret 1978.
Abdurahman Wachid, Pesantren Masa Depan (Bandung: Pustaka Hidayah, 1999), 18.
Majid, Nurcholis. 1997. Bilik-Bilik Pesantren sebuah Potret Perjalanan. Jakarta: Paramadina.
Zarkasyi, Abdullah Syukri. 2005. Gontor & pembaharuan pendidikan pesantren. Divisi Buku Perguruan Tinggi, RajaGrafindo Persada.
Asrori, S. 2019. Mengikuti Panggilan Jihad; Argumentasi Radikalisme dan Ekstremisme di Indonesia. Aqlam: Journal of Islam and Plurality, 4 (1).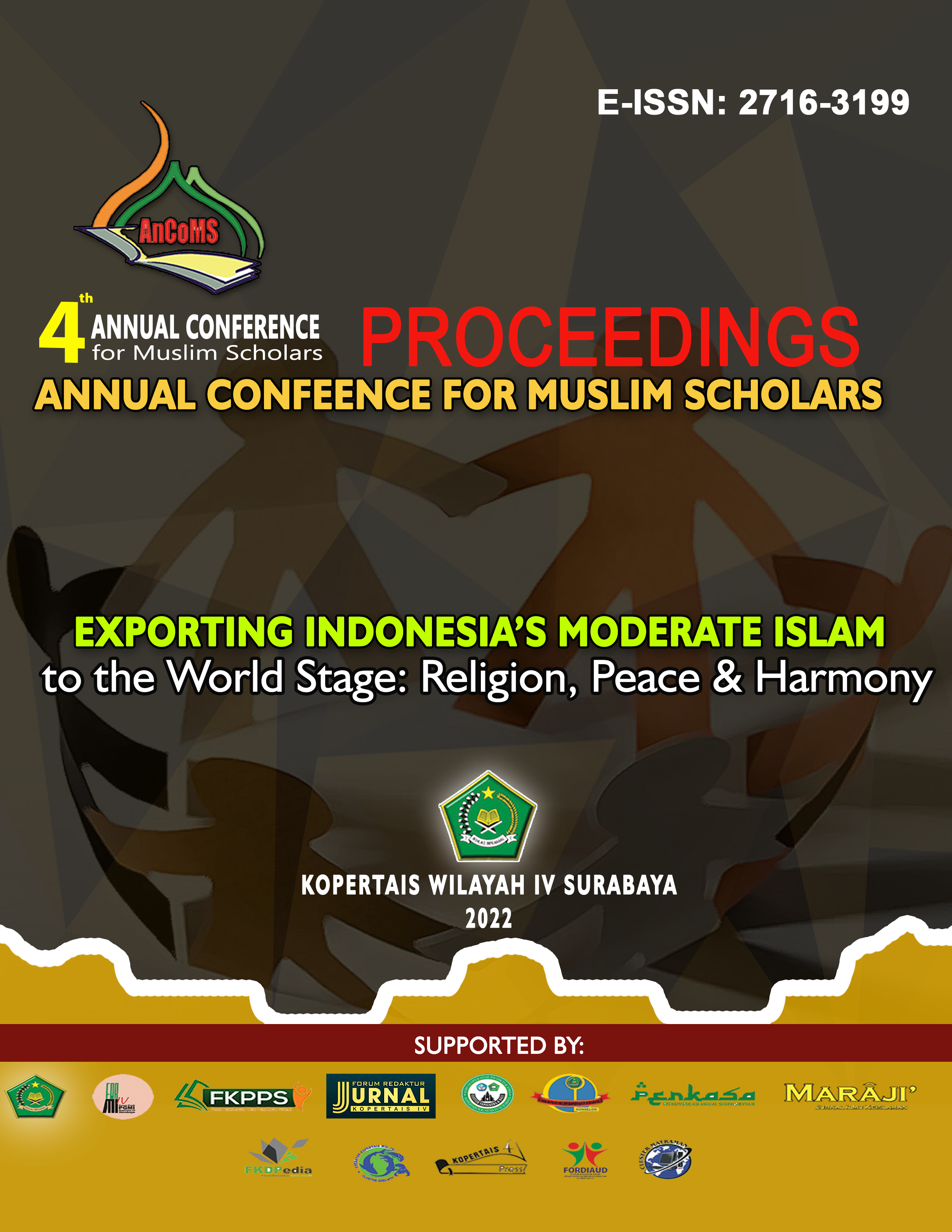 How to Cite
El-Yunusi, M. (2022). Internalisasi Nilai-Nilai Multikultural dalam Mengembangkan Sikap Moderasi Beragama (Studi Kasus di PMD. Gontor Ponorogo). Proceedings of Annual Conference for Muslim Scholars, 6(1), 1117-1126. https://doi.org/10.36835/ancoms.v6i1.384
Copyright (c) 2022 Muhammad Yusron Maulana El-Yunusi
This work is licensed under a Creative Commons Attribution-ShareAlike 4.0 International License.