Fikih Sosial: Ekspansi Moderasi Islam untuk Peradaban Dunia
Shofiatun Nikmah

Universitas Zainul Hasan Genggong
Keywords:
Social Fiqh, Moderation Islam, expansion.
Abstract
Exporting Islamic moderation in Indonesia to the World is a big work that requires a mature strategy and readiness.  Thus, the importing world can replicate Islamic moderation in Indonesia with the various formulations offered. Social fiqh can be bargained to formulate the strategy of exporting Islamic moderation. Social Fiqh ideas by Kiai Sahal Mahfudz have a strong concept and established epistemology and continue to prioritize moderation (wasathiyyah) which the study still adheres to authenticity (al-Ashlaah) and accommodates modernity (al-Hadathah). The proximity of Muslims in the Middle East to Islamic text is an opportunity for the development of social jurisprudence in an effort to export Islamic Moderation. This study aims to formulate a strategy for exporting religious moderation through the Social Fiqh Approach, the idea of ​​Kiai Sahal, with a grounded theory approach and is qualitative in the method. This study shows that there are four formulations to make Social Fiqh a bargaining power; first, Middle Eastern students are awarded scholarships to study social fiqh and its implementation in Indonesia at Parent Universities such as STAIMAFA and universities that focus on social fiqh studies. Second, methodological studies of social fiqh are enriched through translation into foreign languages, scientific studies, and international conferences as bargaining for Islamic moderation in Indonesia. Third, conducting multitrack diplomacy towards Middle Eastern countries that there is an Indonesian-style fiqh methodology whose implementation can be adapted to the socio-political conditions in the importing country. Fourth, the development of social jurisprudence into civilization fiqh through multidisciplinary studies, so that various phenomena can be analyzed.
Downloads
Download data is not yet available.
References
Abd al-Salam, Izzu al-Din 'Abd al-'Aziz bin. Qawaid al-Ahkam fi Mas}alih al-Ana>m. Juz 1 Beirut: Dar el-Fikt. t.th.
Asmani, Jamal Ma'mur. Fikih Sosial KH. MA Sahal Mahfudz: Elaborasi Lima Ciri Utama. Jakarta: PT Elex Media Komputindo, 2015.
Asmani, Jamal Ma'Mur. "Fikih Sosial Kiai Sahal sebagai Fikih Peradaban" dalam Jurnal al-Ahkam: Jurnal Pemikiran Hukum Islam Vol. 24 No.1 April 2014.
Ali Dharifi, Syir. ath-Tsawabit wal mutaghayyirat. Islamabad: Jami'ah Islamiyyah al-'Alamiyyah, 2006.
Beritasatu.com, "Menlu sampaikan 4 plus 1 Prioritas Politik Luar Negeri RI" diakses dari https://www.beritasatu.com/politik/582517/menlu-sampaikan-4-plus-1-prioritas-politik-luar-negeri-ri
Dahlan, Moh. "Paradigma Fiqih Sosial KH. M.A. Sahal Mahfudh dalam Menjawab Problematika Aktual Umat di Indonesia", dalam Jurnal NUANSA Vol. IX, No.1, Juni 2016.
El Fadhl, Khaled M. Abou. Atas Nama Tuhan, .Speaking in God's Name: Islamic Law, Authority, and Women., terj. R. Cecep Lukman Yasin. Jakarta: Serambi. 2001.
al-Ghozali, Abdul Muqsith. "Ta'liqat atas Fiqh Sosial Kiai Sahal" dalam Prolog buku Fiqih Sosial: Masa Depan Fikih Indonesia oleh Umdah el Baroroh .Kajen: Pusat FISi ipmafa Press, 2017.
Hasyim, Syafiq. Fikih Sosial KH. Sahal Mahfudh: Beberapa catatan Reflektif, makalah disamapikan dalam Launching dan Bedah buku "Metodologi FIkih Sosial, dari Qauli ke Manhaji". Pati, Kamis, 15 Januari 2-15 di Auditorium STAIMAFA PATI
Hilmy, Masdar. "Eksportasi Moderasi Beragama" dalam Kompas.id 8 Januari 2022
Hodgson, Marshal. G.S. The Venture of Islam, Vol. 3 six "Epilogue: the Islam Heritage and the Modern Conscience.
Khatib, Hasan Ahmad. al-Fiqh al-Muqaran. T.t.p: Dar al-Ta'lif. 1957.
"Kedubes AS hingga Tiongkok Apreasi Buku Moderasi beragama"Lihat dalam nasional.sindonews.com Kamis, 09 Desember 2021.
al-Maliki, Muhammad bin Alawi. Syarh al-Waraqat fi Ushul al-Fikh. Surabaya: Al-Hidayah, t.t.
Mudhofir, Arekologi Fikih Sosial. Jakarta: El-Markazi. 2018.
Misrawi, Zuhairi ed.. Menggugat Tradisi: Pergulatan Pemikiran Anak Muda NU .Jakarta: Kompas-P3M, 2004.
Mahfudh, MA Sahal. FIkih Sosial Upaya Pengembangan Mazhab Qauli dan Manhaji, teks pidato Penerimaan Gelar Doktor Honoris Causa dalam Bidang Fikih Sosial di UIN Syarif Hidayatullah Jakarta, 2003, 31-32.
al-Qurtuby, Sumanto. KH M.A. Sahal Mahfudh: Era BAru Fiqh Indonesia. Yogyakarta: Cermin 1999.
al-Qardhawi, Yusuf, Taisir al-Fikih al-Mu'assir fi dai al-Quran wa al-Sunnah. Beirut: Muassasah ar-Risalah. 2001.
al-Qardhawi, Yusuf. al-Ijtihad al-Mu'ashir .Beirut: Maktab al-Islami, 1998.
Islam Nusantara, Islam di Indonesia dikagumi Dunia Internasional, diakses dari https://www.dw.com/id/islam-jalan-tengah-di-indonesia-dikagumi-dunia-internasional/a-46134329 pada 27/03/2022
Rosyid, Muhamad. Mengampanyekan Islam Indonesia Ke Dunia: Tantangan dan Momentumnya, dalam Media Indonesia.com diakses dari https://mediaindonesia.com/opini/422192/mengampanyekan-islam-indonesia-ke-dunia-tantangan-dan-momentumnya pada 27/03/2022
Sahal, Ahmad. "Kontekstualisasi Fikih" dalam Jurnal Tahkim vol.x No.2, 2014.
Sano, Quttub. Qiraah Ma'rifiyah fi al-Fikr al_ushuli. Kuala Lumpur: Dar al-Tajdid. 2003.
Suratmaputra, Ahmad Munif. Filsafat Hukum Islam al-Ghazali. Jakarta: Pustaka Firdau. 2001.
Saptomo, Bunyan. Ketua Komisi HLNKI MUI dalam webinar "Beasiswa Mahasiswa asing, peran MUI, duta-duta Islam wasathiyah". Pada 11 Desember 2021.
Asy-Syatibi, Al-Muwafaqat Fi Ushul al-Ahkam. Beirut: Dar al-Fikr. t.t.
Thohari, Ahmad. "Epistemologi Fikih Lingkungan: Revitalisasi Konsep Maslahah" dalam Jurnal Azzarqa' Vol. 5. No.2 Desember 2013.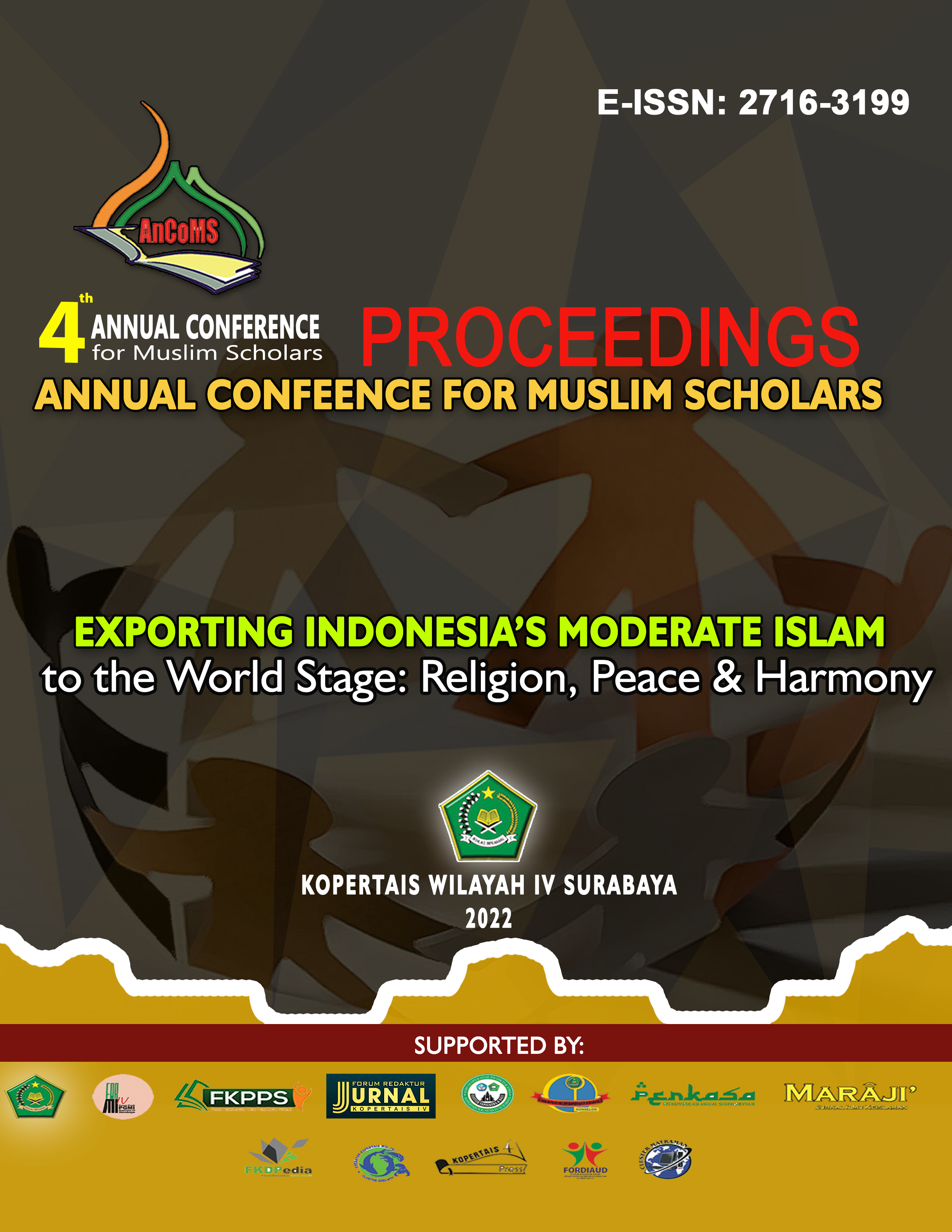 How to Cite
Nikmah, S. (2022). Fikih Sosial: Ekspansi Moderasi Islam untuk Peradaban Dunia. Proceedings of Annual Conference for Muslim Scholars, 6(1), 1083-1097. https://doi.org/10.36835/ancoms.v6i1.383
Copyright (c) 2022 Shofiatun Nikmah
This work is licensed under a Creative Commons Attribution-ShareAlike 4.0 International License.