Pengembangan Model Buku Ajar Fikih Moderat di Madrasah
Syaikhu Rozi

Universitas Islam Majapahit (UNIM) Mojokerto

Ainul Yaqin

Universitas Islam Majapahit (UNIM) Mojokerto

Saifuddin Saifuddin

Universitas Islam Majapahit (UNIM) Mojokerto

M. Ali Rohmad

Universitas Islam Majapahit (UNIM) Mojokerto

M. Syarif

Prodi. Pendidikan Agama Islam, Universitas Islam Majapahit (UNIM) Mojokerto
Keywords:
Model, Textbook, Jurisprudence, Moderate.
Abstract
The efforts of PAI teachers in realizing interesting, contextual and effective fiqh learning towards strengthening the character of moderate Muslims for madrasa students encountered obstacles, including the existence of textbooks that tended to be puritanical. In addition, most of the books used are only printed books with unattractive designs. For this reason, it is necessary to develop the process through development research (R&D) whose procedure uses the Plomp design (2010) with 5 stages, namely: 1) investigation, 2) design, 3) construction, 4) evaluation, 5) implementation. Meanwhile, so that the resulting textbooks can be more contextual and effective in strengthening the character of moderate Muslims for students, the textbooks are prepared by internalizing Indonesian Fiqh thinking with 2 choices of methods, namely: 1) the existing teaching materials are not changed, the content remains the same. with the discussion of classical Islamic books (books), but given additional contextualization explanations that are in accordance with Islamic moderation thinking, or b) teaching materials are changed in content according to the latest ijtihad of contemporary scholars and the creative traditions of Indonesian Muslim scholars who present law - Islamic law according to the situation and conditions of contemporary Muslim society.
Downloads
Download data is not yet available.
References
Ainul Yaqin, Rozi, S., & Sham, F. M. (2020). The Paradox of Pesantren Education in the Implementation of Islamic Law: Study of Pesantren Kyai Notion in Mojokerto. Jurnal Pendidikan Islam, 9(1), 129-148. https://doi.org/10.14421/jpi.2020.91.129-148
Asih Andriyati Mardliyah, S. R. (Vol. 7 No. 2 (2019)). THE STRENGTHEN STRATEGY OF MUSLIM MODERATE CHARACTERS IN EARLY CHILDREN AGE BASED ON LEARNING CENTER. EDUKASI: Jurnal Pendidikan Islam, https://staim-tulungagung.ac.id/ejournal/index.php/EDU.
Fadl, K. A. (2005). The Greattheft; Wrestling Islam From The Extremist. Harper san Francisco: Division of Harper Collins publhiser.
Fadl, K. A. (2005). The Greattheft; Wrestling Islam From The Extremist. Harper san Francisco: a Division of Harper Collins publhise.
Hurlock, E. B. (2002). Psikologi Perkembangan; Suatu Pendekatan Sepanjang Rentang Kehidupan. Edisi Kelima. Jakarta: Erlangga.
Mapparessa, C. A. (2019). Jalur Psikologis Teroris; Mengungkap Misteri Pelaku Bom Bunuh Diri di Indonesia. Jakarta: Pustaka Harakatuna .
MD, M. M. (2020). Penguatan Moderasi Islam dalam Konteks Berbangsa dan Bernegara; Tinjauan Aspek Hukum dan Konstitusi. Kopertais Wilayah 4 surabaya. Surabaya: 2nd Annual Conference For Muslim Scholerss (AnCoMS).
Plomp, T. (2010). Educational Design Research Introduction. In T. P. Nieven, An Introduction to Educational Research Design. Enschede: Netherland Institute For Curriculum Development, .
Qoma, M. (2019). Pemikiran Islam Indonesia; Tradisi-Tradisi Kreatif dan metodologis intelektual muslim di Indonesia . Malang: Madani Media.
Rozi, A. M. (2019). Karakter Anak Muslim Moderat; Deskripsi, Ciri-Ciri dan Pengembangannya di Lembaga Pendidikan Anak Usia Dini. TARBIYA ISLAMIA : Jurnal Pendidikan dan Keislaman, http://ejurnal.unim.ac.id.
Rozi, S. (2019). PENDIDIKAN MODERASI ISLAM KH. ASEP SAIFUDDIN CHALIM; MENCEGAH RADIKALISME AGAMA DAN MEWUJUDKAN MASYARAKAT MADANI INDONESIA . Tarbiya Islamiya; Jurnal Pendidikan dan Keislaman, 26-43.
Rozi, S. (2019). Strategi Kontra Radikalisasi Agama Melalui Pendidikan Budaya dan Kewargaan Berbasis Pengasuhan; Studi Pemikiran Pendidikan KH. Asep Saifuddin Chalim . Prosiding SNP2M; Seminar Nasional Penelitian dan Pengabdian Kepada Masyarakat. Mojokerto: UNIM Mojokerto.
Sugiyono. (2021). Metode Penelitian Kualitatif, Kuantitatif dan R&D. Bandung: Alfabeta, .
Syamsiar, A. d. (2017). Pembelajaran Pendidikan Agama Islam (PAI) Model Keberagamaan Inklusif untuk Mencegah Radikalisme Beragama Di Kalangan Siswa SMA. Jurnal Penelitian "Fenomena", Volume 9 Nomr 1 .
Zuzy Aryanti, d. (2014). Persepsi dan Ketahanan Aktivis Muslim Kampus Terhadap Paham Dan Gerakan Islam Radikal. In T. P. 2014, Islam Realitas; Penjelajahan Paradigma Keumatan (p. 203). Jakarta: Direktur Jenderal Pendidikan Tinggi Islam, Kementerian Amaga RI.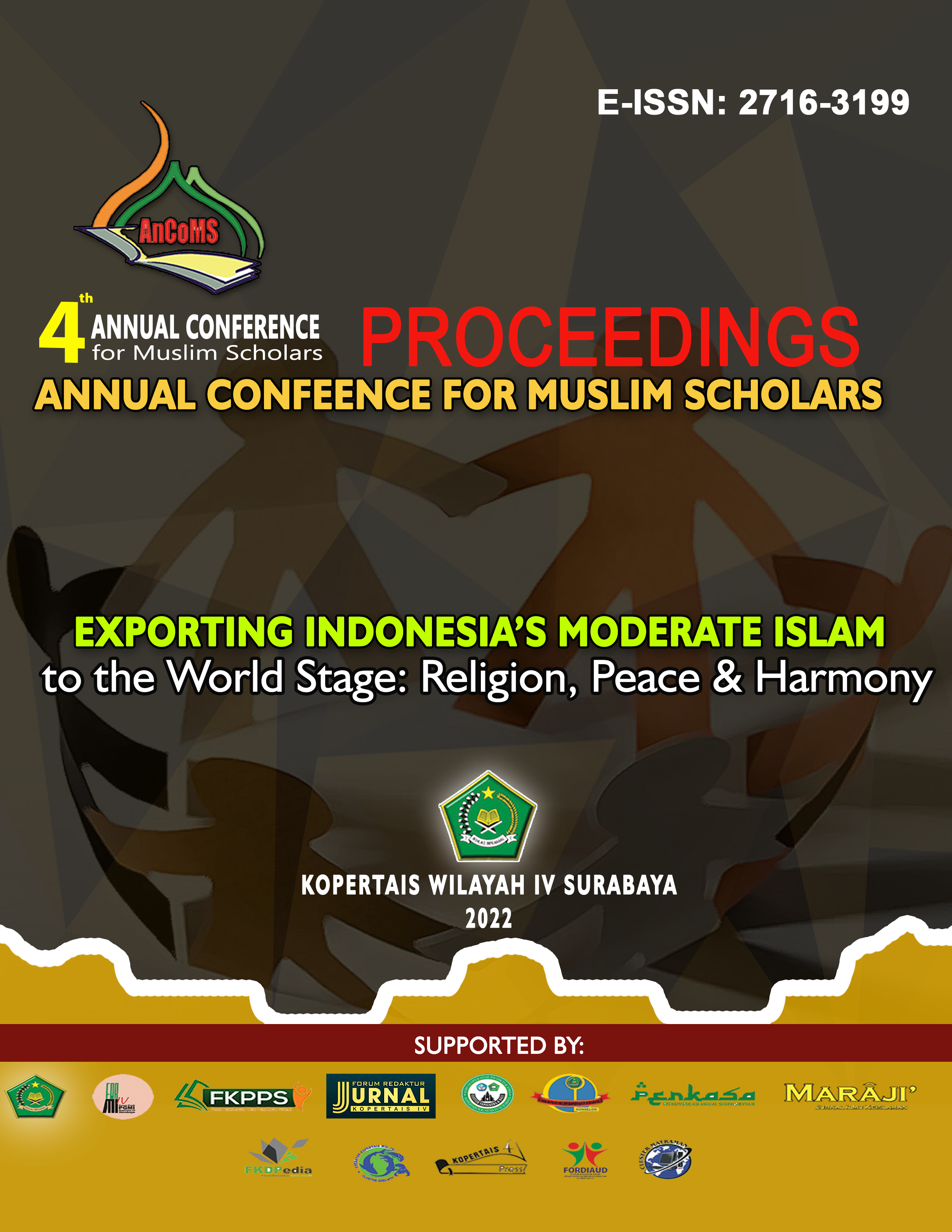 How to Cite
Rozi, S., Yaqin, A., Saifuddin, S., Rohmad, M. A., & Syarif, M. (2022). Pengembangan Model Buku Ajar Fikih Moderat di Madrasah. Proceedings of Annual Conference for Muslim Scholars, 6(1), 728-736. https://doi.org/10.36835/ancoms.v6i1.378
Copyright (c) 2022 Syaikhu Rozi
This work is licensed under a Creative Commons Attribution-ShareAlike 4.0 International License.