Penguatan Moderasi Beragama pada Anak Usia Dini sebagai Upaya Pencegahan Radikalisme di Masa Pandemi Covid- 19
Nisa`el Amala.

IAIN Madura

Ardhana Reswari

IAIN Madura

Selfi Lailiyatul Iftitah

IAIN Madura
Keywords:
Religious Moderation, Radicalism, Covid-19 Pandemic, Early Childhood Education
Abstract
Polemics of radicalism continue to emerge in early childhood education and radical movements have explored and involved in early childhood. Strengthening moderate Islam in early childhood must be carried out from an early age through educational arrangements that are programmed and adapted to the stages of child development characteristics so that children have moderate values and prevent children from having radical ideas later in life. The purpose of this study was to determine the strength of religious moderation in early childhood as an effort to prevent radicalism during the Covid-19 pandemic. The golden period of early childhood is the most appropriate time to implement the values of religious moderation so that later a strong Islamic foundation is formed in children so that they can ward off radicalism in the future. During this pandemic, learning activities, especially to strengthen understanding of religious moderation in schools, are carried out online or blended learning which is a combination of face-to-face and the use of information technology in implementation. The method used in this research is descriptive qualitative with a case study approach. Data collection techniques using observation, interviews, and documentation. The data analysis technique uses the Mile and Huberman model, namely data reduction, display, and verification. The results of this study indicate that strengthening religious moderation in early childhood is an effort to prevent radicalism during the Covid-19 pandemic. The strengthening of religious moderation consists of four components, namely instilling national commitment, tolerance, introducing and preserving local culture, and anti-violence. The strengthening of religious moderation is given so that children have moderate values and are a form of prevention against radicalism in the future.
Downloads
Download data is not yet available.
References
Amin, Abd. Rauf Muhammad, 'Prinsip Dan Fenomena Moderasi Islam Dalam Tradisi Hukum Islam' (Makasar: Jurnal Al-Qur`an)
Anwar, R. N., Rahmasiwi, D. S., & Winggasari, M., 'Internalization Of Spiritual Value In Forming Attitudes And Behavior Of Students In Distance Learning Periods', Proceeding IConIGC: International Conference on Islamic and Global Civilization, 2021, 20–26
Anwar, R. N, 'Keterlibatan Orangtua Dalam Membentuk Disiplin Ibadah Sholat Anak Usia Dini Di Era New Normal', Konferensi Pendidikan Nasional. Yogyakarta, 2021, 1–7
Arriani, F., 'Perilaku Agresif Anak Usia Dini', Jurnal Pendidikan Usia Dini, 8.2 (2014), 263–74
Patmonodewo, S, Pendidikan Anak Prasekolah (Jakarta: Rineka Cipta, 2008)
Purba, E., Yusuf, A. and Astuti, I., 'Peningkatan Nilai-Nilai Agama Dan Moral Melalui Metode Bercerita Pada Anak Usia 4-5 Tahun', Jurnal Ilmiah Guru Caraka Olah Pikir Edukatif, 20.1 (2016)
Saifuddin, Lukman Hakim, 'Moderasi Beragama' (Jakarta: Kementerian Agama, 2019)
Sari, Anjeli Aliya Purnama, 'Penerapan Nilai-Nilai Moderasi Beragama Pada Pendidikan Anak Usia Dini Melalui Pendidikan Agama Islam', IAIN Bengkulu, 2021
Setiani, R. E., 'Pendidikan Anti Kekerasan Untuk Anak Usia Dini: Konsepsi Dan Implementasinya', Golden Age', 2016, pp 39-56 <https://doi.org/https://doi.org/10.14421/jga.2016.12- 04>
Wuryandani, W. et al., 'Implementasi Pemenuhan Hak Anak Melalui Sekolah Ramah Anak', Jurnal Civics: Media Kajian Kewarganegaraan, 15.1 (2018), 86–94 <https://doi.org/https://doi.org/10.21831/jc.v15i1.19789>
Zubaedi, Adelia Fitri; Zubaedi, Zubaedi; Syafri, Fatrica, 'Parenting Islami Dan Karakter Disiplin Anak Usia Dini' (Journal Of Early Childhood Islamic Education: Al-Fitrah, 2020)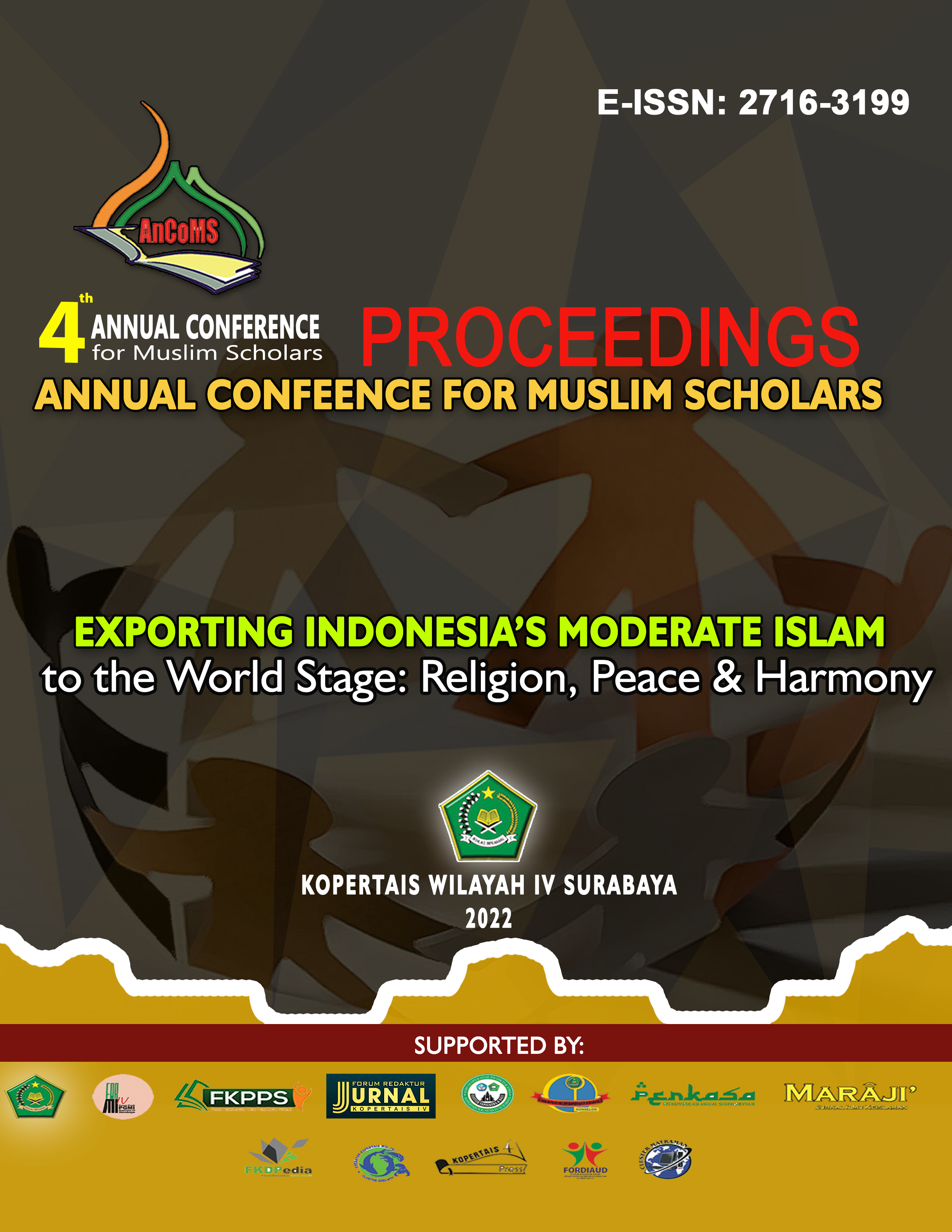 How to Cite
Amala., N., Reswari, A., & Iftitah, S. (2022). Penguatan Moderasi Beragama pada Anak Usia Dini sebagai Upaya Pencegahan Radikalisme di Masa Pandemi Covid- 19. Proceedings of Annual Conference for Muslim Scholars, 6(1), 712-721. https://doi.org/10.36835/ancoms.v6i1.377
Copyright (c) 2022 Nisa`el Amala
This work is licensed under a Creative Commons Attribution-ShareAlike 4.0 International License.