Sufisme Perkotaan: Fenomenologi Kebangkitan Spiritualitas Majlis Taklim Al Hikam di Surabaya
Agus Mahfudin

Universitas Pesantren Tinggi Darul Ulum

Abduloh Safik

Universitas Islam Negeri Sayyid Ali Rahmatullah
Keywords:
Awakening of Spirituality, Modernism, Urban Society
Abstract
Departing from an urban community which incidentally is a modern society, call it the city of Surabaya, as a modern society, of course, cannot be separated from the sophistication of technology that is all young and efficient, the dynamics of which are accelerating where globalization is moving very rapidly, so that people forget As a result of the luxurious, hedonistic lifestyle that is rife in the Surabaya environment, several community groups are finally looking for an atmosphere that forms their spiritual calm, many classes of society following recitations with Sufism nuances, its existence is widely found in mosques, religious institutions in the Surabaya environment, therefore an interesting phenomenon related to the Awakening of Spirituality in Surabaya. This study uses a Qualitative-Descriptive Research methodology with a participant phenomenology approach, exploring and observing their attitudes and perspectives in navigating life in today's modern era. A contribution of this research is to be able to provide an immunity to institutions, both formal and non-formal, especially in urban communities
Downloads
Download data is not yet available.
References
Abdullah, Mas Udik. 2005. Meledakkan IESQ dengan Langkah Takwa dan Tawakal, Jakarta:Dzikrul Hakim.
Al-Syarqowy, Abdulloh. 2013. Al-Hikam: Kitab Tasawuf Sepanjang Masa, Jakarta: Turost Pustaka.
Atjeh, Aboebakar. 1996. Pengantar Sejarah Sufi dan Tasawuf, Solo: Ramadhan
Bahtiar, Didin. 2014. Untaian Hikmah Ibn Atha'illah, http://dindinbahtiar 1453 wordpress.com/2014/01/16.untaian-hikmah-ibn atha'illah
Departemen Pendidikan dan Kebudayaan. 1995. Kamus Besar Bahasa Indonsia, Edisi Ke-2, Jakarta: Balai Pustaka.
Habibah, Aina Nur. 2002. Pemikiran Tasawuf Akhlaki KH Asyhari Marzuqi dan Impilkasinya dalam Kehidupan Modern. Jurnal Teosofi UIN Sunan Ampel Surabaya. Vol : 3.
Hamka, 1993. Tasawuf: Perkembangan dan Pemurniannya, Jakarta: Pustaka Panjimas.
Mahmud, Abdul Halim. 2002. Tasawuf di Dunia Islam, diterj oleh, Abdullah Zakky al-Khauf, cet I, Bandung: Pustaka Setia.
Mulyasa, E. 2013. Manajememen Pendidikan Karakter, Jakarta: PT Bumi Aksara.
Permana, J. Kesuma, D, Triana, C. &. 2011. Pendidikan Karakter Kajian Teori dan Praktek Di Sekolah, Bandung: Rosda Syukur, Amin. 2012. Tasawuf Konstekstual: Solusi Problem Manusia Modern, Yogyakarta; Pustaka Pelajar.
Rahmawati, Ulfa. 2016. Perkembangan Spiritualitas Santri: Jurnal penelitian STAIN Kudus, Vol. 10. No.1.
Siregar, H.A.Rivay, 2002. Tasawuf: Dari tasawuf Klasik ke Neo-Sufisme, Jakarta: PT. Raja Grafindo Persada.
Tamami. AG. 2011. Psikologi Tasawuf, Bandung; CV Pustaka Setia.
Walsh,Mimi Doe dan Marsha. 2001. 10 Prinsip Spiritual parenting, terj.Ramani Astuti, Bandung: Kaifa.
Wigglesworth, Smith. 1999. The Holly Spirit, America, Witaken Haous.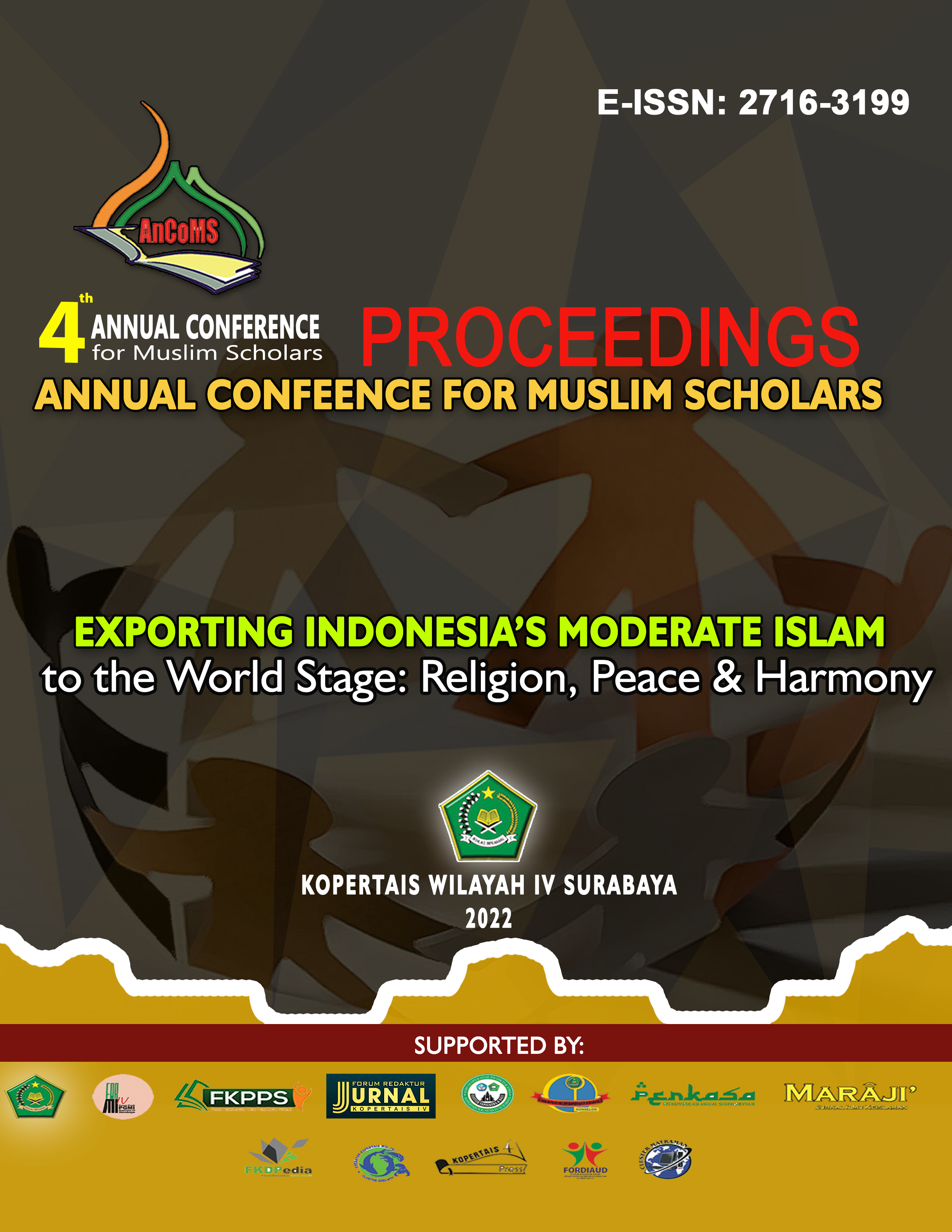 How to Cite
Mahfudin, A., & Safik, A. (2022). Sufisme Perkotaan: Fenomenologi Kebangkitan Spiritualitas Majlis Taklim Al Hikam di Surabaya. Proceedings of Annual Conference for Muslim Scholars, 6(1), 699-711. https://doi.org/10.36835/ancoms.v6i1.373
Copyright (c) 2022 Agus Mahfudin
This work is licensed under a Creative Commons Attribution-ShareAlike 4.0 International License.