Considering the Polemics of between Tasawuf and Fiqh: Analysis of the Thoughts of Sheikh Abu Nasr Al-Sarraj Al-Thusi in Kitab Al-Luma'
Hosen Hosen

Sekolah Tinggi Ilmu Bahasa Arab Darul Ulum Banyuanyar Pamekasan

Abdul Mukit

Sekolah Tinggi Ilmu Bahasa Arab Darul Ulum Banyuanyar Pamekasan

Kamiluddin Kamiluddin

Sekolah Tinggi Ilmu Bahasa Arab Darul Ulum Banyuanyar Pamekasan
Keywords:
Controversy, Sufi, Mutafaqqih, Fiqh and Religion.
Abstract
One of the problems that occur in Islamic civilization is the existence of conflicts and debates between fellow Muslims. In the process of developing the religion of Islam, people should first examine the various controversies that have occurred throughout Islamic civilization. One of the controversies that occur among the Muslims is the controversy between the Sufis and the mutafaqqih regarding fiqh. This is due to differences in perception between the Sufis whose views are spiritual and the mutafaqqih who are outward in nature. In analyzing the data of this study, the author uses two theories, the theory of A.J. Arberry and the second is following the theory of Annemarie Schimmel. This study concludes that the opinion of Sheikh Abu Nasr Sarraj regarding the controversy of the Sufis against the mutafaqqih regarding fiqh and religion is so partial to justifying the Sufis. Because Al-Luma' was written by him as an arbiter of the conflict between the Sufis and the mutafaqqih in the past few centuries, especially about the untrue accusations made by the mutafaqqih. So, Sheikh Abu Nasr AL-SARRAJ has tried to mediate the conflict between the two groups through the book Al-Luma'
Downloads
Download data is not yet available.
References
Abdul Hamid, Agar Menuntut Ilmu Jadi Mudah, Jakarta: PT Elex Media Komputindo, 2015
Abu Al Hasan Asyraf bin Muhammad Numair, Fikih Shalat Lengkap (Disertai 71 Fatwa),Jakarta:Pustaka Azzam, 2005
Annemarie Schimmel, Dimensi Mistik dalam Islam, terj. Sapardi Djoko Damono, dkk, Jakarta: Penerbit Pustaka Firdaus, 2003
Abdul Munir Mulkhan, Sufi Pinggiran, Yogyakarta: Kanisius, 2007
Abu Nasr Al-Sarraj, Al-Luma', Rujukan Terlengkap Ilmu Tasawuf, Terj. Samson Rahman, Surabaya: Risalah Gusti, 2014
Ali Mas'ud, Fiqih dan Tasawuf dalam Pendekatan Historis, Jurnal Humanis, Vol. 10. No. 1, Januari 2018, 12.
A.J. Arberry, An Account Of The Mystic of Islam, London: Dover Publication,1950
Dimyati Sajari, Loyalitas Kaum Sufi terhadap Syari'at, Jurnal Ahkam, Vol. XIV , No. 1, Januari 2014
Hasbiyallah, Fiqih untuk Kelas VII Madrasah Tsanawiyah, Bandung, Grafindo Media Pratama, 2008
Masburiyah, Konsep dan Pemikiran Fiqih Sufistik Imam Al-Ghazali, Nalar Fiqih; Jurnal Kajian Islam dan Kemasyarakatan, Vol. 3, No.1, Juni 2011, 110.
Muhamad Irfan Wahid, "Ungkapan Ekstase (As-Syathahat) dalampandangan Abu Nasr As-Sarraj At-Thusi dan Abu Hamid Al-Ghazali Suatu Studi Perbandingan", Tesis,Universitas Indonesia Jakarta (2015)
Muhammad Hasby As-Shiddieqy, Pedoman Shalat, Semarang: Pustaka Rizki Putra, 2001
Muhammad Solikhin, Menyatu Diri dengan Ilahi, Makrifat Ruhani Syekh Abdul Qadir Al-Jailani dan Perspektifnya terhadap Manunggaling Kawula Gusti, Jakarta: Penerbit Narasi, 2010
Muhammad Solikhin, 17 Jalan Menggapai Mahkota Syekh Abdul Qadiq Al-Jailani, Yogyakarta: Penerbit Mutiara Media, 2009
Miftah Faridh, Puasa Ibadah Kaya Makna, Jakarta: Gema Insani, 2007
Nashiruddin Al-Albani Muhammad, Shifatu Shalaati An-Nabiyyi Shallallaahu'Alaihi wa Sallamu min At-Takbirii ilaa At-Tasliimi Ka-annaka Taraahaa, terj. Muhammad Thalib, Sifat Shalat Nabi, Yogyakarta: Media Hidaya, 2000
Robert Frager, Psikologi Sufi, Jakarta: Zaman, 2014
Suharsimi Arikunto, Prosedur Penelitian; Suatu pendekatan Teori dan Praktek, Jakarta: Rineka Cipta, 2002
Syahminan Zaini, Sudah Benarkah Shalatku?, Jakarta: PPQS, 2005
Saidurrahman, Titian Para Sufi dan Ahli Makrifah, Jakarta: Prenadamedia Group, 2018
Sulhan Abu Fitra, Tuntunan Shalat Khusyu' Sempurna dan Diterima, Jakarta: Pustaka Fitra, 2010
Tim Penulis IAIN Syarif Hidayatullah, Ensiklopedia Islam Indonesia, Jakarta: Djambatan, 1992
Umar Sulaiman, Fiqih Niat, (Jakarta: Gema Insani, 2006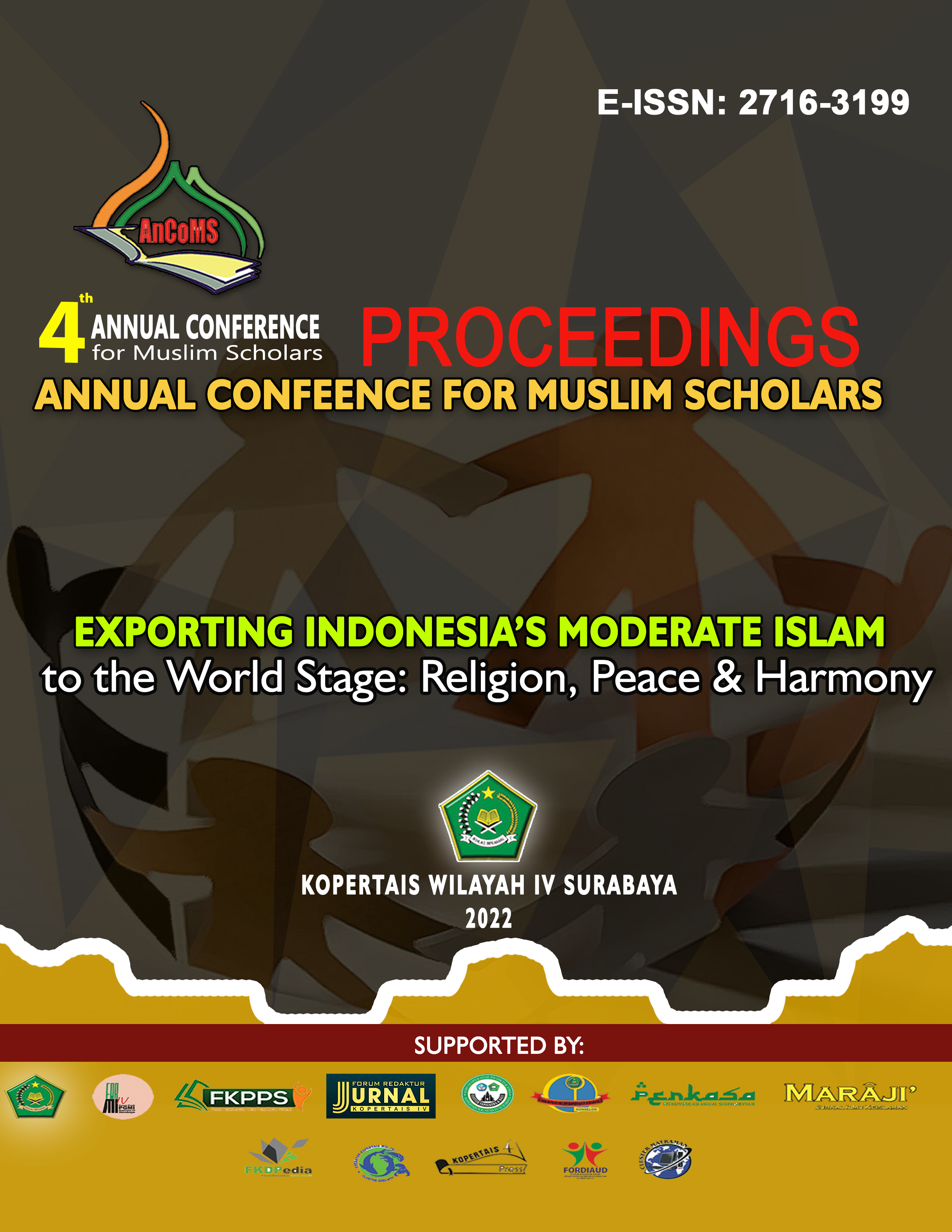 How to Cite
Hosen, H., Mukit, A., & Kamiluddin, K. (2022). Considering the Polemics of between Tasawuf and Fiqh: Analysis of the Thoughts of Sheikh Abu Nasr Al-Sarraj Al-Thusi in Kitab Al-Luma'. Proceedings of Annual Conference for Muslim Scholars, 6(1), 1178-1189. https://doi.org/10.36835/ancoms.v6i1.363
Copyright (c) 2022 Abdul Mukit
This work is licensed under a Creative Commons Attribution-ShareAlike 4.0 International License.