Islam Wasaṭiyah pada Masyarakat Desa Rejoagung Kabupaten Jombang (Perspektif Teori Tindakan Komunikasi Jurgen Habermas)
Imam Safi'i

Institut Pesantren KH Abdul Chalim, Mojokerto
Keywords:
Islam wasathiyah, Rejoagung Village, Jurgen Habermas
Abstract
The presence of this paper tries to visualize the religious context of Wasatiah Islam which is practiced by a community on a small scale. Wasatch Islam is a group of people who present humanist-dialogical values, prioritize brotherhood over hostility, uphold harmony and tolerance between religious believers and avoid extreme paths. Related to this, as happened to the people of the village of Rejoagung, Jombang Regency. In this society, there are three religions (Islam, Christianity, and Hinduism) that live in harmony and harmony. Islam as the majority religion is the main driver in maintaining harmony between the two religions. Other people as a minority group have never experienced discrimination and domination. They are free to practice their beliefs and worship according to their respective religions. Seeing the reality of life like this, of course, is far different from reality in general, where conflicts often occur due to differences in SARA. So to answer the interest in the problem above, the theory used by the author in this paper is the communicative action theory from Jurgen Habermas which emphasizes the existence of communicative action patterns and deliberative attitudes in the public sphere. The results of this study indicate that Wasa'iyah's Islamic Attitude was built on three strengths. The first is the teachings attached to every religion adhered to by the people of the Rejoagung village, the second is the sacredness that is believed by every religious believer and the third is the spiritual power that is believed by every religious believer as a manifestation of the sanctity of religion. The birth of these three forces is based on the dialectic between the beliefs of the people of Rejoagung village and their predecessors as well as on the religious values ​​believed by them. Based on these three strengths, the people of Rejoagung village, especially Muslims, can create an Islamic attitude of wasatatiyah amid plurality.
Downloads
Download data is not yet available.
References
A.B. Menoh, Gusti. Agama dalam ruang publik: hubungan antara agama dan negara dalam masyarakat postsekuler menurut jurgen habermas, Yogyakarta, Kanisius,2015
Affandi, Nurkholik, Harmoni dalam keragaman Sebuah Analisis tentang Konstruksi Perdamaian Antar Umat Beragama, Vol: XV, No. 1, Juni 2012
Black James, Metode dan Masalah Penelitian Sosial Jakarta:Refika Aditama, 1999
Darlis, Peran Pesantren As'adiyah dalam Membangun Moderasi Islam di Tanah Bugis, Al-Misbah; Volume 12 Nomor 1, Januari-Juni 2011
Dimyati, Ahmad, Islam Wasatiyah : Identitas Islam Moderat Asia Tenggara dan Tantangan Ideologi, Islamic Review: Jurnal Riset dan Kajian Keislaman, Vol. VI No.2 Tahun 2017
Fatoni, Sulton, Peradaban Islam : Desain Awal Peradaban, Konsolidasi Teologi, Konstruk pemikiran dan pencarian Madrasah, Jakarta Elsas, 2007
Ghazali, Abd, Muqsith. Argumen Pluralisme Agama : Membangun Toleransi Berbasis Al –Quran, Depok : Katakita, 2009
Habermas, Jurgen, Teori Tindakan Komunikatif: Rasio Dan Rasionalisasi Masyarakat (I),Yogyakarta, Kreasi Wacana, 2009.
Hick, John Tuhan Punya Banyak Nama Terj. Amin Ma'ruf dan Taufik Aminuddin, Yogyakarta: Interfidei, 2006
Khaerurroziki, Ahmad. Problem Sosiologis Pluralisme Agama di Indonesia dalam Jurnal kalimah, Vol. 13 No. 1 tahun 2015
Mahfud, Muhammad, Membumikan Konsep Etika Islam Abdurrahman Wahid dalam mengatasi problematika kelompok minoritas di Indonesia, Tafáqquh -Volume 6, Nomor 1, Juni 2018
Muqsith, Ghazali, Abd. Argumen Pluralisme Agama : membangun Toleransi Berbasis Al –Quran, Depok : Katakita, 2009
Nur, Achmad, Etika Agama Nusantara : Studi Kritis Terhadap Pola Interaksi Masyarakat Desa Kebangsaan Situbondo, Surabaya : Pena Salsabila, 2018
____________, Islam Komunikatif Berwajah Indonesia Studi Atas Gerakan Islam Inklusif dan Ekslkusif di Indonesia, Prociding Halaqoh Nasional & Seminar Nasional Pendidikan Islam , Fakultas tarbiyah Dan keguruan UIN Sunan Ampel Surabaya, 2016
Nurdin, Ali, Qur'anic Society; Menelusuri Konsep Masyarakat Ideal dalam Al-Qur'an, Jakarta: Erlangga, 2006.
Sadra Rosita Dewi, Mayza, Islam dan etika bermedia :Kajian Etika Komunikasi Netizen di Media Sosial Instagram Dalam Perspektif Islam, Research Fair Unisri 2019 Vol 3
Shukri, Hanapi, Mohd. "The Wasatiyyah (Moderation) Concept in Islamic Epistemology: A Case Study of its Implementation in Malaysia," dalam International Journal of Humanities and Social Science, Vol. 4, No. 9(1); Juli 2014.
Subri, Shaleh, Ahmad. Filsafat Etika : tanggapan Kaum Rasionalis dan Institusi Islam,Gramedia : 2015
Sujarwanto, Imam, Interaksi sosial antar umat beragama studi kasus pada masyarakat karangmalang kedungbanteng kabupaten tegal, Journal of Educational Social Studies , 2012
Sumbulah, Ummi, "Islam dan Risalah Profetik: Best practice Moderasi dan Kerahmatan", Malang: UIN Maliki Press, 2016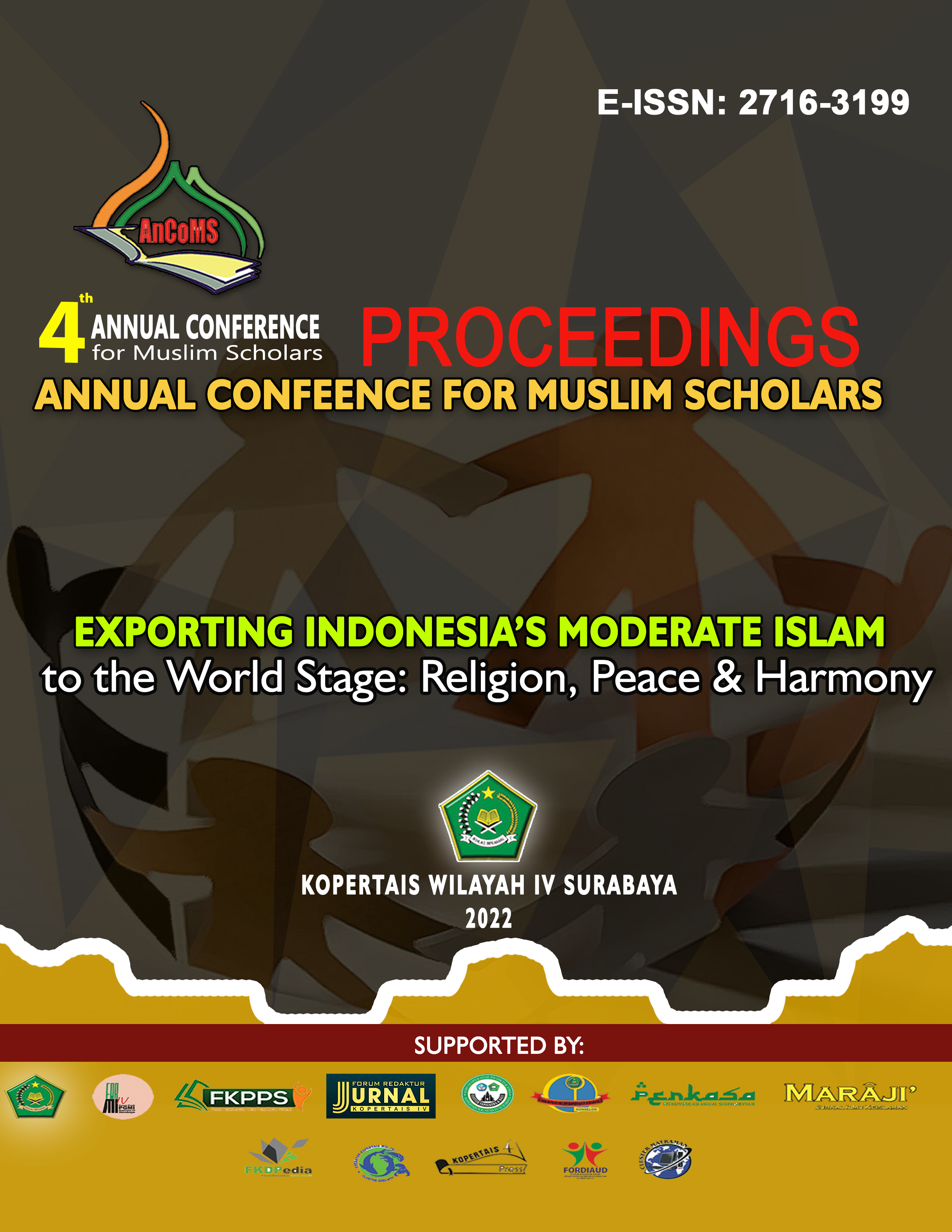 How to Cite
Safi'i, I. (2022). Islam Wasaṭiyah pada Masyarakat Desa Rejoagung Kabupaten Jombang (Perspektif Teori Tindakan Komunikasi Jurgen Habermas). Proceedings of Annual Conference for Muslim Scholars, 6(1), 1003-1015. https://doi.org/10.36835/ancoms.v6i1.358
Copyright (c) 2022 Imam Safi'i
This work is licensed under a Creative Commons Attribution-ShareAlike 4.0 International License.