Moderasi Islam di Era Generasi Milenial
Saiul Anah

STAI Taruna Surabaya
Keywords:
Islamic Boarding School, Islamic Moderation, Contemporary Era.
Abstract
From the pesantren's womb figures were born who helped declarator and motorized the progress of the nation. However, in the recent development of boarding schools such as losing direction and identity in navigating the era of modernization. There are several traditions in the pesantren that are missing, such as intensive recitation of the sorogan and bandongan systems, which are proven to have produced reliable pesantren alumni who in the past were important elements in the pesantren system and curriculum. It should, when there is an effort to revitalize and optimize some of the important elements in the pesantren, the contribution of pesantren to the Indonesian nation will not be questioned anymore. This study aims to track pesantren religious thoughts and movements in the era of globalization. As well as describing the Islamic spirit of the santri in the pesantren environment which continues to be sought as a fortress for Muslims, In line with the millennial era, the faces of Islamic boarding schools in Indonesia are no longer monopolized by traditional groups or radicals, but have been colored by new pesantren formed by other Islamic groups with different faces.
Downloads
Download data is not yet available.
References
Dhofier, Z. 1982, Tradisi Pesantren: Studi tentang Pandangan Hidup Kyai, Jakarta: LP3ES.
Dirjosanjoto, Pradjarta. 1999, Memelihara Ummat. Kiai Pesantren-Kiai Langgar di Jawa, Yogyakarta: LKIS.
Effendy, Bisri. 1991, Transformasi Ummat di Tengah Ajaran Agama Baku, Prisma, Jakarta: LP3ES, No.3, Thn. XX.
Geertz, Clifford. 1981, Abangan, Santri, dan Priyayi dalam Masyarakat Jawa, Jakarta: Pustaka
Gerrtz, Clifford. 1956, Religious Belief and Economic Behaviour in a Central Javanese Town: Some Preliminary Considerations, dalam Economic Development and Cultural Change, Vol IV, No.2, Januari.
Gerrtz, Clifford. 1963, Modernization in a Moslem Society: The Indonesian Case, QUEST, Vol. 39 Bombay.
Muin, Abd. 2007, Pendidikan Pesantren dan Potensi Radikalisme, Jakarta: Prasasti.
Rumadi. 2000, Menebar Wacana, Menyodok Tradisi: Geliat Mencari Makna Liberalisme, dalam Jurnal Tashwirul Afkar, Edisi No.9
Sutrisno, Budiono Hadi. 2009, Sejarah Walisongo Misi Pengislaman di Tanah Jawa. Yogyakarta: Graha Pustaka.
Turmudi, Endang & Sihbudi, Riza (ed.). 2005, Islam dan Radikalisme di Indonesia, Jakarta: LIPI Press.
Wahid, Marzuki. dkk (ed.). 1999, Pesantren Masa Depan, Bandung: Pustaka Hidayah.
Yusuf, Choirul & Suwito NS. 2009, Model Pengembangan Ekonomi Pesantren, Purwokerto: STAIN Press.
Zada, Khamami. 2002, Islam Radikal: Pergulatan Ormas-ormas Radikal di Indonesia, Jakarta: Teraju.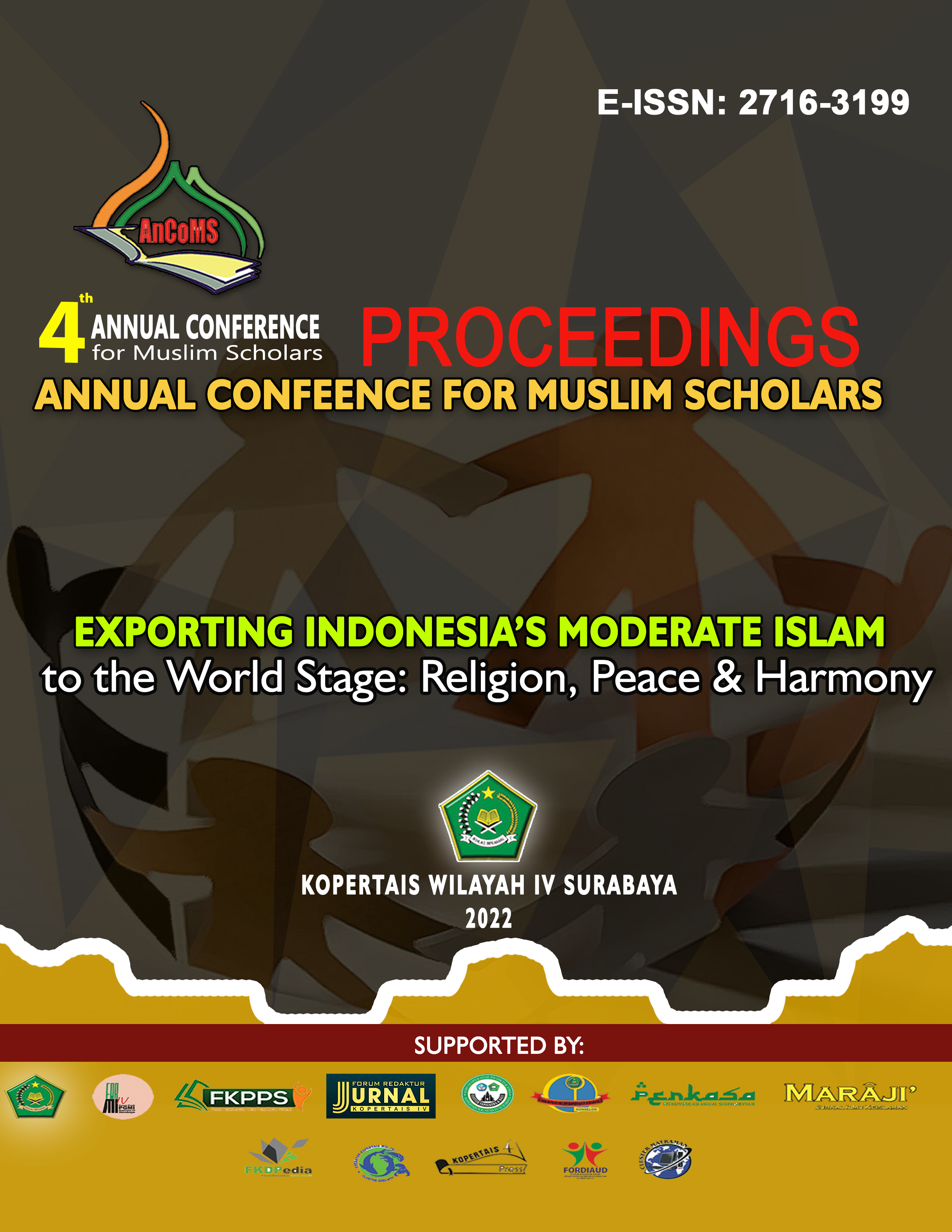 How to Cite
Anah, S. (2022). Moderasi Islam di Era Generasi Milenial. Proceedings of Annual Conference for Muslim Scholars, 6(1), 1165-1177. https://doi.org/10.36835/ancoms.v6i1.351
Copyright (c) 2022 Saiul Anah
This work is licensed under a Creative Commons Attribution-ShareAlike 4.0 International License.