Rekonstruksi Ekowisata dan Pemberdayaan Ekonomi Masyarakat melalui Halal Tourism
Sofiah Sofiah

Universitas Kiai Haji Achmad Siddiq Jember
Keywords:
Ecotourism, Halal Tourism, Community Economy
Abstract
Islamic economics is the center of world attention with all interesting aspects, including sharia economics. Indonesia is a country with enormous potential in the development of an Islamic economy, especially in the halal tourism sector. Indonesia has qualified provisions to develop halal tourism from natural resources and human resources. Indonesia has very beautiful places and the largest Muslim majority in the world. This study aims to describe the reconstruction of ecotourism development through halal tourism and to determine the impact of applying the concept of halal tourism related to the potential of ecotourism for economic empowerment in Indonesia. The method used is descriptive qualitative which is literary research. The results show that halal tourism in Indonesia is one of the pillars of the Indonesian economy through its contribution to the country's foreign exchange. On the other hand, halal tourism will be able to be a conclusion of previous tourism problems, especially the destruction of nature due to excessive exploitation by humans themselves.
Downloads
Download data is not yet available.
References
Afifah Nur Millatina. 2019. "Peran Pemerintah Untuk Menumbuhkan Potensi Pembangunan Pariwisata Halal Di Indonesia." Jurnal Manajemen Dan Bisnis Isla 5:1.
Agama, Kementerian Agama. 2021. "Qur'an Kemenag."
Andhika Fikri, Dimas. 2018. "3 Obyek Wisata Di Indonesia Yang Rusak Karena Terlalu Banyak Turis." Oketravel.
Assari, Elsa. 2018. "Wisata Halal Tinjauan Fatwa DSN-MUI Nomor: 108/DSN-MUI/X/2016 Tentang Pedoman Pariwisata Berdasarkan Prinsip Syariah (Studi Di Dusun Pancer Desa Sumberagung Kecamatan Pesanggaran Kabupaten Banyuwangi)." Journal of Islamic Business Law 2.
Asyari. 2016. Bahan Ajar Ekonomi Islam 1. Bukit Tinggi: IAIN Bukit Tinggi.
Djakfar, Muhammad. 2017. "Pariwisata Halal Perspektif Multidimensi Peta Jalan Menuju Pengembangan Akademik Dan Industri Halal Di Indonesia,." Research Repository.
Farhan, Afif. 2019. "Bangga! Indonesia Peringkat Ke-6 Negara Terindah Di Dunia." Detik Travel.
Hakim, Abdul Hamid. 2020. Terjemah Kitab Kaidah Fiqh Dan Ushul Fikih Mabadi Awaliyah. KSI Al-Khoirot.
Hasan, Fahadil Amin Al. 2017. "Penyelenggaraan Parawisata Halal Di Indonesia (Analisis Fatwa DSN-MUI Tentang Pedoman Penyelenggaraan Pariwisata Berdasarkan Prinsip Syariah)." Al-Ahkam 2.
Helpiastuti1, Selfi Budi. 2019. "Pengembangan Destinasi Pariwisata Kreatif Melalui Pasar Lumpur (Analisis Wacana Grand Opening 'Pasar Lumpur' Kawasan Wisata Lumpur, Kecamatan Ledokombo, Kabupaten Jember)." Journal of Tourism and Creativity 2.
Hijriati, Emma., Rina Mardiana, 2014. Pengaruh Ekowisata Berbasis Masyarakat Terhadap Perubahan Kondisi Ekologi, Sosial dan Ekonomi di Kampung Batusuhunan, Sukabumi, Solidarity: Jurnal Sosiologi pedesaan Vol. 02, No. 03
Islamic Economy Report, State of teh Global. 2019. Driving the Islamic Economy Revolution 4.0.
Jumal, Ahmad. 2018. "Desain Penelitian Analisis Isi (Content Analysis." Research Gate 5(9).
Kementerian, Pariswisata. 2015. Peraturan Menteri Pariwisata.
Nasution. 2001. Metode Reseach Penelitian Ilmiah,. Jakarta: Bumi Aksara.
Organization, Word Tourism. 2014. UNWTO Tourism Highligths 2014 Edition.
Pembangunan, Kementerian Perencanaan, Nasional. 2018. Masterplan Ekonomi Syariah Indonesia 2019-2024. https://knks.go.id/storage/upload/1573459280-Masterplan%20Eksyar_Preview.pdf.
Samsuduha. 2020. "Wisata Halal Sebagai Implementasi Konsep Ekonomi Syariah." Al-Tafaqquh: Journal of Islamic Law, Fakultas Agama Islam UMI 1.
Sofiah, S. 2018. "Konsep Uang Dalam Al-Qur'an (Telaah Tafsir Al-Misbah Dan Tafsir Ibnu Katsir)." Economic: Journal of Economic and Islamic Law.
Statistik, Badan Pusat. 2010. Jumlah Penduduk.
Ulum, Fahrul. 2019. "Inovasi Pariwisata Syariah Di Indonesia: Analisis Fatwa MUI No. 108/MUI-DSN/X/2016." Tsaqafah 15(inovasi pariwisata Syariah di Indonesia:Analisis Fatwa MUI No. 108/MUI-DSN/X/2016):1.
Wijayanti, Ratna. 2018. "Kaidah Fiqh Dan Ushul Fiqh Tentang Produk Halal, Metode Istinbath Dan Ijtihad Dalam Menetapkan Hukum Produk Halal." International Journal Ihya' 'Ulum Al-Din 20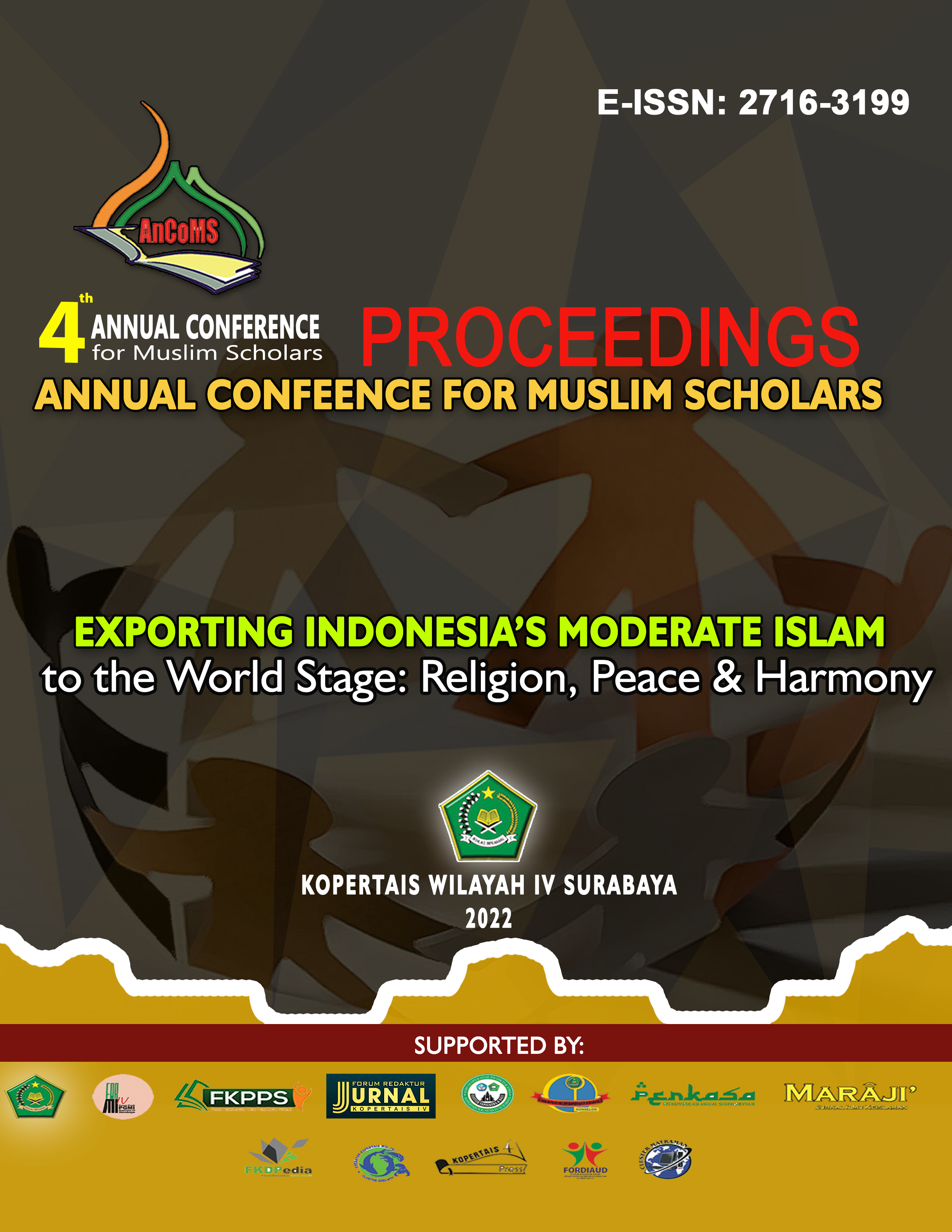 How to Cite
Sofiah, S. (2022). Rekonstruksi Ekowisata dan Pemberdayaan Ekonomi Masyarakat melalui Halal Tourism. Proceedings of Annual Conference for Muslim Scholars, 6(1), 632-641. https://doi.org/10.36835/ancoms.v6i1.349
Copyright (c) 2022 Sofiah
This work is licensed under a Creative Commons Attribution-ShareAlike 4.0 International License.