Islamic Institution Students and Understanding Multiculturalism (Case Study at Institut Agama Islam Tarbiyatut Lamongan)
Fiqih Aisyatul Farokhah

Institut Agama Islam Tarbiyatut Tholabah Lamongan
Keywords:
Multiculturalism, IAI Tabah, tasamuh, Islamic moderation.
Abstract
This research aims to analyze the understanding of Islamic college students toward multiculturalism. Some of the problems studied are (1) the reasons for the importance of studying multiculturalism for students, (2) the forms of planting multiculturalism values based on Islamic religion for students of the Islamic Institute Tarbiyatut Tholabah (Tabah) Lamongan (3) the implications of multiculturalism on the understanding of IAI Tabah students about multiculturalism. This study uses qualitative data analysis methods. Multiculture already exists in Islamic teachings called Tasamuh. Tasamuh is a mubalaghah from samaha which means tolerance. Tasamuh is an open attitude that recognizes the diversity of ethnic groups, races, skin colors, languages, customs, cultures, languages, and religions. Multicultural education must include the concepts of diversity, respect, justice, tolerance, racism, prejudice, discrimination, and stereotypes. The results show that multiculturalism is important to be taught to students to realize Islamic moderation or Wasathiyah Islam. Activities are directed to support the multiculturalism of campus life. However, IAI Tabah students' understanding of multiculturalism is diverse.
Downloads
Download data is not yet available.
References
Chotib, Sjahidul Haq, "Komitmen Anti Radikalisme dalam Peringati Sumpah Pemuda," IAI Tabah, 2 November 2017 <http://iai-tabah.ac.id/komitmen-anti-radikalisme-dalam-peringati-sumpah-pemuda/>
Coulson, N.J., Conflict and Tension in Islamic Yurisprudence (Chicago: The University of Chicago Press, 1969)
Darlis, "Mengusung Moderasi Islam di Tengah Masyarakat Multikultural," Rausyan Fikr, 13 (2017), 225–55
Fatih, MK, "Dialog Moderasi Beragama di Kalangan Generasi Muda di Kampus IAI Tarbiyatut Tholabah Lamongan," iniberitaku.id, 14 November 2020 <https://iniberitaku.id/dialog-moderasi-beragama-di-kalangan-generasi-muda-di-kampus-iai-tarbiyatut-tholabah-lamongan/>
———, "IAI TABAH: Dialog Lintas Iman, Perkokoh Ideologi Bangsa," santrinews.com, 13 Juni 2021 <https://santrinews.com/Nasional/10966/IAI-TABAH-Dialog-Lintas-Iman-Perkokoh-Ideologi-Bangsa>
Gollnick, D. M., "Strategies for Multicultural Education," in Multicultural Education in a Pluralistic Society, ed. oleh Dalam D. M. Gollnick dan P. C. Chinn (London: Mosby Company, 1983)
Hasanah, Uswatun, dan Ida Faridatul Hasanah, "Internalisasi Pemahaman Moderasi Multikultural Dalam Pendidikan Islam Masa New Normal," Attanwir : Jurnal Keislaman dan Pendidikan, 12 (2021), 32–50
Hidayah, Nafis Nailil, "Implementasi Pendidikan Multikultural dalam Proses Pembelajaran di Pondok Pesantren Al-Muayyad Surakarta Tahun Pelajaran 2017/2018," Habitus: Jurnal Pendidikan Sosiologi, dan Antropologi, 2 (2018), 12–26
IAITABAH, "Sejarah Singkat IAI TABAH," Institut Agama Islam Tarbiyatut Tholabah, 2020 <http://iai-tabah.ac.id/sejarah-singkat/> [diakses 1 Maret 2022]
Ibrahim, A. a.-L., Tasamuh al-Gharb maa al-Muslimin fi al-Asr al-Hadir (Riyad: Dar Ibn al-Jawzi, 1999)
Indarwati, Karomah, "Penerapan Pendidikan Multikultural di Pondok Pesantren Al-Muayyad Surakarta," JURNAL COMM-EDU, 1 (2018), 121–32
Institut Agama Islam Tarbiyatut Tholabah, Pedoman Akademik IAI Tabah Yayasan Pondok Pesantren Tarbiyatut Tholabah Kranji Paciran Lamongan (Lamongan, 2017)
Khuluq, Sahlul, "Tuntunan Shalat Secara Moderat Bukti Pentingnya Moderasi Dalam Beragama," IAI Tabah, 21 November 2021 <http://iai-tabah.ac.id/tuntunan-shalat-secara-moderat-bukti-pentingnya-moderasi-dalam-beragama/>
Lynch, J, Multicultural Education: Principles and Practice (London: Routledge & Kegan Paul Ltd, 1986)
Muchasan, Ali, "Pendidikan Islam Multikultural di Pesantren (Studi Kasus Pada Pondok Pesantren Sirojul Ulum Semanding Pare Kediri)," Inovatif, 4 (2018), 77–99
Ratna, Nyoman Kutha, Metodologi Penelitian Kajian Budaya dan Ilmu Sosial Humaniora pada Umumnya (Yogyakarta: Pustaka Pelajar, 2010)
Rohmah, Nafilatur, "Moderasi Beragama di Hari Natal," IAI Tabah, 25 Desember 2021
Sulton, Ahmad, "Kurikulum Pesantren Multikultural: Nilai-Nilai Multikultural dalam Kurikulum Pondok Pesantren Sunan Drajat Banjarwati Paciran Lamongan," Ulul Albab, 16 (2015), 1–20
Suprapto, Rohmat, "Deradikalisasi Agama melalui Pendidikan Multikultural-Inklusiv (Studi pada Pesantren Imam Syuhodo Sukoharjo)," PROFETIKA, Jurnal Studi Islam, 15 (2014), 246–60
Susanti, R. D, "Menguak Multikulturalisme di Pesantren: Telaah Atas Pengembangan Kurikulum," Addin, 7 (2013), 181–94
Tahir, Masnun, "Menjadi Muslim di Negara Multikultural: Dinamika, Tantangan dan Strategi dalam Perspektif Fikih Multikultural," AL-'ADALAH, 14 (2017), 263–90 <https://doi.org/DOI: http://dx.doi.org/10.24042/adalah.v%vi%i.2138>
Tilaar, H, Multikulturalisme : tantangan-tantangan global masa depan dalam transformasi pendidikan nasional (Jakarta: Gramedia Widiasarana Indonesia, 2004)
Waston, dan Abdullah Aly, "Pendidikan Multikultural dalam Perguruan Tinggi Islam Sebuah Implementasi Konseptual Pemikiran James A. Banks," in Prosiding Konferensi Nasional Ke- 8 Asosiasi Program Pascasarjana Perguruan Tinggi Muhammadiyah (APPPTMA) (Medan, 2018), hal. 1–11
Yayasan Pondok Pesantren Tarbiyatut Tholabah Kranji Paciran Lamongan, Peraturan Penyelenggaraan IAI Tabah, 2017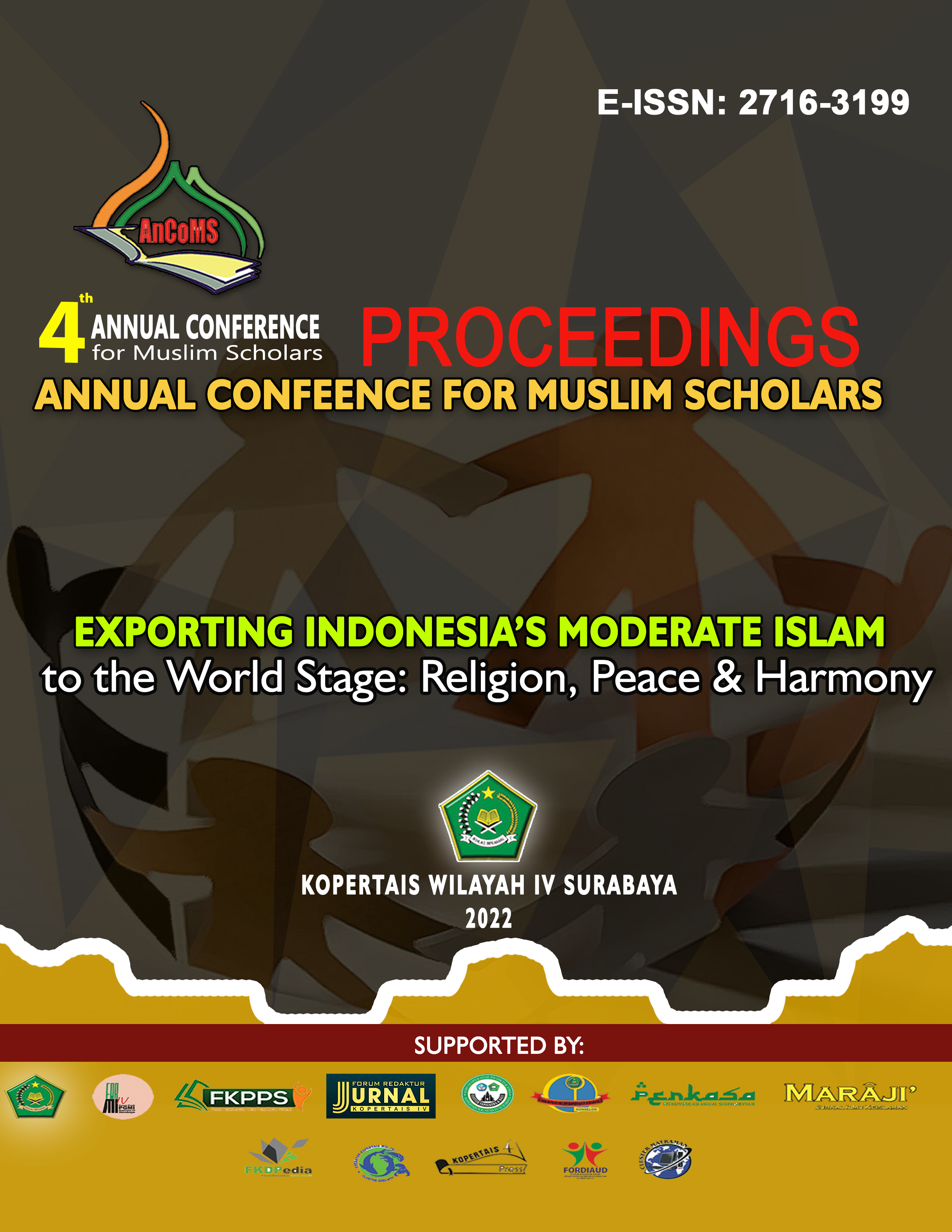 How to Cite
Farokhah, F. (2022). Islamic Institution Students and Understanding Multiculturalism (Case Study at Institut Agama Islam Tarbiyatut Lamongan). Proceedings of Annual Conference for Muslim Scholars, 6(1), 620-631. https://doi.org/10.36835/ancoms.v6i1.348
Copyright (c) 2022 Fiqih Aisyatul Farokhah
This work is licensed under a Creative Commons Attribution-ShareAlike 4.0 International License.