Implementasi Moderasi Beragama dalam Mencegah Faham Radikalisme dan Intoleran di Kampung Kristen Bojonegoro
Ibnu Habibi

STIT Muhammadiyah Bojonegoro
Keywords:
Religious Moderation, Radicalism, Intolerance.
Abstract
: Religious moderation is very much needed in the life of today's nation. Along with the emergence of extreme religious beliefs that have threatened harmony in social life so that it can lead to the notion of radicalism and intolerance between religious communities which leads to the division of the unity of the Republic of Indonesia. This study aims to describe the implementation of religious moderation in preventing radicalism and intolerance in the Kampung Kristen of Leran Village, Kalitidu District, Bojonegoro Regency. This research is a field research with a qualitative approach and developed with an inductive method in order to understand the social situation in depth and find a pattern of relationships between findings in the field, then formulate hypotheses and draw conclusions. Data collection techniques by observation, interviews and documentation. Sources of data are also obtained from primary data and secondary data. Primary data is data obtained directly from field research. And secondary data is data obtained by researchers indirectly through data from documentation or other results. The results of this study indicate that the community of Kampung Kristen has implemented several principles of Religious Moderation which include; tawasut (taking the middle way), tawazun (balance), tasamuh (tolerant), Musawah (egalitarian), shura (deliberation), and tathawwur wa ibtikar (dynamic and innovative). This is shown by the existence of RT deliberations, village deliberations, village community service, attending tahlil, and attending activities carried out by Christians when invited, there is an agreement between the three religious sects, mutual awareness, mutual respect, being kind, keeping existing problems. In the community so that other people don't know. This is what makes Christian Villages able to prevent radicalism and intolerance so that life becomes safe, peaceful and serene.
Downloads
Download data is not yet available.
References
Abdul Aziz, Esai-Esai Sosiologi Agama, Jakarta: DIVA PUSTAKA. 2006.
--------------, "Memperkuat Kebijakan Negara Dalam Penanggulangan Radikalisme Di Lembaga Pendidikan," HIKMAH Journal of Islamic Studies XII, no. 1 (2016): 29– 56.http://dx.doi.org/10.47466/hikmah.v12i1.55,http://journal.alhikmahjkt.ac.id/index.php/HIKMA H/article/view/55. 2016.
Abuddin Nata, Akhlak Tasawuf dan Karakter Mulia. Jakarta: Rajawali Press. 2014.
Al-Alamah al-Raghib al-Asfahaniy, Mufradat al-Fadz al-Qur"an. Beirut: Darel Qalam. 2009.
Bakir,M.,& Othman,K. A Conceptual Analysis of Wasatiyyah (Islamic Moderation-IM) from Islamic Knowledge Management (IKM)Perspective. Revelation and Science, 7(1) 2017.
Dudung Abdullah, "Musyawarah dalam Al-Quran, al-daulah", Jurnal Al- daulah, Vol. 3, No. 2, 2014.
Cambridge University, Cambridge Advanced Learners Dictionary. Singapore: Cambridge University Press. 2008.
Fauzi, Ahmad. "Moderasi Islam, Untuk Peradaban Dan Kemanusiaan." Jurnal Islam Nusantara 2.2. 2018.
Hamdi Abdul Karim, 2019. "Implementasi Moderasi Pendidikan Islam Rahmatallil "Alamin dengan NilaiNilai Islam", Jurnal RI"AYAH, Vol. 4, No. 01
https://nasional.tempo.co/read/1438043/kepolisian-tangkap-3-terduga-teroris-di-bojonegoro/full&view=ok Selasa, 2 Maret 2021 16:32 WIB.
.https://news.detik.com/berita-jawa-timur/d-5803251/terduga-teroris-di-bojonegoro-diamankan-densus-88 Selasa, 09 Nov 2021 11:27 WIB
https://islam.nu.or.id/post/read/16551/karakter-tawassuth-tawazun-i039tidal-dan-tasamuh-dalam-aswaja (Diakses 26 Febuari 2022)
https://kumparan.com/berita-hari-ini/tawassuth-sikap-yang-dianjurkan-ada-pada-diri-seorang-muslim-1vPQfkCz9TZ (Diakses 26 Febuari 2022)
https://kumparan.com/berita-hari-ini/tawassuth-sikap-yang-dianjurkan-ada-pada-diri-seorang-muslim-1vPQfkCz9TZ (Diakses 26 Febuari 2022)
Imam Tholkhah. Ahlak Pendidikan Islam. Jakarta, Titian Pena. 2010.
-------------------- (ed), Konflik Sosial Bernuansa Agama Di Indonesia. Jakarta: Puslitbang Kehidupan Beragama, Departemen Agama RI. 2002.
Kementerian Agama RI, "Implementasi Moderasi Beragama dalam Pendidikan Islam", Jakarta Pusat: Kelompok Kerja Implementasi Moderasi Beragama Direktorat Jenderal Pendidikan Islam Kementerian Agama Republik Indonesia Bekerjasama dengan Lembaga Daulat Bangsa. 2019.
-------------------------------, Moderasi Beragama, Jakarta: Badan Litbang dan Diklat Kementerian Agama RI. 2019.
Mohammad Atho Mudzhar. Islam In A Globalized World – The Challenges of Human Rights, Law, and Interfaith Harmony. Jakarta: Badan Litbang dan Diklat Kementerian Agama. 2011.
Muhammad Faizin, "Pentingnya Keseimbangan Pikiran Dan Hati Dalam Menghadapi Masalah", Online; Https://www.nu.or.id/post/read/80378/pentingnya-keseimbangan-pikiran-dan-hati-dalam-menghadapi-masalah (Diakses 28 maret 2021)
M. Kasir Ibrahim, Kamus Arab Indonesia Indonesia Arab. Surabaya: Apollo Lestari. 2014.
Nur Syams, Tantangan Multikulturalisme Indonesia. Yogyakarta: Kanisius.
Pusat Bahasa Kementerian Pendidikan Nasional, 2008. "Kamus Besar Bahasa Indonesia". Jakarta: Gramedia. 2019.
Quraish Shihab, Wawasan Al-Quran: Tafsir Maudhu'i Atas Berbagai Persoalan Umat, Bandung: Mizan.Soeleiman Fadeli, 2007. Antologi NU "Sejarah, istilah, amaliyah dan Uswah", Surabaya: Khalista. 1996.
Tim Penulis FKUB, "Kapita Selekta Kerukunan Umat Beragama. Semarang: Forum Kerukunan Umat Beragama (FKUB). 2009.
Ucu Martanto et al., Meredam Teror: Pencegahan Terorisme Dan Radikalisme Berperspektif HAM.Surabaya: Yayasan Pusat Studi Hak Asasi Manusia (PUSHAM) Surabaya, 2019.
Yusuf Qardhawi,. Membedah Islam "Ekstrem". Bandung: Mizan Pustaka. 2001.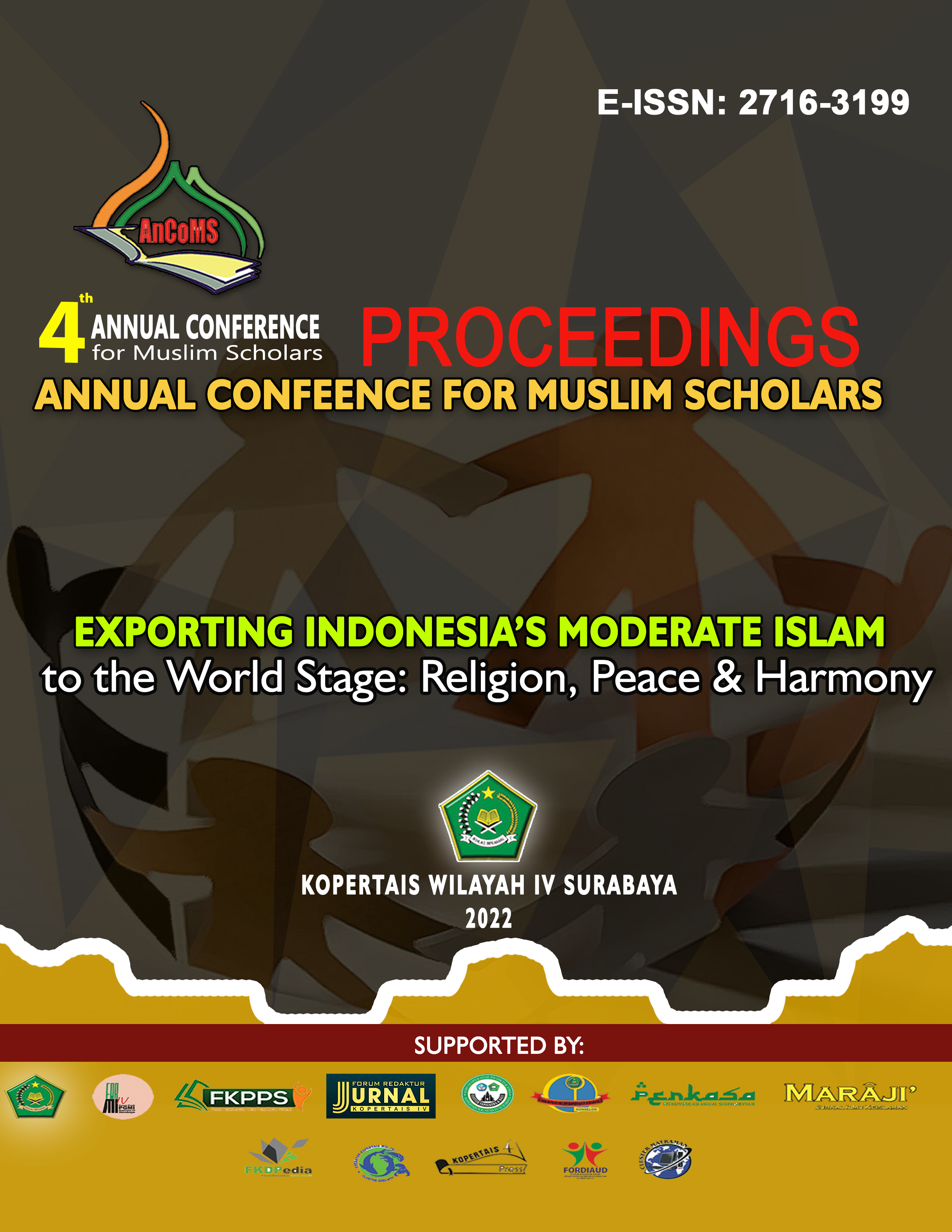 How to Cite
Habibi, I. (2022). Implementasi Moderasi Beragama dalam Mencegah Faham Radikalisme dan Intoleran di Kampung Kristen Bojonegoro. Proceedings of Annual Conference for Muslim Scholars, 6(1), 1139-1151. https://doi.org/10.36835/ancoms.v6i1.342
Copyright (c) 2022 Ibnu Habibi
This work is licensed under a Creative Commons Attribution-ShareAlike 4.0 International License.