The Religious Harmony Tolerance in Indonesia: An Islamic Perspective of Pluralism and Multiculturalism
Evita Yuliatul Wahidah

STIT Muhammadiyah Bojonegoro

Sangkot Sirait

UIN Sunan Kalijaga Yogyakarta

Erika Setyanti Kusumaputri

UIN Sunan Kalijaga Yogyakarta
Keywords:
Religious harmony, pluralism, multiculturalism
Abstract
The academic problems in this study are researching the problem complexity about a value system that present positive and optimistic view on the plurality of religions, cultures, customs, and even interaction pattern by accepting them as a real reality and kindness. Based on the context of religious harmony tolerance phenomenon without having personal theological distortion experience in order to keep the strong spiritualism by correlating the studies of pluralism and multiculturalism in Islamic perspective. It is a literature qualitative research with documentary review and data analysis which uses three activity plots that occur simultaneously, which consists of data reduction, data presentation, conclusion drawing or verification. This study explores the conceptualization of religious harmony between western and Islamic perspectives, the history of religious harmony tolerance in Indonesia, the basics of religious harmony tolerance, the pluralism essence in the context of religious harmony, and last is examining about multiculturalism in the perspective of religious harmony.
Downloads
Download data is not yet available.
References
Adeng Muchtar Ghazali, Toleransi Beragama Dan Kerukunan Dalam Perspektif Islam, Religious: Jurnal Agama dan Lintas Budaya. Vol. 1 No. 1 (September 2016): 25-40 Website: http://journal.uinsgd.ac.id/index.php/Religious ISSN: 2528-7249 (online) 2528-7230 (print)
Azyumardi Azra, Identitas dan krisis budaya: Membangun multikulturalisme Indonesia, www.kongresbud.budpar.go.id. 2012.
Azyumardi Azra, Identitas dan krisis budaya: Membangun multikulturalisme Indonesia, www.kongresbud.budpar.go.id. 2012.
Basis Susilo, Terorisme perang global dan masa depan demokrasi: Terorisme dan perang global, Mata pena, Jakarta, 2004, p. 39.
Jawa Pos daily News, Desak undang-undang tempat ibadah, Thursday Edition, December 23rd, 2004, p. 2
Source Book of UNESCO-APNIEVE, Belajar Untuk Hidup Bersama Dalam Damai Dan Harmoni, (Bangkok: Unesco Principal Office for Asia-Pacific Region and Indonesian Education University, 2000), p. 154.
D. Hendropuspito, Sosiologi Agama, (Yogyakarta: Kanisius, 1983),172.
D. Hendropuspito, Sosiologi Agama, 172- 173
Departemen Pendidikan dan Kebudayaan, Kamus Besar Bahasa Indonesia, (Jakarta: Balai Pustaka,1985, 850.
Febri Hijroh Mukhlis, Teologi Pancasila: Teologi Kerukunan Umat Beragama , Fikrah: Journal of Aqidah and Religion Study. ISSN 2354-6147 eissn 2476-9649, journal.stainkudus.ac.id/index.php/Fikrah DOI: http://dx.doi.org/10.21043/fikrah.v4i2.1885
Good Governance" adalah pemerintahan yang baik yang memihak pada kepentingan Rakyat. See: Drs. A. Naufal Ramzy, M.M.Pd, "Pemilu 2004 Dalam Perspektif Budaya", Sumenep, Livnaziyan Pustaka 2004, Second Edition, p. 9-10.
H.A. Tilaar, Multikulturalisme: Tantangan-tantangan global masa depan dalam transformasi pendidikan Nasional, Gramedia Widiasarana, Jakarta, 2004, p. 24.
Hamka, Tafsir al-Azhar, Juz III. (Jakarta: Pustaka Panjimas, 1983), 264.
Hendri Masduki, Pluralisme Dan Multikulturalisme Dalam Perspektif Kerukunan Antar Umat Beragama, (telaah dan urgensinya dalam sistem berbangsa dan bernegara) Dimensi, 2016, Vol 9(1), 15-24
Masykuri Abdillah, Demokrasi dipersimpangan makna, Tiara wacana, Yogyakarta, p. 135
Mia Fitriah Elkarimah, Kerukunan Antarumat Beragama Di Kampung Sawah, Bekasi: Potret Masyarakat Madani Human Narratives Vol.1, No.2, March 2020, pp. 55-65 e-ISSN: 2746-1130 http://dx.doi.org/10.30998/hn.v1i2.180, 55-65
Miles, Mattew. B dan A. Michael Huberman, Analisis Data Kualitatif Buku Sumber tentang Metode Metode Baru, (Jakarta: Universitas Indonesia Press, 2007), p. 21-23
Moleong, J. Lexy, Metodologi Penelitian Kualitatif, (Bandung : Remaja Rosdakarya, 2004), p. 173
Muh Ardhani, al Qur'an dan Sufisme, Mangkunegaran: IV, Serat-serat Piwulang, (Yogyakarta : Dana Bakti Wakaf, 1995), 322.
Naimatus Tsaniyah, Kerukunan Umat Beragama Dari Segi Hadits (Problematika Epistemologis), Islamic World and Politics Vol.2. No.2 July-December 2018 ISSN: 2614-0535 E-ISSN: 2655-1330, 420-433.
Nazmudin, Kerukunan dan Toleransi Antar Umat Beragama dalam Membangun Keutuhan Negara Kesatuan Republik Indonesia (NKRI) Journal of Government and Civil Society Vol. 1, No. 1, April 2017, P-ISSN 2579-4396, E-ISSN 2579-440X, 23-39.
Nurcholish Madjid, "Beberapa Renungan tentang Kehidupan Keagamaan untuk Generasi Mendatang", in Journal of Ulumul Qur'an, No.1 Vol.IV,1993,16.
Oc. Kaligius, "UU Suduk dan Anarkisme Parlemen", dalam harian pagi "REPUBLIKA", Saturday Edition, Agustus 2nd, 2003, p. 5.
Parsudi Suparlan, Menuju Masyarakat Indonesia yang Multikultural. Keynote Address Simposium III Internasional Jurnal "Antropologi Indonesia", Udayana University, Denpasar, Bali, July 16th-19th , 2002.
Prof. Dr. Mahmud Junus, Terjemah Al-Qur'an Al-Karim, PT. Al-Ma'arif, Bandung, 1987, p. 541.
Prof.Dr. Farida Hanum, M.Si, Pendidikan multikultural dalam pluralisme bangsa, artikel ilmiah, Wednesday Edition May 2nd, 2012, p. 4 (Site: www.kompas.com).
Ramlan Surbakti, Memamahami Ilmu politik, Gramedia Widiasarana Indonesia, Jakarta, 1999, p. 102.
Ricky Santoso Muharam, Membangun Toleransi Umat Beragama Di Indonesia Berdasarkan Konsep Deklarasi Kairo (Creating Religion Tolerance in Indonesia Based on the Declaration of Cairo Concept), DOI: http://dx.doi.org/10.30641/ham. Journal of HAM Vo; 11 No. 2, August 2020, 269-283
Rohi Baalbaki, Al-Mawrid: A Modern Arabic English Dictionary (Beirut: Dar El-Ilm Lil Malayyin, 2004), 314.
Soerjono Soekanto, Sosiologi suatu pengantar, Raja Grafindo Persada, Jakarta, 1990, p. 101.
ST. Nugroho, Multikulturalisme, PT. Indeks, Jakarta, 2009, p. 13.
Sutarno, Pendidikan multicultural, Ditjen Dikti, Jakarta, 2007, p 33.
Thomas W. Arnold, The Preaching of Islam: A History of The Propagation of The Muslim Faith, 2nd ed. (London: Constable and Co. Ltd, 1993), 279-280.
Umar, M. Arif Hakim Hubungan Kerukunan Antara Umat Beragama dengan Pembentukan Perilaku Sosial Warga Perumahan PT Djarum Singocandi Kudus, Jurnal Penelitian, Vol 17, No. 1, Februari 2019, 77-96
Umi Sumbulah, Pluralisme Dan Kerukunan Umat Beragama Perspektif Elite Agama Di Kota Malang Pluralism And Religious Harmony In Religious Elites Perspectives In Malang City. Analisa Journal of Social Science and Religion Volume 22 No. 01 June 2015, 1-13
Constitution, amendment article 28J paragraph 2.
Indonesian Republic Constitution, year 1945 paragraph 29.
UNESCO-APNIEVE, Belajar Untuk Hidup Bersama Dalam Damai Dan Harmoni, 155. Journal of research.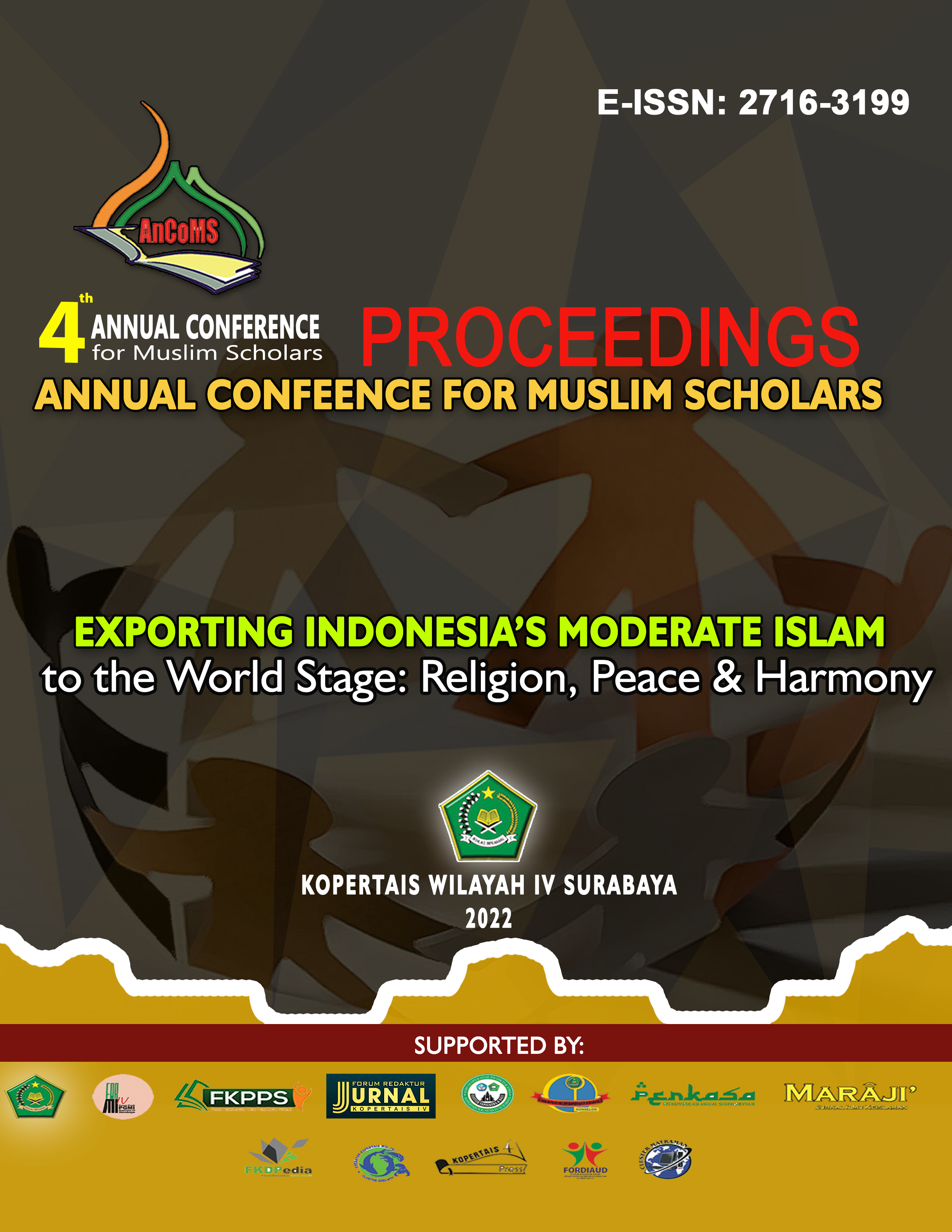 How to Cite
Wahidah, E., Sirait, S., & Kusumaputri, E. (2022). The Religious Harmony Tolerance in Indonesia: An Islamic Perspective of Pluralism and Multiculturalism. Proceedings of Annual Conference for Muslim Scholars, 6(1), 555-575. https://doi.org/10.36835/ancoms.v6i1.340
Copyright (c) 2022 Evita Yuliatul Wahidah
This work is licensed under a Creative Commons Attribution-ShareAlike 4.0 International License.