Role Play-Based Learning of Religious Education for Students'empathy on Peace & Harmony
Aries Musnandar

Universitas Islam Raden Rahmat (UNIRA) Malang

Sumarno Aziz

Universitas Islam Raden Rahmat (UNIRA) Malang
Abstract
Role Play-Based Learning of Religious Education for Students'empathy on Peace & Harmony
Downloads
Download data is not yet available.
References
Al Attas, Naquibb & Wan Daud, Wan Mohd Nor. 2007. The ICLIF Leadership Competency Model (LCM): An Islamic Alternative. ICLIF. KL. Malaysia.
Endin Mujahidin, et.al., (2012). Developing Character Education Quality in Elementary School. Paper presented at the International Conference UIN Malang, December 2-3, 2012.
Given, Lisa M (ed.) The Sage Encyclopedia of Qualitative Resarch Methods. Vol 1 & 2. USA: SAGE Publications, 2008.
Megawangi, Ratna et al. (2011). Neuroscience for Kids: Pengendalian Emosi Anak. Seri Pendidikan Karakter. Depok. Indonesia Heritage Foundation.
Megawangi, Ratna et al. (2011). Membangun Karakter Anak melalui Brain-Based Parenting (Pola Asuh Ramah Otak). Seri Pendidikan Karakter. Depok. Indonesia Heritage Foundation.
Megawangi, Ratna and Farrah, D., Wahyu. (2011). Sekolah Berbahaya bagi Perkembangan Karakter Anak: Solusi untuk Mempersiapkan Sekolah dalam Menjalankan Pendidikan Karakter. Seri Pendidikan Karakter. Depok. Indonesia Heritage Foundation.
Musnandar, Aries. 2014. Indonesia: A Country of Challenge. Malang. UB Press.
Musnandar, Aries. 2013. Pendidikan yang Mencerdaskan. Malang. Naila Pustaka
Raka Joni, T & Djunaedi, Lusiana. 2005. Pembelajaran Yang Mendidik: Artikulasi Konseptual, Terapan Kontekstual dan Verifikasi Empirik. PPs, Universitas Negeri Malang.
Sternberg, R. (2000). Handbook of Intelligence. Cambridge, UK: Cambridge : University Press. p. 396-417
Other Sources:
A. The Republic Indonesian Laws (Peraturan Perundang-Undangan):
Republik Indonesia. Undang-Undang Nomor 20 Tahun 2003 tentang Sistem Pendidikan Nasional.
Peraturan Pemerintah RI Nomor 17 Tahun 2010 tentang Pengelolaan dan Penyelenggaraan Pendidikan
Peraturan Pemerintah RI No. 55 Tahun 2007 Bab 2 Pasal 3 tentang Pendidikan Agama
B. Journal and Papers
European Journal of Scientific Research ISSN 1450-216X Vol. 91 No 1 November, 2012, p.69 © EuroJournals Publishing, Inc. 2012
Budiarti, Tirsa.(2018). Model-Model Pendidikan Perdamaian Bagi Anak Dalam Konteks Gereja, Jurnal Jaffray, Vo. 16, No. 1 (April 2018). Page 67-69.
Fikri, Khairul Luthfi (2015), et.al. Perkembangan Pendidikan Agama Islam Di Sekolah Dasaanuscriptsr Tahun 1945-1966. Tarbawiy. Indonesia Journal of Islamic Education. UPI. Vol. 2 No. 2, page 178.
Musnandar, Aries (2020). Simulation-Based Learning in Religious Education to Develop Student Empathy on Peace Education. Jurnal Hunafa. Studia Islamika, Volume 17, N0. 2, hal. 125-126
Wellington, James (2005). The Soft skills of Success. Vital Speeches of the Day, August 1, vol 71, Iss. .20, pg. 628. 7 pgs
C. Thesis, Dissertation Manuscripts
Musnandar, Aries. The Instructional Management of Students Soft Skills In Elementary Schools: A Multi-Case Study at Skolah Karakter Indonesia Heritage Foundation (IHF) and Sekolah Dasar Brawijaya Smart School (BSS). Dissertation, Maulana Malik Ibrahim, State Islamic University, 2016.
Musnandar, Aries. Keefektifan Pembelajaran Soft Skills Sebagai Faktor Keberhasilan Unjuk Kerja Mahasiswa yang diperlukan dunia usaha dan industry. Proposal Disertasi, Psikologi Pendidikan Program Pascasarjana Universitas, Negeri Malang, 2006.
Musnandar, Aries. Pengembangan Paket Pembelajaran Presentation Skills bagi Karyawan Penyelia PT. Philip Morris Indonesia, Thesis Teknologi Pembelajaran, Program Pascasarjana UM, 2004.
D. Newspaper
Aries Musnandar, Taking examples of Prophet's tolerance. the Jakarta Post, February 7, 2012
A. Chaedar Alwasilah, Holistic education creates 'perfect people'. the Jakarta Post, 01/28/2012
E. Islamic References
The Holybook, Al Qur'an.
Lajnah Pentashihan Mushaf Al Quran Badan Litbang dan Diklat. Tafsir Al Quran Tematik: Spiritualitas Dan Akhlak, Kementerian Agama, 2010
Al Hadith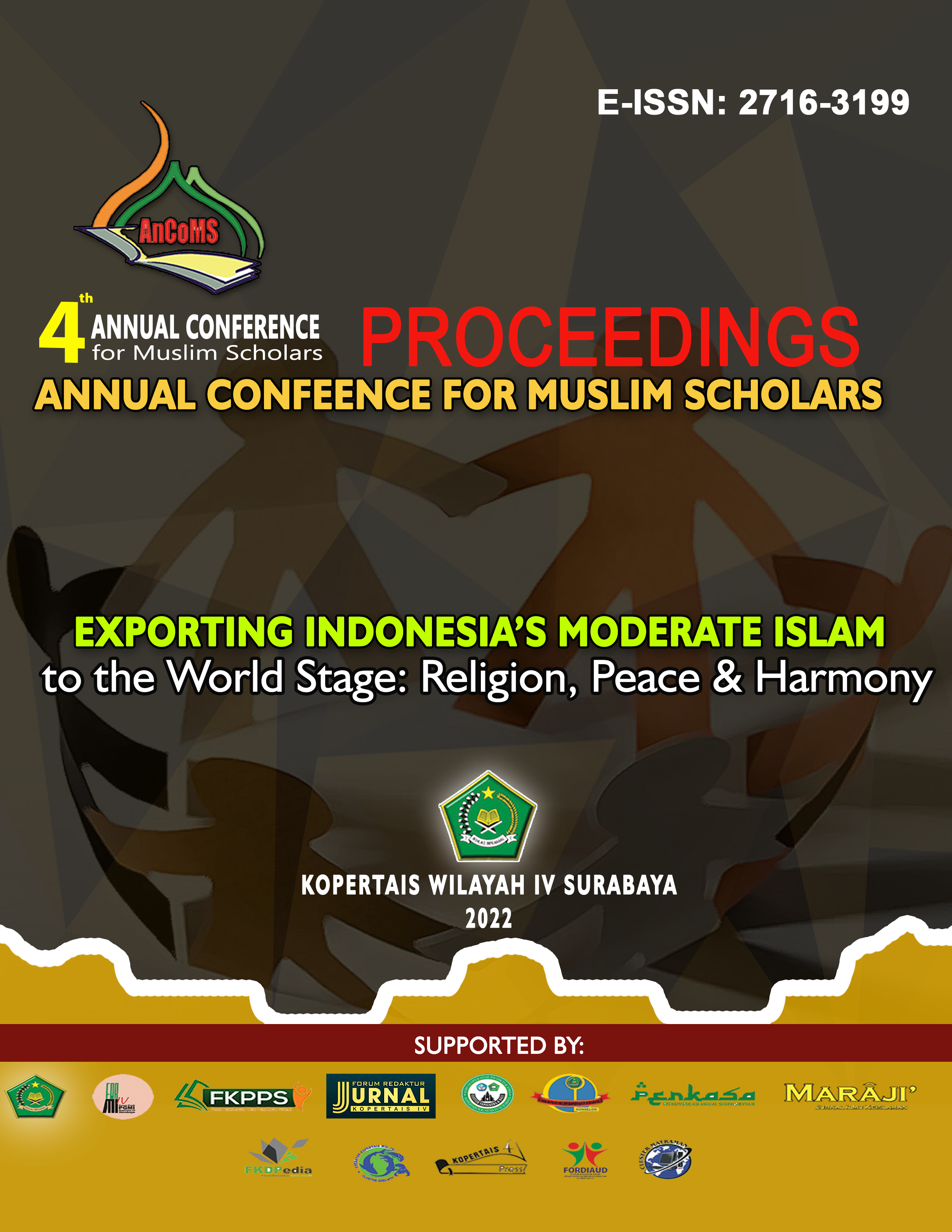 How to Cite
Musnandar, A., & Aziz, S. (2022). Role Play-Based Learning of Religious Education for Students'empathy on Peace & Harmony. Proceedings of Annual Conference for Muslim Scholars, 6(1), 60-78. https://doi.org/10.36835/ancoms.v6i1.335
Copyright (c) 2022 Aries Musnandar
This work is licensed under a Creative Commons Attribution-ShareAlike 4.0 International License.