Penerapan Nilai-Nilai Moderasi Beragama pada Anak Usia Dini dalam Keluarga
Lathifatul Fajriyah

IAI Tribakti Kediri

Fitta Nurisma Riswandi

IAI Tribakti Kediri
Keywords:
religious moderation, early childhood, family
Abstract
This study aims to determine how to apply the values ​​of religious moderation in early childhood. The method used in this research is qualitative with a library research approach. This research is used to solve problems by using data from several journals and books to draw conclusions. The results of this study are the values ​​of moderation are very important to be taught in early childhood, especially in the family, because the family is a central role in the growth and development of children. teaching religious moderation in the family can be done in daily activities. The values ​​of religious moderation that must be taught to children include balance (Tawazun), justice ('Adalah), tolerance (Tasamuh), taking the middle way (Tawassuth) and Deliberation (Syura). These values ​​if implemented are mutual respect and respect, compassion, cooperation and mutual help, fairness, peace, tolerance, living in harmony, caring and sympathetic towards something. Applying the values ​​of religious moderation in the family can use several methods, namely example, habituation, advice and storytelling.
Downloads
Download data is not yet available.
References
Abidin, A. Z, Nilai-Nilai Moderasi Beragama Dalam Permendikbud No. 37 Tahun 2018. JIRA: Jurnal Inovasi dan Riset Akademik, 2, 5, (2021) halaman 729-736.
Ade, E, Nilai Moderasi Perspektif Quraish Shihab Dalam Tafsir Al-Misbah Serta Relevansinya Terhadap Pendidikan Agama Islam (Doctoral dissertation, UIN Raden Intan Lampung). (2021) halaman 35-37
Anshari, Y. Z., Keteladanan Orang Tua Dalam Menumbuhkan Karakter Anak Di Lingkungan Keluarga. In Prosiding Seminar Nasional Pendidikan. 3, (2021) halaman 250.
Azyumardi Azra, Moderasi Islam Di Indonesia, (Kencana: Jakarta, 2020), halaman. 23
Musyafa, R. A., Konsep Nilai-Nilai Moderasi dalam Al-Qur'an dan Implementasinya dalam Pendidikan Agama Islam. Unpublished sarjana's skripsi) Universitas Islam Negeri Walisongo Semarang, (Semarang, Indonesia, 2018) halaman 97
Ulinnuha, M. dan Nafisah, M, Moderasi Beragama Perspektif Hasbi Ash-Shiddieqy, Hamka, Dan Quraish Shihab: Kajian Atas Tafsir An-Nur, Al-Azhar, dan Al-Misbah. Suhuf,1, 13. (Suhuf) halaman 58
Zuhairi Misrawi, Hadratussyaikh Hasyim Asy'ari Moderasi, Keutamaan, dan kebangsaan, (Jakarta: PT Kompas Media Nusantara, 2010), halaman. 13
https://balitbangdiklat.kemenag.go.id/upload/files/Buku_Saku_Moderasi_Beragama-min.pdf, diakses pada tanggal 25 Februari 2022
https://bincangsyariah.com/headline/tentang-yel-pramuka-islam-yes-kafir-no-gus-mus-merendahkan-keberagaman/, diakses pada tanggal 24 Februari 2022
https://regional.kompas.com/read/2018/05/14/16222601/aksi-teror-bom-melibatkan-anak-baru-pertama-di-indonesia, diakses pada tanggal 25 Februari 2022
https://www.cnnindonesia.com/nasional/20160120201156-20-105683/buku-tk-berisi-ajaran-radikal-bukan-produk-pemerintah, diakses pada tanggal 23 Februari 2022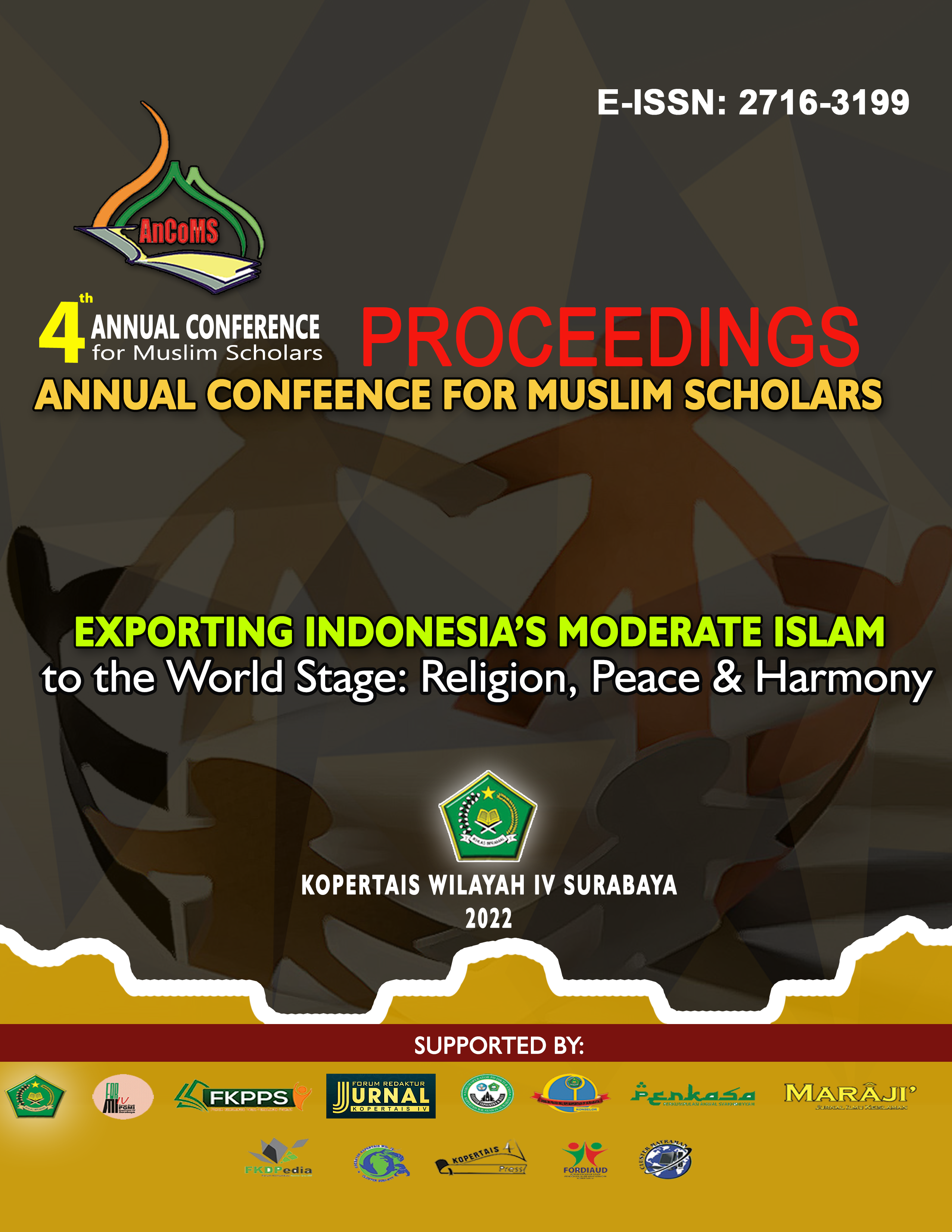 How to Cite
Fajriyah, L., & Riswandi, F. (2022). Penerapan Nilai-Nilai Moderasi Beragama pada Anak Usia Dini dalam Keluarga. Proceedings of Annual Conference for Muslim Scholars, 6(1), 901-907. https://doi.org/10.36835/ancoms.v6i1.446
Copyright (c) 2022 Lathifatul Fajriyah
This work is licensed under a Creative Commons Attribution-ShareAlike 4.0 International License.