Penguatan Nalar Teologi Islam Moderat di Pondok Pesantren Al Iman Ponorogo
Lutfiana Dwi Mayasari

IAIN Ponorogo
Abstract
Penguatan Nalar Teologi Islam Moderat di Pondok Pesantren Al Iman Ponorogo
Downloads
Download data is not yet available.
References
Al-Qardhaawi, Yusuf, al-Khashâish al-'Âmmah li al-Islâm, Beirut: Mu'assasah ar-Risalah, 1404/1983
Media Zainul Bahri, Wajah Studi Agama-Agama, (Yogyakarta: Pustaka Pelajar, 2015)
Muhammad bin Isma'il Ash Shan'ani, Subul As Salam Syarh Bulugul Maram Min Adilatil Ahkam, Bandung: Maktabah Dahlan, t. th
Muhammad Tholhah Hasan, 2015. Ahlussunnah Wal-Jamaah: dalam Persepsi dan Tradisi NU. Cetakan ke-6, Jakarta: Lantabora Press.
Husain, Abdullah, 1995. Al-Wadhih fi Ushul al-Fikh, Beirut: Darul Bayariq.
Pondok Pesantren Al-Iman Ponorogo, 2000. Khutbat al-Iftitah (Pekan Perkenalan), Ponorogo: Ponpes Al-Iman.
Syafrudin, 2009. Paradigma Tafsir Tekstual Dan Kontekstual (Usaha Memaknai Kembali Pesan Al-Qur'an), Yogyakarta: Pustaka Pelajar.
Jurnal
Alif Cahya Setiyadi, Pendidikan Islam Dalam Lingkaran Globalisas., Jurnal Vol. 7, No. 2, Desember 2012.
Ahmad Dumyathi Bashori, "Konsep Moderat Yusuf Qardhawi : Tolak Ukur Moderasi dan Pemahaman Terhadap Nash", Jurnal Penelitian dan Kajian Keagamaan, vol .36, No.01 Agustus 2013
Al- afkar, Pemikiran Fiqih Kemaslahatan dan Fiqih Akhlak, Jurnal: Islamic Studies, Vol. 4 No. 1, 2019.
Fathurrahman Azhari, Metode Istimbat Hukum Ibn Rusyd dalam Kitab Bidayatul Mujtahid, Vol. 3 No. 8, 2015
Ibnu Qayyim dalam Sugeng Aminudin, Standarisasi Kurikulum Ushul Fiqh, jurnal Misykat volume 01, nomor 02 Desember 2016.
Khairil Ikhsan Siregar, Kesederhanaan Pribadi Nabi Muhammad dan Aplikasinya Dalam Fakta Sosial (Sebuah Kajian Nilai Al-Qur'an dan Hadis), Jurnal Studi Al-Qur'an ol.9, No.1, Tahun. 2013.
Mustaqim Hasan, PrInsip Moderasi Beragama Dalam Kehidupan Berbangsa, dalam jurnal Mubtadiin, Vol. 7 No. 02 Juli-Desember 2021
Mukhlis M. Hanafi, "Konsep al-Wasathiyyah Dalam Islam", Harmoni: Jurnal Multikultural dan Multireligius, Vol. VIII, Oktober-Desember, 2009.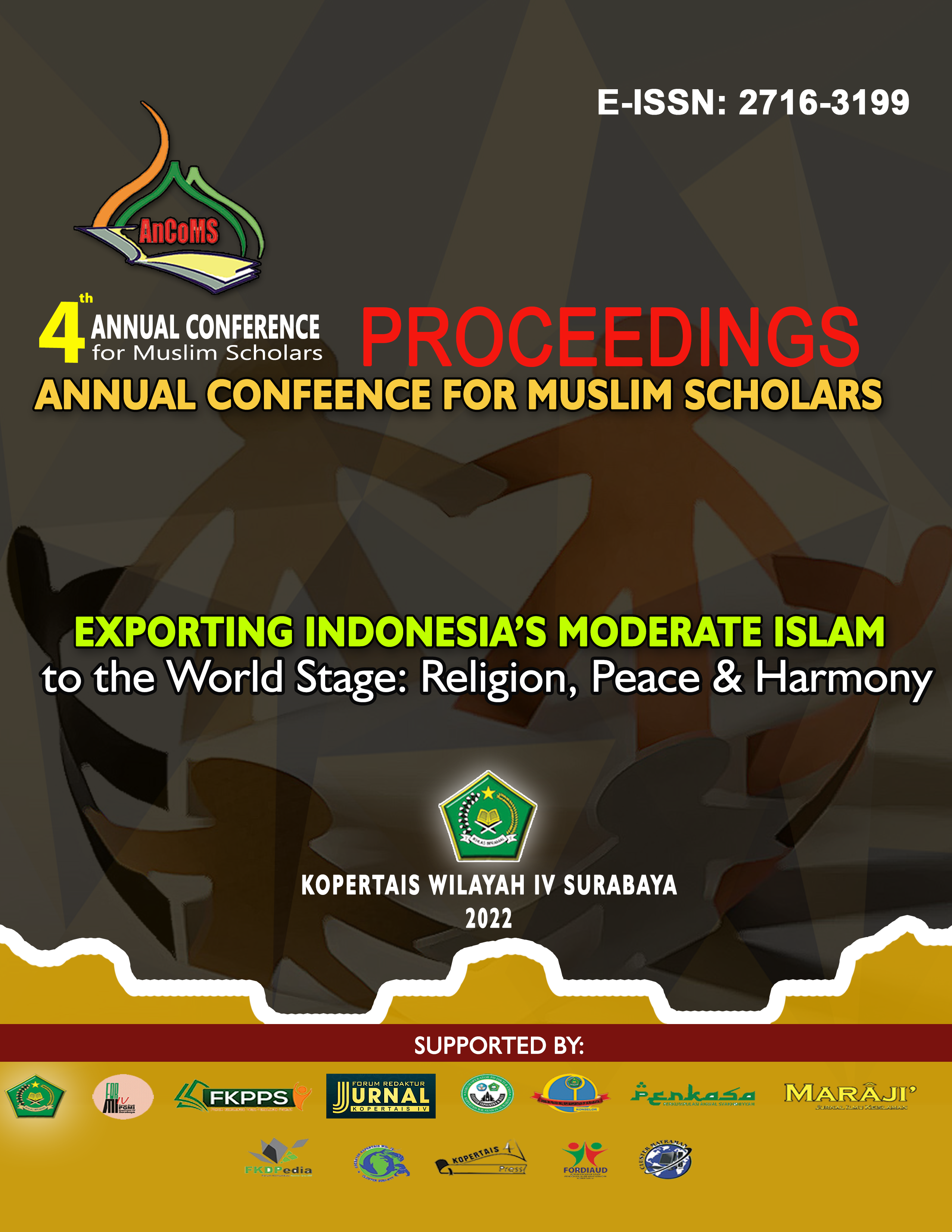 How to Cite
Mayasari, L. (2022). Penguatan Nalar Teologi Islam Moderat di Pondok Pesantren Al Iman Ponorogo. Proceedings of Annual Conference for Muslim Scholars, 6(1), 1016-1026. https://doi.org/10.36835/ancoms.v6i1.362
Copyright (c) 2022 Lutfiana Dwi Mayasari
This work is licensed under a Creative Commons Attribution-ShareAlike 4.0 International License.