Establishing The Export Agent of Indonesia's Moderate Islam Since The Elementary School Age
Shulhan Shulhan

STIT Aqidah Usymuni SUmenep
Keywords:
Age, Agent, Export, Elementary School, Moderate Islam
Abstract
Moderate Islam is expected to be an alternative response to the phenomenon of radical Islamic movements, which tend to eliminate the spirit of Islamic value as a blessing for the entire world. A number of Muslim groups around the world choose to practice Islam exclusively and look at themselves as the most righteous in accordance with religious law. They tend to consider those who disagree with them as enemies who must be killed. Indonesia has recently developed a moderate Islamic discourse, through government and religious organizations such as Nahdlatul Ulama and Muhammadiyah, to stem right mainstream or left mainstream of Islam movement. This study was aimed to discuss the educational possibilities for preparing Indonesian cadres to speak out for Islamic moderation in the global world. This study employed a qualitative method with a library research approach, which was putting academic texts as the primary source. The study's findings were as follows: To export religious moderation to the global world, a holistic integrative strategy must be implemented starting from basic education school for establishing cadre of Indonesia's moderate Islam voice, including 1. Learning and applying moderate Islamic values in daily life through structured programs. 2. Strengthening the Muslim intellect in various fundamental subjects, particularly English, Arabic, and mathematics enabling them to develop knowledge and skills to reach all segments of stratified mankind to spread moderate Islamic values in an applicable and inclusive manner. 3. Improving academic and popular writing skills in international languages that make their ideas more accepted by the entire global community and they have bargain among global
Downloads
Download data is not yet available.
References
Ahmad Syafi'i Mufid. 2013. Paham Ahlu Sunnah Wal Jama'ah dan Tantangan Kontemporer dalam Pemikiran dan Gerakan Islam di Indonesia. Harmoni, 12(3), 8–18
Alfinnas, S. 2018. Arah Baru Pendidikan Islam di Era Digital. FIKROTUNA, 7(1), 803–817. https://doi.org/10.32806/jf.v7i1.3186
Alfinnas, S. 2018. Membangun Academic Self-Concept Mahasantri Pesantren Nawesea. Education and Human Development Journal, 3(2), 191-198. https://doi.org/10.33086/ehdj.v3i2.59
Blanka Frydrychova Klimova, 2013. The Importance of Writing, PARIPEX - Indian Journal Of Research 2 (1), 9-11 DOI: 10.15373/22501991/JAN2013/4
Devy Angga Gunantar, 2016, The Impact of English as an International Language on English Language Teaching in Indonesia, LANGUAGE CIRCLE: Journal of Language and Literature X (1), 141-151
Hasyim Asy'ari. Adab al-'alim wa al-muta'allim. Jombang: PP Tebuereng
Kanafi, I., Dahri, H., Susminingsih, S. & Bakhri, S., 2021, 'The contribution of Ahlussunnah Waljamaah's theology in establishing moderate Islam in Indonesia', HTS Teologiese Studies/Theological Studies 77(4), a6437. https://doi.org/10.4102/hts.v77i4.6437
Mary W. George, 2008. The Elements of Library Research What Every Student Need to Know. (New Jersey: Princeton University Press). 66
Muhammad Irfan helmy, Ahmad Darojat Jumadil Kubro, Muhamad Ali. 2021. The understanding of Islamic Moderation (wasatiyyah al-Islam) and the hadiths on inter-religious relations in the Javanese pesantrens. Indonesian Journal of Islam and Muslim Societies 11, (2). 377-401 doi: 10.18326/ijims.v11i2.377-401
Sartika, Dani. 2021. Islam Moderat antara Konsep dan Praksis di Indonesia. Tsamratul Fikri | Jurnal Studi Islam, 14, (2), 183-198. doi: https://doi.org/10.36667/tf.v14i2.532.
Shulhan. 2021. Designing New Trend Of Pesantren For Santri Enhancement In Response To Golden Indonesia Vision 2045. Reflektika, 16 (2), 225-248 doi:http://dx.doi.org/10.28944/reflektika.v16i2.575.
Wldan Hefni. 2020. Religious Moderation in The Digital Space: Case Study of Mainstreaming Religious Moderation among Islamic Higher Education Institutions. Jurnal Bimas Islam 13 (1). 1-22.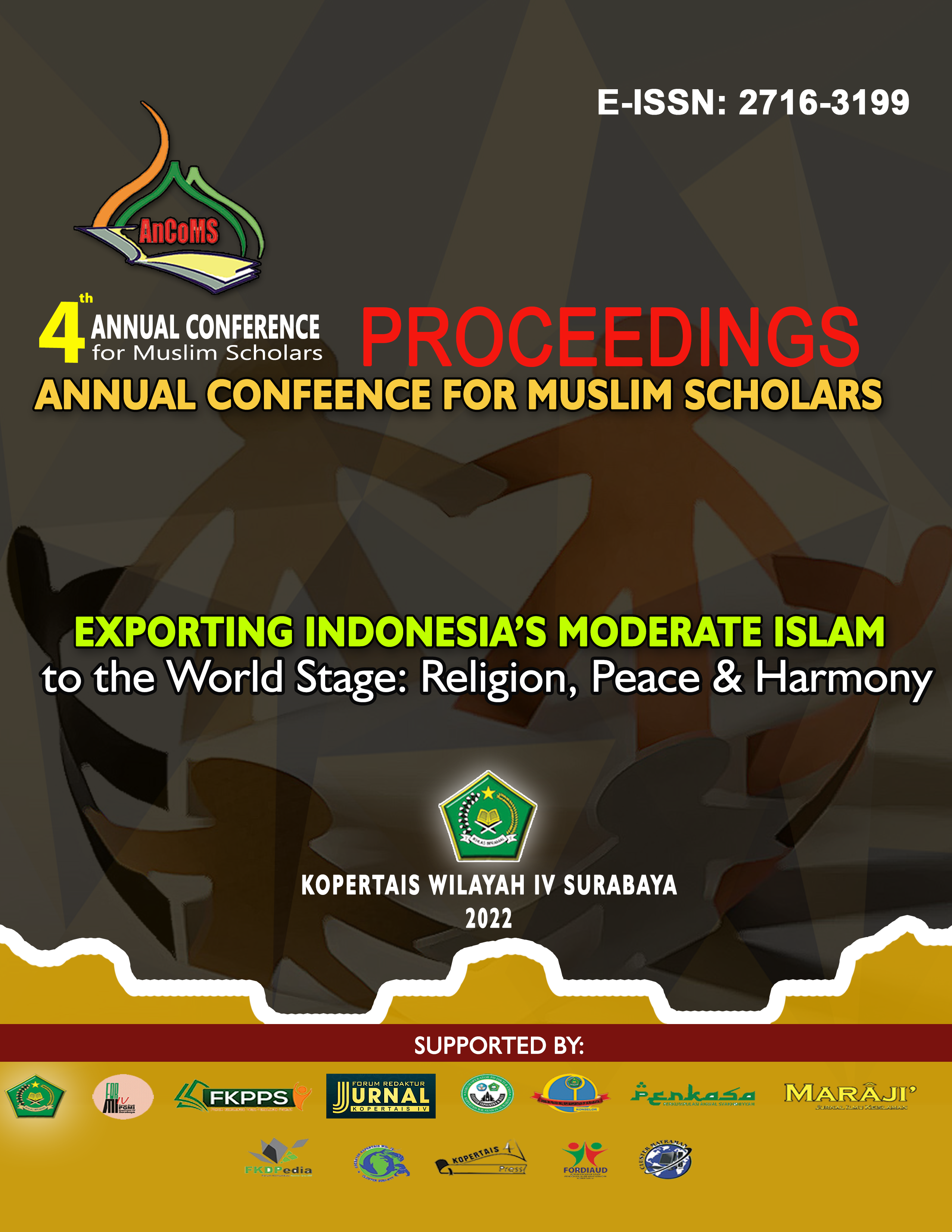 How to Cite
Shulhan, S. (2022). Establishing The Export Agent of Indonesia's Moderate Islam Since The Elementary School Age. Proceedings of Annual Conference for Muslim Scholars, 6(1), 968-979. https://doi.org/10.36835/ancoms.v6i1.339
Copyright (c) 2022 SHULHAN
This work is licensed under a Creative Commons Attribution-ShareAlike 4.0 International License.