Dakwah Moderat Habib Muhammad Luthfi Bin Yahya di Dunia Virtual Analisis Wacana Teks Media Teun A. Van Dijk
Abdul Muhid

UIN Sunan Ampel Surabaya

Samsuriyanto Samsuriyanto

UIN Sunan Ampel Surabaya
Keywords:
moderate dakwah, Habib Muhammad Luthfi bin Yahya, virtual media
Abstract
This paper aims to describe the results of moderate dakwah analyzes that discourse Habib Muhammad Luthfi bin Yahya in the virtual media. Through the virtual media, Habib Luthfi has been conducting dakwah activists in spreading Islamic moderation values ​​so as to create harmony in the life of society and to showcase Islam of rahmatan lil 'alamin. The analytical technique used in this paper uses discourse analysis of media text of Teun A. Van Dijk, that is analyzing media text discourse by connecting text and context through social cognition of text maker. The study findings show that the moderate dakwah of Habib Muhammad Luthfi bin Yahya in the virtual media presents the face of Islam that does not teach excessive in every way, and always balanced and fair in looking at human beings. He urges Muslims not to fight against each other, not to mutually abuse each other, but instead to invite Muslims to strengthen brotherhood among human beings.
Downloads
Download data is not yet available.
References
'Abd. al Halim Mahmud, Al Islam wa al Iman (Kairo: Dar Gharib, t.th).
'Abd. al Halim Mahmud, Maqalat fi al Islam wa al Syuyu'yyah (Kairon: Dar al Ma'arif, 1987).
Abdi O. Shuriye dkk, "Impacts of New Media Technology on Muslim-Western Relation", Journal of Asian Scientific Research, Vol. 3, No. 12 (2013), 1210.
Abdul Choliq Murod, "Nasionalisme dalam Pespektif Islam", Jurnal Sejarah Citra Lekha, Vol. 16, No. 2 (Agustus, 2011), 45.
Abdul Qayyum and Zaid Mahmood, "Role of Social Media in the Light of Islamic Teaching", Al-Qalam (December, 2015), 27.
Agus Riyanto, "Wacana Islam Islam Liberal: Analisis Artikel di Media Online Jaringan Islam Liberal (www.islamlib.com)", Jurnal Ilmu Politik Hubungan Internasional, Vol. 5, No. 2 (Juni, 2008), 53.
Ahmad 'Umar Hasyim, Al Dakwah al Islamiyyah: Manhajuha wa Ma'alimuha (Kairo: Maktabah Gharib, t.th).
Ahmad Ali Nurdin, "Islam and State: A Study of the Liberal Islamic Network in Indonesia, 1999-2004", New Zealand Journal of Asian Studies, Vol. 7, No. 2 (December, 2005), 20.
Ahmad Mahmud Subhi, Judzur al Irhab fi al 'Aqidah al Wahhabiyyah (Beirut: Dar al Mizan, 2008).
Ali Murthado, "The Empowerment of Social Media for Da'wah in Medan City", Journal of Humanities and Social Science, Vol. 22, No. 4 (April, 2017), 86.
Amjad Dajani, Islamic Nationalism VS Islamic Ummatism: Conceptualizing Political Islam, (London: Mediterranean and Middle Eastern Studies Program Department of Theology and Religious Studies Kings College London, 2011).
Craig Considine, "The Racialization of Islam in the United States: Islamophobia, Hate Crimes, and "Flying while Brown", Religions, Vol. 8, No. 165 (2017).
Dov Waxman, "Islam and Turkish National Identity: A Reappraisal", The Turksh Yearbook, Vol. 30 (2000), 2.
Fadzli Adam dkk, "The Use of Blog as a Medium of Islamic Da'wah in Malaysia", International Journal of Sustainable Human Development, Vol. 2, No. 2 (2014).
Fahimeh Naseri, "Islamic Tolerance and the West: Early Encounters and Influences", International Journal of Islamic Thought, Vol. 5 (June, 2014).
Haryatmoko, Critical Discourse Analysis (Analisis Wacana Kritis); Landasan Teori, Metodologi dan Penerapan (Jakarta: Rajawali Pers, 2016).
Hayati Aydin, "Jihad in Islam", GJAT, Vol. 2, No. 2 (December, 2012), 7.
Henry Munson, Islamismn and Nationalism, (Jakarta: General Issues, 2010).
Imam Abu al Hasan 'Ali bin Isma'il al Asy'ari, Maqalat al Islamiyyin Wakhtilaf al Mushallin (t.t: t.p, 1980).
Imam Khanafi, "Tarekat Kebangsaan: Kajian Antropologi Sufi terhadap Pemikiran Nasionalisme Habib Luthfie", Jurnal Penelitian, Vol. 10, No. 2 (November, 2013), 341.
Imam Mustofa, "Ijtihad Jaringan Islam Liberal: Sebuah Upaya Merekonstruksi Ushul Fiqih", Al Mawarid, Vol. 15 (2006), 67.
Imran Awan, "Islamophobia on Social Media: A Qualitative Analysis of the Facebook's Walls of Hate", International Journal of Cyber Criminology, Vol .10, No. 1 (January – June, 2016), 1.
Lenie Brouwer, "Dutch-Muslims on the Internet: A New Discussion Platform", Journal of Muslim Affairs, Vol. 24, No. 1 (April, 2004), 47.
Luís Tomé, THE "Islamic State": Trajectory and Reach a Year After its Self-Proclamation as a "Caliphate", E-Journal of International Relations, Vol. 6, No. 1 (May-October, 2015), 117.
M. Syakirin al Ghozali, "Dynamics of Thoughts and Sufism Activities in Indonesia: Study on Sufism Figures", Teosofia, Vol. 1, No. 2 (2012), 30.
Ma'mun Efendi Nur, "Hukum Jihad dan Terorisme: Perspektif Al-Qur'an", Maslahah, Vol.1, No. 1 (Juli, 2010), 30.
Mansur Aliyu dkk., "Inflencing Islamic Websites Use: A Muslim User Perspective", Intellectual DIscourse, Vol. 21, No. 1 (2013), 33.
Mazlan Ibrahim Dkk, "Pengajian Islam di IPT Malaysia dalam Menangani Islam Liberal (Islamic Studies in Malaysia IPT in Addressing Liberal Islam), Jurnal Hadhari, Vol. 5, No. 1 (2013), 37.
Mohammad Amin Abd. al Aziz, Al Da'wah Qawa'id wa Ushul (Kairo: Dar al Dakwah, 1999).
Nashr Hamid Abu Zayd, Falsafah al Ta'wil: Dirasah fi Ta'wil al Qur'an 'Ind Muhyi al Din Ibn 'Arabi (Beirut: Dar al Wahdah, 1983)..
Noor Zaman dkk, "Islam and Nationalism: A Contemporary View", Interdisciplinary Journal of Contemporary Research in Business, Vol. 4, No. 5 (September, 2012), 399.
Robert J. Delahunty, "An Epitaph for ISIS? The Idea of a Caliphate and the Westphalian Order", Arizona Journal of International and Comparative Law, Vol. 35, No. 1 (2018), 2.
Saeed Akhtar dkk, "The Quranic Concept of Religious Tolerance and its Manifestation in Islamic History", Journal of Applied Environmental and Biological Sciences, Vol. 6, No. 3 (2016), 136.
Said Aqil Siroj, Dialog Tasawuf Kiai Said; Aqidah, Tasawuf dan Relasi Antarumat Beragama (Surabaya: Khalista, 2014).
Sayed Wiqar Ali Shah, Ethnicity, Islam and Nationalism: Muslim Politics in the North-West Frontier Province (Khyber Pakhtunkhwa) 1937-1947 (Islamabad: National Institute of Historical and Cultural Research Centre Of Excellence Quaid-I-Azam University Islamabad, 2015).
Syaikh Abd. al Qadir al Jailani, al Fath al Rabbani al Faidh al Rahmani (Jeddah: al Haramain, t.th).
Syamsuddin Ramadlan al Nawiy, Hukum Islam Seputar Jihad dan Mati Syahid; Menyikapi Aksi Terorisme dan Perang Fisik (Surabaya: Fadillah Print, 2006).
T.A. Van Dijk, (2001). Critical discourse analysis. In D. S. and H. H. Tannen, D. (Ed.), The handbook of discourse analysis (pp. 352–371). Oxford: Blackwell. https://doi.org/10.1111/b.9780631205968.2003.00019.x
Usamah al Sayyid al Azhari, Asaanid al Mashriyyin (Kairo Dar al Faqih, 2011).
Zakiya Darajat, "Muhammadiyah dan NU: Penjaga Moderatisme Islam di Indonesia", Hayula: Indonesian Journal of Multidisciplinary Islamic Studies, Vol. 1, No. 1 (Januari, 2017), 79.
Zhongmin Liu, "The Relations between Nationalism and Islam in the Middle East", Journal of Middle Eastern and Islamic Studies (in Asia), Vol. 2, No. 1 (2008), 71.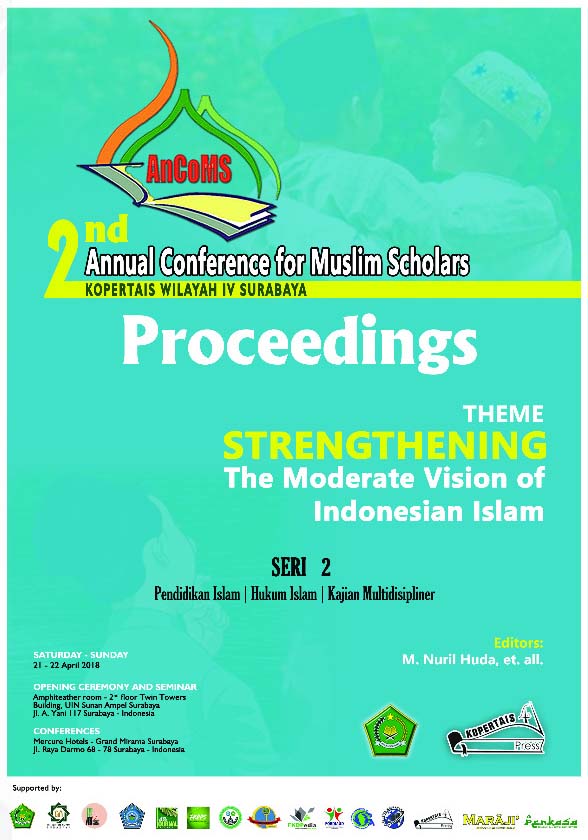 How to Cite
Muhid, A., & Samsuriyanto, S. (2018). Dakwah Moderat Habib Muhammad Luthfi Bin Yahya di Dunia Virtual Analisis Wacana Teks Media Teun A. Van Dijk. Proceedings of Annual Conference for Muslim Scholars, (Series 2), 1079-1092. https://doi.org/10.36835/ancoms.v0iSeries 2.208