Realitas Segregasi Gender di Pesantren
Evi Muafiah

IAIN PONOROGO
Keywords:
Gender segregation, single sex education
Abstract
This research is motivated by a segregate learning model between men and women known as Single Sex Education (SSE). This model is regarded as one of the causes of lasting gender inequality, especially in pesantren. This research reveals; (1) the application of SSE, (2) the underlying reason and (3) its implications for the achievement of female students in pesantren in Ponorogo. This gender perspective qualitative research is the main data source is the words and actions of kiai, nyai, teachers and students selected by purposive sampling and snowballing. Data obtained through observation techniques, interviews, FGD and documentation are then analyzed by SSE theory. The result showed that (1) SSE is applied to the physical environment and student's activities. In detail the segregation took place at a formal educational institution; MA, MTs and MD, organizational structure of foundations, boarding lodging, classroom learning, extra activities, and facilities. (2) The gender segregation is based on several reasons; religious, pragmatic, emergency, emancipatory and cultural. (3) It has positive implications for the existence of female students, because it has successfully increased the potential of female students from the academic, creative and independent aspects.

Downloads
Download data is not yet available.
References
Abi Abdillah Muhammad bin Yazid, 1993, "Sunan ibnu Majah, Juz 1, t.th", Beirut: Dar Al-Fikr
al-Saibani, M.A., 1979, "Falsafah Pendidikan Islam, Terj. Hasan Langgulung", Jakarta: Bulan Bintang.
Azra, A., 1999. "Pendidikan Islam, Tradisi dan Modernisasi Menuju Milenium Baru", Jakarta: Logos Wacana Ilmu.
[Anonim], 2016, "Warta Tahunan PPWS Edisi XXXIV", halaman 46-49
Bruinessen, M.V., 1999, "Kitab Kuning, Pesantren dan Tarekat", Bandung: Mizan.
Echols, J.M., & Shadily, H., 1995. "Kamus Inggris Indonesia", Jakarta: Gramedia.
Kementerian Agama RI, 2010, "Al-Qur'an dan Tafsirnya, Jilid IX", Jakarta: Penerbit Lentera Abadi.
Mawardi, K., 2008. "Madrasah Banat: Potret Pendidikan Anak Perempuan NU Masa Kolonial Belanda", dalam Yin Yang: Jurnal Studi Gender dan Anak, Volume 3, Nomor 2: 239-254.Nizar, S., 2007, "Sejarah Pendidikan Islam, Menelusuri Jejak Sejarah Pendidikan Era Rasulullah Sampai Indonesia", Jakarta: Kencana.
Muhammad, H., 2002, "Fiqh Perempuan, Refleksi Kiai atas Wacana Agama dan Gender", Yogyakarta: LkiS.Roded, R., 1995, "Kembang Peradaban", Bandung: Mizan.
Muthaliin, A., 2001, "Bias Gender Dalam Pendidikan", Surakarta: Muhammadiyah University Press.
Raharjo, D., 1995, "Pesantren dan Pembaharuan", Jakarta: LP3ES.
Unesco, 2011, "Single-Sex Schools for Girls and Gender Equality in Education", dalam http://www.ungei.org/index_2825.html (Diakses 01 Maret 2016)
Sumber Lainnya:
Abdul Adhim, Wawancara, Ponorogo, 21 Juli 2016.
Abdussami', Wawancara, Ponorogo, 04 Juli 2016
Lidia, Wawancara, Ponorogo, 27 Juli 2016
Mudhofir, Wawancara, Ponorogo, 22 Juli 2016.
Muhdi, Wawancara, Ponorogo, 22 Juli 2016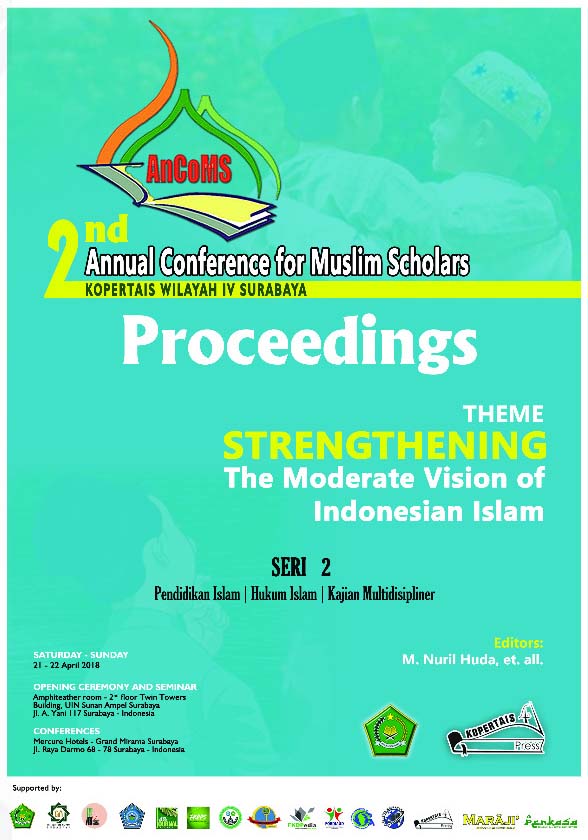 How to Cite
Muafiah, E. (2018). Realitas Segregasi Gender di Pesantren. Proceedings of Annual Conference for Muslim Scholars, (Series 2), 1066-1078. https://doi.org/10.36835/ancoms.v0iSeries 2.206