Cerai Susuk di Kabupaten Banyuwangi
(Studi Kasus Dampak TKW Migran Terhadap Keharmonisan Rumah Tangga)
Lilit Biati

INSTITUT AGAMA ISLAM DARUSSALAM BLOKAGUNG BANYUWANGI
Keywords:
Divorced implant, Banyuwangi
Abstract
For life in the land actually is the last alternative for a person, except around his place there are no job opportunities. Therefore berburuh to another country is a great alternative employment opportunities primarily due to its natural condition. The purpose of this study to describe the process of divorce implant is mostly done by maids against their husbands in Banyuwangi. As well as assess the impact of migrant maids to the harmony of households. Hence, this study was conducted using research methods to uncover a phenomenon qualitatively divorce implant that is currently rampant in Banyuwangi. The data collection technique using participant observation, interview and documentation. data reduction, data presentation and conclusion. From some research findings concluded that there are factors which then triggers that cause divorce implants (the husband's income is low, the husband does not work, cheating, defamation victim, meddling parents, reluctant to return to their homeland and the rupture of communication). While the process of (KHI) Article 132 paragraph and gender studies in fact women (wives) are justified to help the family economy, but the independence of wives would trigger gender awareness high and a cause for divorce implant that is getting phenomenal in Banyuwangi
Downloads
Download data is not yet available.
References
Bogdan, RC. And Biklen, S.K. (1982), Qualitative Research for Education aa Introduction to Theori and Methods. London Allyu and Bacon
Danim, Sudarwan, (2002), Menjadi Peneliti Kualitatif, Bandung Pustaka Setia
Jurnal Perempuan untuk Pencerahan dan Kesetaraan. Jakarta, September 2006
Dias Yunas Eka Purnama, et al., (2013), Penelitian Tentang Aspek-Aspek Penyebab Perceraian Gugat di Desa Karangbendo Kecamatan Rogojampi Kabupaten Banyuwangi. Universitas Negeri Jember
Hagul, Peter. 1985. Penelitian tentang Kependudukan dan Status Wanita di Indonesia, Yogyakarta: PPK – UGM.
Kartini Kartono, (2005), Patologi Sosial, PT. RajaGrafindo Persada, Jakarta
P. Astuti, Tri Marhaeni, 2009, Sosialisasi Anak dan Melemahnya Tradisi dalam Migrasi Internasional, Jurnal Humaniora, Vol. 21
Sudjana, Eggy , (2005). Nasib dan Perjuangan Buruh di Indonesia. Jakarta Renaisan
Syafa'at, Rachmat, dkk.2003; "Kaji Tindakan Model Alternatif Kebijakan Perlindungan Hukum dan Sosial Tenaga Kerja Indonesia (TKI) ke Luar Negeri di Kabupaten Blitar", Laporan Penelitian; dilaksanakan Pusat Pengembangan Hukum dan Gender bekerja sama dengan Balitbang Kabupaten Blitar.
Tjahyani B,Rr., (2004), Perubahan Fungsi Sosial Keluarga di Desa Asal Migran Tenaga Kerja Wanita, Jurnal Mimbar Kehidupan, Universitas Pendidikan Indonesia, Bandung
www.iom.or.id
http://regional.kompas.com/read/2015/01/22/15461501/Banyuwangi.Masuk.Peringkat.Ketiga.Nasional.Angka.Perceraian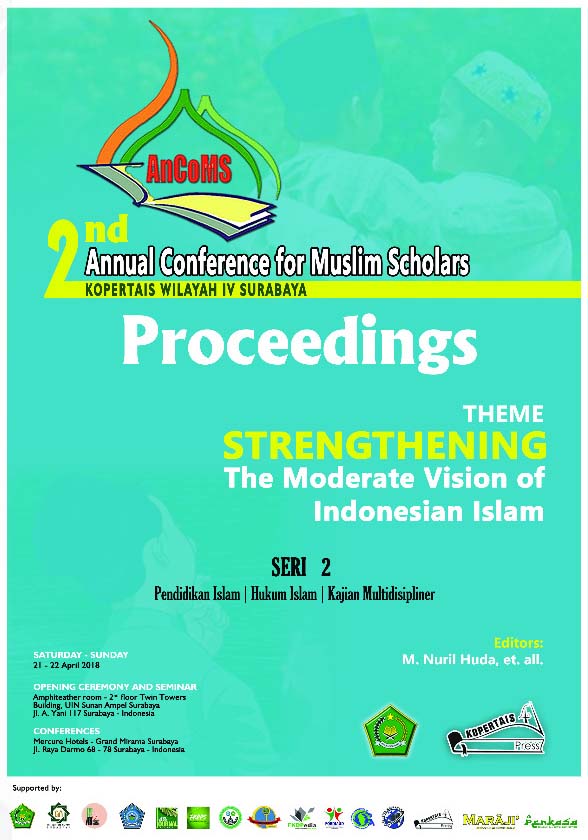 How to Cite
Biati, L. (2018). Cerai Susuk di Kabupaten Banyuwangi. Proceedings of Annual Conference for Muslim Scholars, (Series 2), 981-992. https://doi.org/10.36835/ancoms.v0iSeries 2.198