Otoritas Keagamaan Nyai Pandalungan
Dinamika Otoritas Keagamaan Perempuan dalam Konteks Budaya Lokal
Fazlul Rahman

Institut Agama Islam Syarifuddin Lumajang
Keywords:
Religious Authority, Nyai, Pandalungan, Islam, and Gender.
Abstract
This research discusses the dynamic phenomenon of the religious authority of the kiai's wives, who usually known as "nyai", in the area of Pandalungan, East Java, Indonesia. More specifically, this study highlights the problem of the subordination of nyai's religious authority, or of female ulama's in general, in the pesantren world. The fact that the glory of a pesantren is often only attributed to the leadership skills and greatness of the individual charisma of a kiai, the role of a nyai is, at this point, more often be subordinated or considered as the second actor behind the greatness of the husband's name. This problem is increasingly complex when it is faced with local cultural realities which significantly contribute to down-grading the existence of female ulama. Based on the existing theories in gender discourse, religious authority in Islam, and female psychology, this study concludes that the religious authority of women in Islam in Pandalungan is actually dynamic. Local cultural factors that are inherited from generation to generation and the psychology of a woman, in this case, become the main factor behind the gap of male and female religious authority in pesantren and of ideal-theological view of women and local culture realities in general.
Downloads
Download data is not yet available.
References
Ahmadi, F. M. (2002). Tesis. Ibu Nyai dan Perubahan Sosial Pesantren: perempuan dalam struktur sosial pesantren AlMunawwir Krapyak Yogyakarta. Fakultas Ilmu Sosial dan Ilmu Politik, Universitas Indonesia.
Barlas, A. (2002). "Believing Women" in Islam: Unreading Patriarchal Interpretations of the Qur'an. Austin: University of Texas Press.
Bhasin, K. (2001). Memahami Gender. (M. Z. Hussein, Trans.) Jakarta: Teplok Press.
Dhofier, Z. (1982). Tradisi Pesantren: Studi tentang Pandangan Hidup Kyai. Jakarta: LP3ES.
Faishol, M. (2011). Hermenutika Gender: Perempuan dalam Tafsir Bahr al-Muhith. Malang: UIN-MALIKI Press.
Nagata, J. (1982, Maret). Islamic Revival and the Problem of Legitimacy Among Rural Religious Elites in Malaysia. Man, 17(1), 42-57.
Smith, B. J., & Woodward, M. (2013). Introduction: de-colonizing Islam and Muslim feminism. In B. J. Smith, & M. W. (eds.), Gender and Power in Indonesian Islam: Leaders, Feminists, Sufis and Pesantren Selves . Routledge.
Rahman, F. (1979). Islam. The Chicago University Press.
Srimulyani, E. (2012). Women from Traditional Islamic Educational Institutions in Indonesia: Negotiating Public Spaces. Amsterdam: Amsterdam University Press.
Umar, N. (1999). Argumen Kesetaraan Jender Perspektif Al-Qur'an . Jakarta: Paramadina.
Wadud, A. (1999). Quran and Woman: Rereading the Sacred Text from a Woman's Perspective. New York: xford University Press.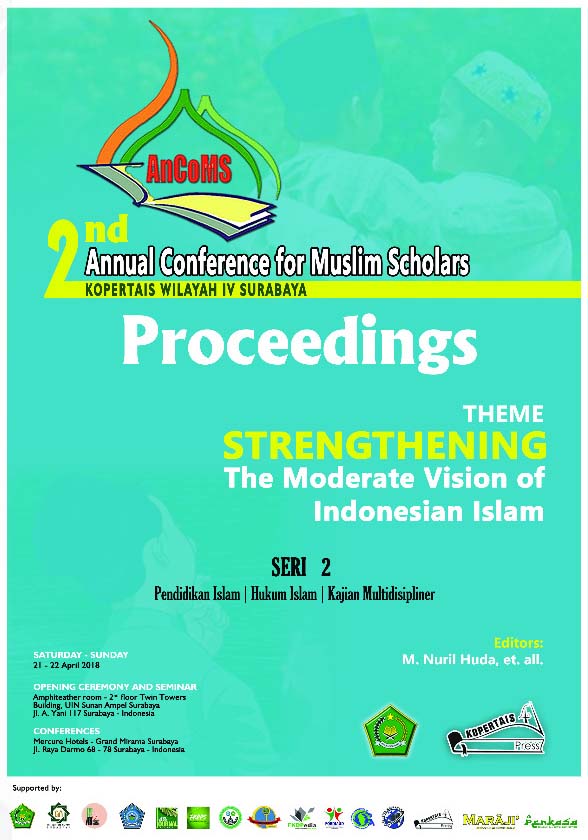 How to Cite
Rahman, F. (2018). Otoritas Keagamaan Nyai Pandalungan. Proceedings of Annual Conference for Muslim Scholars, (Series 2), 959-971. https://doi.org/10.36835/ancoms.v0iSeries 2.196