Politik dan Konservatisme Islam: Indonesia dan Tunisia
Budi Juliandi

IAIN Langsa

Basri Ibrahim

IAIN Langsa

Saifuddin Herlambang

IAIN Pontianak
Keywords:
Conservatism of Islam, Indonesia, Tunisia, Moderate Islam, Politics
Abstract
Conservatism is needed to maintain harmony in the Muslim community. Conservatism, therefore, is not always negative. However, facing a public opinion controlled by conservative forces, is much more difficult than facing a despotic political force. This paper shows that politics has defied Islamic conservatism in Indonesia and Tunisia. Conservatism ridden by politics causes communal violence that not only destroys one's reputation, but also a moderate understanding of Islam. This paper reinforces Hamayotsu's (2014) assertion that political competition among elites over distribution of state resources, land, ethnicity and other identities were the primary cause of the conflict. Instead, this paper addresses the statement of Christoper Duncan (2014) which states that the essential source and character of the communal violence is religion.
Downloads
Download data is not yet available.
References
Bruinessen, Martin Van (ed). 2013. Contemporary Developments in Indonesia Islam: Explaining the Conservative Turn. Singapura: Institute of Souteast Asian Studies.
Bruinessen, Martin Van. 2016. "What happened to the smiling face of Indonesian Islam", dalam RSIS Working Paper. Singapore: Rajaratnam School of International Studies.
Bourguiba, Al-Habib. Khutab al-Mawlidiyyah. Tunis: Nasyriyyat Wizarat al-I'lam, 1979.
Freedom House. 2010. Policing Believe: The Impact of Blasphemy Laws on Human Rights. Oktober.
Hajji, Luthfi. 2013. Bourguiba wa al-Islam: al-Za'amah wa al-Imamah. Tunis: Dar al-Janub.
Hamayotsu, Kikue. 2014. "Conservative Turn? Religion, State and Conflict in Indonesia", dalam Facific Affairs. Volume 87, No. 4. Desember.
Hasan Manna'i, 1991."Muhammad al-Fadhil ibn 'Asyur wa Juhuduhu fi-Bina'i al-Nahdhah al-'Ilmiyyah", dalam Risalah Dukturah al-Dawlah. Tunis: Jami'ah al-Zaytunah. Al-Ma'had al-A'la li al-Syari'ah.
Mastiri, Ahmad al-.2011. Syahadah li al-Tarikh. Tunis: Dar al-Janub.
Milad, Ahmad ibn.1991. Al-Syaikh 'Abd al-'Aziz al-Tha'alibiy wa al-Harakah al-Wathaniyyah 1892-1940. Jilid I. Carthage: Bayt al-Hikmah.
Musa, Amal. 2006. Bourguiba wa al-Mas'alah al-Diniyyah. Tunis: Ceres li al-Nasyr.
Perkins, Kenneth J. 2008. A History of Modern Tunisia. Cambridge: Cambridge University Press.
Rahmuni, Muhammad al-.2013. Al-'Almaniyyun fi-Tunis: Shira' al-Fikr wa al-Siyasah. Beirut: Markaz Nama' li al-Buhuth wa al-Dirasa.
Syarafi, 'Abd al-Majid al-. 2011. Al-Thawrah wa al-Hadathah wa al-Islam. Tunis: Dar al-Janub.
Syarif, Muhammad al-Habib al-. 2015. Dustur al-Jumhuriyyah al-Tunisiyyah. Sousse: Dar al-Mizan li al-Nasyr.
Thawili, Ahmad al-. 2012. Al-Za'im 'Abd al-'Aziz al-Tha'alibiy: Masirah Nidhaluhu al-Fikriy wa al-Siyasiy. Tunis: Al-Jumhuriyyah al-Tunisiyyah.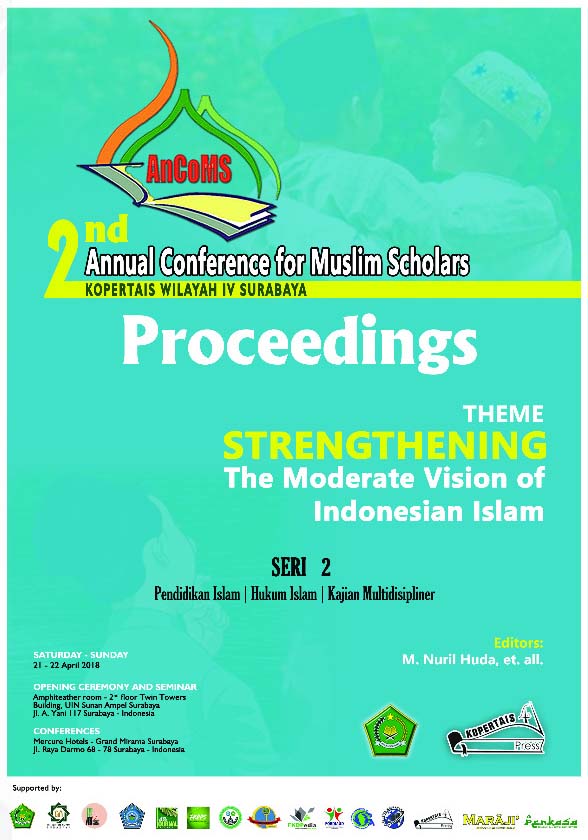 How to Cite
Juliandi, B., Ibrahim, B., & Herlambang, S. (2018). Politik dan Konservatisme Islam: Indonesia dan Tunisia. Proceedings of Annual Conference for Muslim Scholars, (Series 2), 913-921. https://doi.org/10.36835/ancoms.v0iSeries 2.191