Dialektika Islam Politik dan Nasionalisme: Analisis Restrospektif
Zuhri Humaidi

STAIN KEDIRI
Keywords:
Political Islam, Nationalism, Post-Islamism, Learning Process
Abstract
One important issue in state politics is how to put political Islam in the context of a multicultural Indonesian. This problem has become a fundamental problem since the republic was founded, and for some people remain a stumbling block in the nation project building up to now. With a Historical-Sociological approach, this paper rejects a number of arguments counter-Islamism. When Syarikat Islam was founded in 1912, the idea of ​​nationality extends beyond the boundaries of ethnicity and regionalism. SI (Syarekat Islam) is the first political party so that it becomes an exercise not only for trips of Political Islam, but for the development of national politics. Political Islam suffered great pressure on the era Orde Baru, but after the Orde Baru Era, political Islam re-emerged in a new articulation. A phenomenon mentioned by Asef Bayat as Post-Islamism, that is the party (group) Muslims behave realistically and pragmatically willing to follow the democratic process and ignore the purely ideological schemes. Islamic parties, such as PKB, PPP, PKS, the United Nations, and others that carries almost no issues like Islamic state, the Jakarta Charter, Islamic ideology, the application of sharia, etc., the rest were more on the more secular and pragmatic. Climate democratization runs while opening the possibility for erosion of the tendency of radicalism and extra-constitutional movement of political Islam.
Downloads
Download data is not yet available.
References
Abdullah, Taufiq. 1987 Islam dan Masyarakat; Pantulan Sejarah Indonesia, Jakarta: LP3ES.
Aminuddin. 1999. Kekuatan Islam dan Pergulatan Kekuasaan di Indonesia, Yogyakarta: Pustaka Pelajar.
Amir, Zainal Abidin. 2003. Peta Islam Politik Pasca Soeharto, Jakarta: LP3ES.
Appadurai, Arjun. 2003. Modernity at Large; Cultural Dimensions of Globalization, London: University of Minnesota Press.
Bayat, Asef. 2002. Post-Islamisme; Wajah Baru Islam Politik, Yogyakarta: LkiS.
Benda, Harry J. 1980. Bulan Sabit dan Matahari Terbit; Islam Indonesia pada Masa Pendudukan Jepang, Jakarta: Pustaka Jaya.
Bruinessen, Martin Van. 1999. NU; Tradisi, Relasi-Relasi Kuasa, dan Pencarian Wacana Baru, Yogyakarta: LkiS.
Dhakidae, Daniel. 1999. Partai-Partai Politik Indonesia; Kisah Pergerakan dan Organisasi dalam Patahan-Patahan Sejarah, dalam Litbang Kompas, Partai-Partai Politik Indonesia; Ideologi, Strategi dan Program, Jakarta: Kompas.
--------------------, 2004. Partai-Partai Politik, Demokrasi, dan Oligarki, dalam Litbang Kompas, Partai-Partai Politik Indonesia; Ideologi dan Program 2004-2009, Jakarta: Kompas.
Effendi, Bahtiar. 1998. Islam dan Negara; Transformasi Pemikiran dan Praktik Politik Islam di Indonesia, Jakarta: Paramadina.
Fatah, Eep Saefullah. 1999. Membangun Oposisi, Bandung: Rosda.
Feillard, Andre. 1999. NU Vis-à-Vis Negara, Yogyakarta: LkiS.
Hefner, Robert. 2001. Civil Islam; Islam dan Demokratisasi di Indonesia, Jakarta: ISAI.
Keddie, Nikki. Maghreb Review l, no. 1, (1986). "The lslamist Movement in Tunisia".
Mulkhan, Abdul Munir. 1994. Runtuhnya Mitos Politik Santri, Yogyakarta: SIPRESS.
Nasution, Adnan Buyung. 1995. Aspirasi Pemerintahan Konstitusional di Indonesia, (Jakarta: Pustaka Utama Grafiti.
Noer, Deliar. 1988. Gerakan Modern Islam di Indonesia 1900-1942, Jakarta: LP3ES.
O'Donnel, Guillermo dan Philippe C. Schimetter. 1993. Transisi Menuju Demokrasi; Rangkaian Kemungkinan dan Ketidakpastian, Jakarta: LP3ES.
Ricklefs, M.C. 2008. Sejarah Indonesia Modern, Jakarta: Serambi.
Von der Mehden, Fred R. 1968. Religion and Nasionalism in Southheast Asia; Burma, Indonesia, the Philippines, Madison: The University of Wisconsin Press.
Wahyudi, Yudian. 2007. Maqashid Syari'ah dalam Pergumulan Politik, (Yogyakarta: Nawesea Press.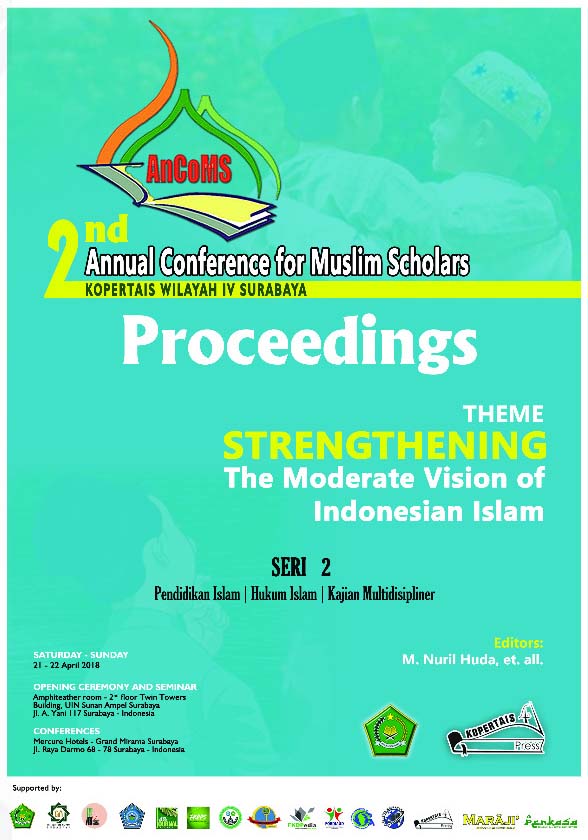 How to Cite
Humaidi, Z. (2018). Dialektika Islam Politik dan Nasionalisme: Analisis Restrospektif. Proceedings of Annual Conference for Muslim Scholars, (Series 2), 889-903. https://doi.org/10.36835/ancoms.v0iSeries 2.189