Penerapan Hukum Cambuk dalam Perspektif Pendidikan Islam
(Studi Kasus di PP. Al Urwatul Wutsqo Jombang)
Qurrotul Ainiyah

STIT Al Urwatul Wutsqo Jombang
Keywords:
Caning Law, Islamic Education
Abstract
Caning Law in Islam is given to adulterers, accusers of adultery and drunks orkhamr drinkers (intoxicating drinks) with the aim is to provide a deterrent effect, regret that will not be repeated again. As Indonesia is not an Islamic state, this law considered as not a positive law and can not be generallyapplied. However, with certain considerations and purposes, this law is applied at Pondok Pesantren al-Urwatul Wutsqo Jombang. This is a qualitative study using interviews, documentation and observation methods to discuss the other side of the caning law application at Pondok Pesantren Al- Urwatul Wutsqo Jombang with the concept of Islamic education as analytical methods. This study resulted that santri who had been punished by whips were Zina and Khamrdrunkers. They asked to be punished for their own consciousness and request as a process of repentance. The practice of wirid, taubat prayer and fasting are done before the punishment. Awareness of this repentance also as a result of educational processwhich applied in the pesantren.
Downloads
Download data is not yet available.
References
Abrasyi, Muhammad 'Athiyah Al-Abrasyi, At tarbiyah al islamiyah. Terj. Abdullah Zaky al-Kaaf, Bandung : Pustaka Setia, 2003.
Arifin, Ilmu Pendidikan Islam, Jakarta: PT. Bumi Aksara, 2014.
Ali, Zainuddin, Hukum Pidana Islam, Jakarta: Sinar Grafika, 2012.
Kahlani, Muhammad bin Ismail al-, Subul al-Salam, Bandung: Dahlan, t.t.
Nahrawi, Amiruddin, Pembaharuan Pendidikan Pesantren, Yogyakarta: Gama Media, 2008
Partanto, Pius A, Kamus Ilmiah Populer, Surabaya: Arloka, 1994
Rasyid, Sulaiman Rasjid, Fiqih Islam, Bandung: Sinar Baru Algensido, 2012
Shaleh, Abd. Rahman Shaleh dkk, Pedoman pembinaan Pondok Pesantren. Jakarta: Depag RI, 1988.
Syafri, Ulil Amri, Pendidikan Karakter Berbasis Al qur'an, Jakarta: PT. Raja Grapindo Persada, 2012.
Suwendi, Rekonstruksi Sistem Pendidikan Pesantren, dalam Said Aqil Sirodj, pesantren masa depan, wacana pemberdayaan dan transformasi pesantren, Bandung: Pustaka Hidayah, 1999.
Sugiyono, Metode Penelitian Pendidikan, Bandung: Alfabeta: 2009
Sudjana, Nana, Tuntunan Penyusunan Karya Ilmiah (Makalah, Skripsi, Tesis, Desertasi), Bandung: Sinar Baru Algesindo,1997.
Timidzi, Al-, Sunan AT-Thirmidzi, JIlid 3, Beirut: Dar al-Fikr, 1981.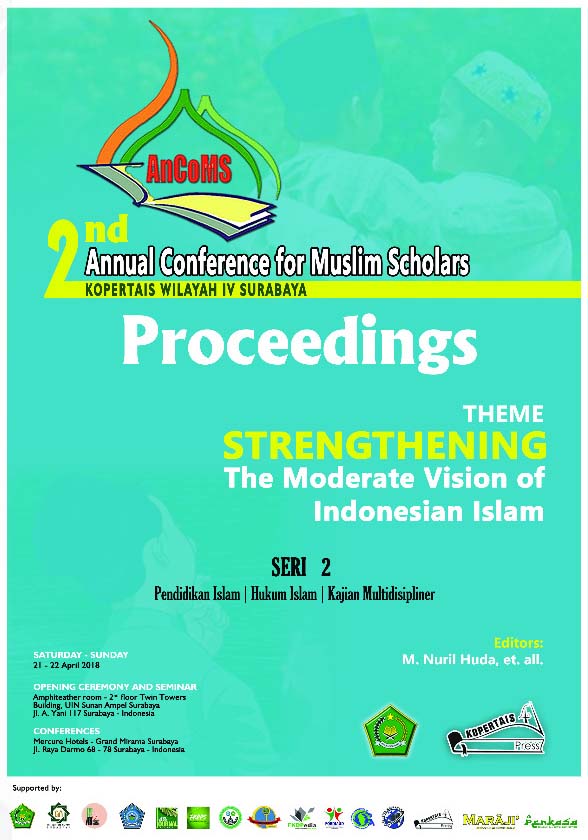 How to Cite
Ainiyah, Q. (2018). Penerapan Hukum Cambuk dalam Perspektif Pendidikan Islam. Proceedings of Annual Conference for Muslim Scholars, (Series 2), 856-865. https://doi.org/10.36835/ancoms.v0iSeries 2.186