Urgensi Al-Sunnah Al-Nabawiyyah Approach dalam Menghadapi Degradasi Moral Tutur Siswa
Keywords:
Degradasi, moral, speech, Islamic indentity, Al-Sunnah Al-Nabawiyyah, Approach
Abstract
The moral degradation of student's speech that appears in their daily life at school becomes a very sad thing. Bad words and curses that accompany the student's conversation become commonplace to say and listen. They are no longer embarrassed or uncomfortable to use those words, even as if there is a new identity embedded them that makes them proud, that is the identity of a today's generation. Then, what about their Islamic identity?. They are unaware that they have leaving their identity gradually. Their Islamic identity with a good moral in speaking as exemplified by the Prophet Muhammad SAW. All the words, deeds and statues contained in Al-Sunnah Al-Nabawiyyah are solutions that can be given to students to resolve student's moral degradation or speech by using Al-Sunnah Al-Nabawiyyah as an approach, it will be able to restore the identity of students on the origin as muslims who always tadabbur before saying and muslims who always think about the welfare of the people not only think about their groups and their own interests.
Downloads
Download data is not yet available.
References
Al-'Ainî, Imam Abu Muhammad Maḥmûd bin Aḥmad bin Mûsa Badruddin.Sharh Sunân Abu Dawûd, Al-Mujallid Al-Tsanî, (Riyadh: Maktabah Al-Rusyd, 1999).
Al-Asqalani, Ibn Hajar.Fatḥul Bârî Syaraḥ Ṣaḥiḥ Bukhârî/ Al-Imâm Al-Ḥafiẓ Ibn Ḥajar Al-Asqâlanî, terj. Amiruddin, Lc, (Jakarta: Pustaka Azzam, 2002).
Al-Mubârakfûrî,Abu Al-'Ula Muhammad bin 'Abdi Al-Rahman bin 'Abdi Al-Raḥîm Tuḥfah Al-Aḥwadhi Al-Juz Al-thanî, (Kairo: Dâr Al-Fikri, 1353 H).
Al-Nawawi, Al-Imâm.Ṣaḥîh Muslim bi Sharḥi All-Nawawi, (Mesir: Al-Ṭabaqah Al-Miṣriyyah Al-Azhar, 1930).
Al-Ṣâbûnî,Muhammad 'Alî. Al-Sunnah Al-Nabawiyyah Al-Muṭahharah: Qism min Al-Waḥyî Al-Ilahî Al-Munzal, (Makkah Al-Mukarramah: Râbiṭah Al-'Âlam Al-Islamî, 1417 H).
Al-Shaukânî, Muhammad bin 'Ali bin Muhammad. Nail AL-Auṭar Sharḥ Muntaqa Al-Akhbâr , Al-juz Al-Awwal ( Mesir: Maktabah Musṭafa Al-Bâbî).
Ḥusain, Abu Lubâbah.Al-Tarbiyah fî Al-Sanah Al-Nabawiyyah, (Riyâḍ: Dâr Al-Liwâ' li Al-Nashri wa Al-Tauzî').
Kamus Besar Bahasa Indonesia versi online/ daring, dalam https://kbbi.web.id/tutur/diakses 20-Maret-2018.
King,Laura A. The Science of Psychology: An Appreciative View, terj. Brian Marwensdy, (Jakarta: Salemba Humanika, 2010).
Al-Liḥaidân,Ṣâlih ibn Muhammad.Adwâu Al-Sunnah 'Ala Ṣâḥibihâ Al-Ṣalâti wa Al-Salâm,(Al-Riyâḍ: Maktabah Al-taubah, 1432 H).
Manẓûr, Ibn.Lisân Al-'Arab, (Al-Qâhirah: Dâr Al-Ma'ârif, 1119).
Sobur,Alex. Psikologi Umum: Dalam Lintasan Sejarah, (Bandung: Pustaka Setia, 2013).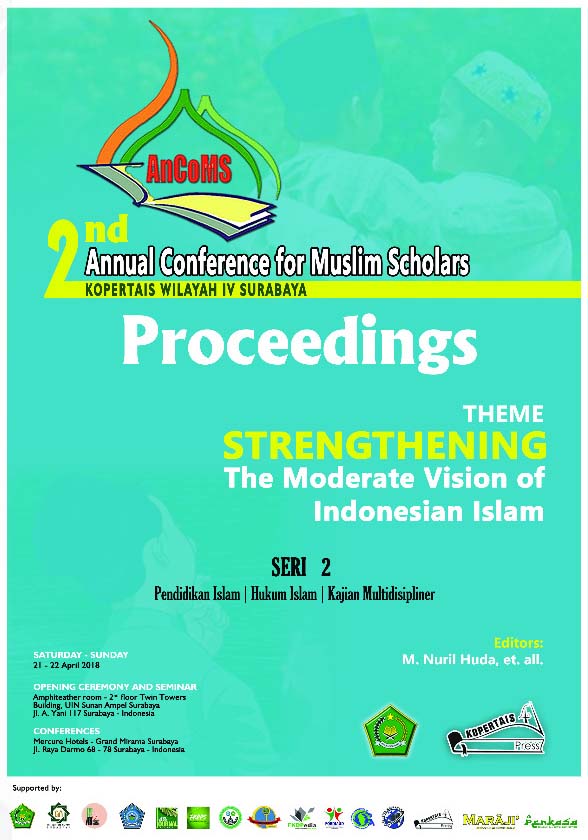 How to Cite
Ahmala, M. (2018). Urgensi Al-Sunnah Al-Nabawiyyah Approach dalam Menghadapi Degradasi Moral Tutur Siswa. Proceedings of Annual Conference for Muslim Scholars, (Series 2), 776-785. https://doi.org/10.36835/ancoms.v0iSeries 2.179