Transkulturasi Social Capital Pesantren
Sebagai Paradigma Pendidikan Islam Moderat
Ahmad Fauzi

Institut Ilmu Keislaman Zainul Hasan Genggong Probolinggo
Keywords:
Transculturation, social capital of pesantren, moderate Islamic education
Abstract
The presence of pesantren, since several centuries ago has significantly contributed to the middle of social life, this view can not be separated from the role of pesantren as the last moral bastion, as well as the oldest educational system in Indonesia. Sociologically, the role of pesantren gives birth to a value system in the form of local wisdom values, and as a belief and core values subculture in building a moderate Islamic education paradigm. Such social value system is the construction of individual social thought and action based on al-Qur'an and al-Hadith and socio-cultural society. Therefore, the pesantren value system becomes the root of social culture and has transculturated to become (social capital) in giving birth to the moderate Islamic education paradigm. Thus to provide a holistic understanding of this study, the author uses the theory (social construction) between the dialectic of externalization, objectivation and internalization. In that theory, habitualization of the above values is part of the externalization process which is believed to be the objectivation in the social reality of society as the value system (internalization) of pesantren. Thus, the internalization of the aforementioned values becomes social capital for pesantren to build moderate Islamic education. Because essentially, the portrait of Islamic education is always in contact with the social reality surrounding it (historical determinism and practical realism), this view can give birth to a moderate Islamic education paradigm that is believed to be cultural enlightenment by promoting the principle of togetherness (ijtima'iyyah) justice (is), tolerance (tasamuh) consent (shura) to social liberation (taharrur)
Downloads
Download data is not yet available.
References
A. Malik, Fadjar., Reorientasi Pendidikan Islam, Jakarta: Fajar Dunia, 1999.
Abd Muin., Pendidikan Pesantren dan Potensi Radikalisme, Jakarta: Prasasti, 2007.
Abdul Munir Mulkhan SU, Nalar Spiritual Pendidikan; Solusi Problem Filosofis Pendidikan Islam, cet. I, Yogyakarta: PT Tiara Wacana, 2002.
Abdurrahman Wahid, Prisma Pemikiran Gus Dur,Yogyakarta: LkiS, 1999.
Abu Khalil Abu al-Ainain, Falsafah al-Tarbiyah al-Islamiyah fi al-Qur'an al- Karim, T.t: Dar al-Fikr al-Arabi, 1980
Achmadi, Ideologi Pendidikan Islam: Paradigma Humanisme Teosentris, Yogyakarta: Pustaka Pelajar, 2010.
Ahmad Tafsir, Ilmu Pendidikan Islam, Bandung: Remaja Rosdakarya, 1992.
Ahmed A.K, Pendidikan Pesantren dan Radikalisme; Tinjauan Perubahan Budaya Pesantren, Jurnal Studi Islam, No 8, Vol 11, 2011.
Ainul, Yaqin, Pendidikan Multikultural, Yogyakarta: Pilar Media, 2005.
Ali Mahfuz, Hidayat al-Musyidin, Kairo: Al-Matba'at al-Usmaniyyah al- Misiyyah, 1958.
Alwi Shihab, Islam Inklusif Menuju Sikap Terbuka dalam Beragama, Bandung: Mizan, 1999.
Andik Wahyun Muqoyyidin, Membangun Kesadaran Inklusif-Multikultural untuk Deradikalisasi Pendidikan Islam, Jurnal Pendidikan Islam UIN Sunan Kalijaga Jogjakarta, Vol. II, No. 1, Juni 2013.
Andrew Giddings, Elements of Sociological Theori of Religion, Sacred Canopy, Oktober, 2000.
Arifin, Ilmu Pendidikan Islam: Tinjauan Teoretis dan Praktis Pendekatan Interdisipliner, (.Jakarta: Bumi Aksara, 2011.
Asykuri, Ibnu Chamrin, Pendidikan Kewarganegaraan Menuju Kehidupan Demokratis dan Berkeadaban,Yogyakarta: Majlis Diktilitbang PP. Muhammadiyah, 2006.
Budhy Munawar, Islam Pluralis:Wacana Kesetaraan Kaum Beriman, Jakarta: Paramadina, 2001.
Charlene Tan, Islamic Education Indoctrination: The Case in Indonesia, New York: Routledge, 2011.
Dirjosanjoto, Pradjarta, Memelihara Ummat, Kiai Pesantren, Kiai Langgar di Jawa, Yogjakarta: LKiS, 1999.
Edi Santoso, Spritualisasi Pendidikan Agama Islam, Jurnal Nuansa STAIN Pemekasan Vol. 11, 2 Juli-Desember 2014.
Endang Turmudi dan Riza Sihbudi, Islam dan Radikalisme di Indonesia, Jakarta: LIPI Press, 2005.
Faisal Ismail, NU Gusdurisme dan Politik Kiai,Yogjakarta: Tiara Wacana, 1999.
Gay Hendricks dan Kate Ludeman, The Corporate Mystic: A Guidebook for Visionarities with Their Feet on the Ground, New York: Bantam Books. 1996.
Hamam Nasrudin, Humanisme Religius Sebagai Paradigma Pendidikan Islam, Tinjauan Filosofis atas Pemikiran Abdurrahman Mas'ud,Semarang: IAIN Walisongo 2008.
Irwan Masduqi, Berislam Secara Toleran: Teologi Kerukunan Umat Beragama, Bandung: Mizan, 2012.
Ishom Hasdzik, Visi dan Aksi Sumber Daya Manusia Pesantren dalam Meningkatkan Perannya Pada Indonesia Modern, Jombang: 1995.
Joko Sayono Sayono, Perkembangan Pesantren di Jawa Timur, dalam Jurnal Bahasa dan Seni, Vol. II, No. 1, Februari 2005.
Ki Hajar Dewantara, Bagian Pertama Pendidikan,Yogyakarta: Majlis Luhur Persatuan Taman Siswa, 1962.
M astuki HS & M Ishom el-Saha, Intelektualisme Pesantren: Potret Tokoh dan Cakrawala Pemikiran di Era Perkembangan Pesantren , Jakarta: Diva Pustaka, 2003.
Muhaimin, Paradigma Pendidikan Islam, Upaya Mengefektidkan Pendidikan Agama Islam di Sekolah, Bandung: PT Rosdakarya, 2004.
________, Wacana Pengembangan Pendidikan Islam,Yogyakarta: Pustaka Pelajar, 2004.
Muhtarom, Reproduksi Ulama di Era Globalisasi: Resistensi Tradisionalitas Islam, Yogyakarta; Pustaka Belajar, 2005.
Mukhibat, Meneguhkan Kembali Budaya Pesantren Merajut Lokalitas, Nasionalitas, dan Globalitas, Jurnal Karsa Sosial dan Budaya Keislaman, Vol. II, No 23 Desember 2015.
Mundzier Suparta, Islamic Multicultural Education: Sebuah RefeleksiatasPendidikan Agama di Indonesia, Jakarta: Al-Ghazali Center, 2008.
Mundzier Suparta, Islamic Multicultural Education: Sebuah Refeleksi atas Pendidikan Agama di Indonesia, Jakarta: Al-Ghazali Center, 2008.
Nurcholis Madjid, Bilik-Bilik Pesantren: Sebuah Potrer Perjalanan, Jakarta: Paramadina, 1997.
Peter L Berger and Thomas Luckmann, The Social Construction of Reality A Treatise in the Sociology of Knowledge, New York: 1966.
Rahman, Islam dan Liberalisme, Jakarta: Friedrich Naumann Stiftung, 2011), 28.
Somantri, Pendidikan Karakter: Nilai-nilai Bagi Upaya Pembinaan Kepribadian Bangsa, Bandung: Widya Aksara Press, 2006.
Sumartana, et.al., Pluralisme, Konflik dan Pendidikan Agama di Indonesia, Yogyakarta: Dian /Interfidei, 2005.
Taliziduhu Ndraha, Teori Budaya Organisasi,Jakarta: Rineka Cipta, 2005.
Ummah Farida, Radikalisme, Moderatisme dan Liberalisme Pesantren, Edukasia, Jurnal Pendidikan Islam. Vol. 02, No. 1, Februari 2016.
Yusuf, R, Pendidikan dan Investasi Sosial, Bandung: Alfabeta, 2011.
Zakiyuddin Baidhawy, Pendidikan Agama Berwawasan Multikultural, Jakarta: Erlangga, 2005.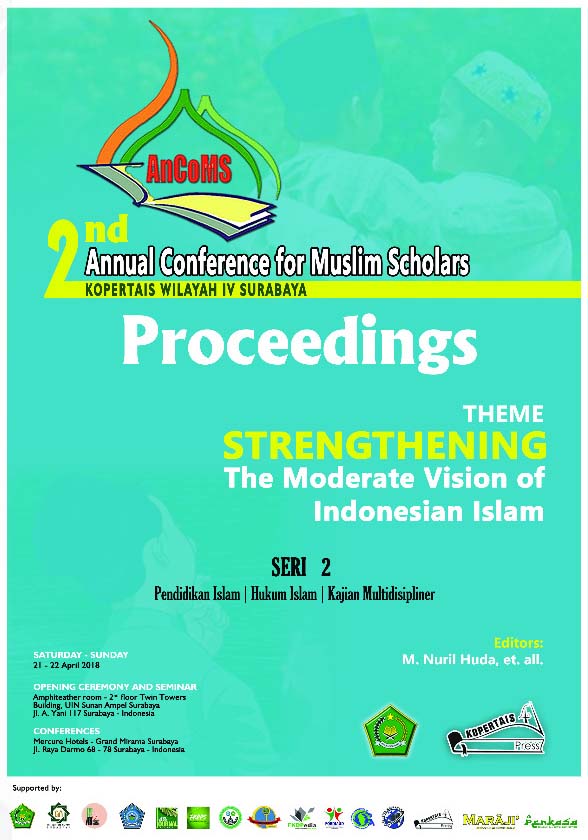 How to Cite
Fauzi, A. (2018). Transkulturasi Social Capital Pesantren. Proceedings of Annual Conference for Muslim Scholars, (Series 2), 751-765. Retrieved from http://proceedings.kopertais4.or.id/index.php/ancoms/article/view/177