Integrasi Nilai-Nilai Moderasi pada Pendidikan Anak Usia Dini Berbasis Living Values Education (LVE)
Khoirul Mudawinun

STAI MADIUN
Keywords:
Integration, Moderation Value, Early Childhood Education, Living Values Education
Abstract
The last few years a distinct religious color in Indonesian society is facing a great shock with the presence of religious radicalism phenomenon that has been occurring in recent years. It becomes a major task of educational institutions, especially Early Education which is the basis of a strong ideological understanding to choose the right formulation as a prefect and curative action. This paper seeks to initiate integrated education with moderate values ​​in Early Child-based Living Values ​​Education (LVE) with Research and development (R & D) Methods. The results revealed: (1) Basic Competence in Early Childhood Education at Permendikbud 146 Year 2014 integrated with Moderation Values. (2) Process of internalization of moderation values through phase; Knowing the good, feelling the good, and doing the good. The form of moderation learning based on Living Values Education (LVE) as follows: (a) Determining the learning objectives, (b) Determining the target values ​​to be built, (c) Using the integrated approach ) Using comprehensive methods, and (e) Determining learning strategies.
Downloads
Download data is not yet available.
References
Asyur, Ibnu, 1984. Muhammad at-Thahir,At-Tahrîr wa al-Tanwir. Tunis: ad-Dar Tunisiyyah.
Arikonto, Suharsimi. 2009. Dasar-Dasar Evaluasi Pendidikan, Jakarta: Bumi Aksara.
Diah Ayuningsih, Psikologi Perkembangan Anak. Yogyakarta: Pustaka Larasati.
Dikmenum, Peningkatan Mutu Pendidikan Berbasis sekolah: Suatu Konsepsi Otonomi Sekolah.
Dirjen Pendis Kemenag RI. Visi, Misi Dan Tujuan Pendidikan Islam 2015-2019. http://pendis.kemenag.go.id/index.php?a=artikel&id2=visimisipendis
Nur, Afrizal dan Mukhlis Lubis. Konsep Wasathiyah Dalam Al-Quran; (Studi Komparatif Antara Tafsir Al-Tahrîr Wa At-Tanwîr Dan Aisar At-Tafâsîr). An-Nur, Vol. 4 No. 2, 2015.
Pramonoadi. Model Pembelajaran Berbasis Nilai Living Value Di Sekolah Full Day Berbasis Islam. Desember 2012
Prasetyo, Zuhdan K. Pendidikan Berbasis Nilai: Membangun Karakter Siswa Untuk Membangun Karakter Bangsa. Makalah Disajikan dalam Seminar Living Values Education diselenggarakan di Lembaga Kajian Islam dan Sosial (LKIS) Yogyakarta pada Kamis, 11 Oktober 2012.
Ritaudin, M. Sidi. Promosi Islam Moderat Menurut Ketum (MUI) Lampung Dan Rektor Universitas Islam Negeri (UIN) Raden Intan Lampung, Jurnal TAPIs Vo. 13 No.02 Juli-Desember 2017. Hal. 56
UU No. 20 Tahun 2003 Tentang Sistem Pendidikan Nasional
Zuchdi, Darmiyati. 2012. Panduan Implementasi Pendidikan Karakter: Terintegrasi dalam Pembelajaran dan Pengembangan Kultur Sekolah. UNY Press.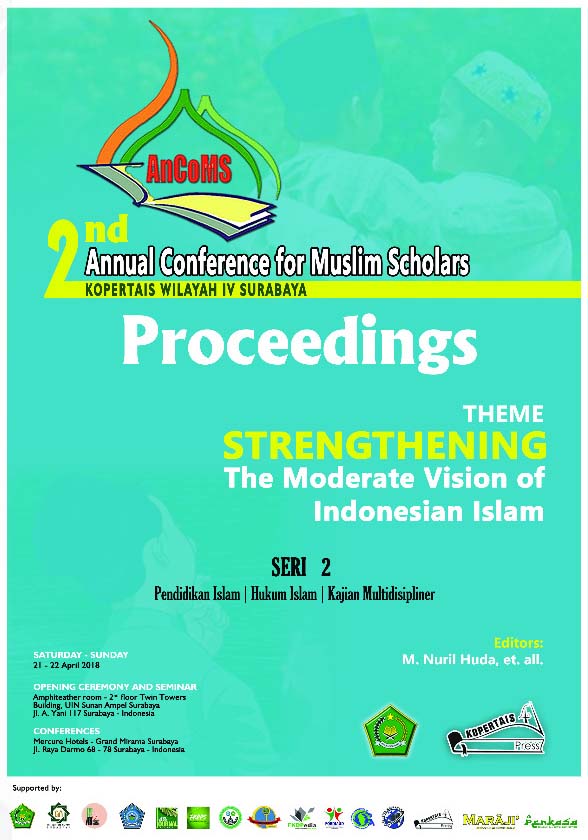 How to Cite
Mudawinun, K. (2018). Integrasi Nilai-Nilai Moderasi pada Pendidikan Anak Usia Dini Berbasis Living Values Education (LVE). Proceedings of Annual Conference for Muslim Scholars, (Series 2), 721-730. https://doi.org/10.36835/ancoms.v0iSeries 2.174