Resolusi Konflik Ideologis dan Upaya Mendorong Konversi Keberagamaan Islam Fundamental Melalui Kepemimpinan dan Manajemen Pendidikan
Syaikhu Rozi

Universitas Islam Majapahit Mojokerto
Keywords:
Fundamentalist, Conflict, Conversion, Group Management
Abstract
Differences of interpretation of the Qur'an and As-Sunnah and differences in attitude in the face of modernization with all the causes and impacts make Muslims have different religious styles, one of which is fundamentalist. The fundamentalist commitment of Islamists in maintaining identity and developing fundamentalist ideology in moderate Islamic educational institutions can create ideological conflict in educational institutions. Therefore, it is necessary to solve it by encouraging the conversion of Islamic religious fundamentals by applying a leadership model that gives high attention to the completion of tasks and people (subordinates) and applying the approach of group/democratic management.
Downloads
Download data is not yet available.
References
Ansary, Tamim, 2010. Destiny Disrupted; A History of the Word Through Islamic Eyes. Terjemah Yuliani Liputo. Dari Puncak Bagdad; Sejarah Dunia Versi Islam. Jakarta: Zaman.
Nurhakim, Moh. 2001. Neo Modernisme dalam Islam. Malang: UMM Press.
Armada, Riyanto (ed), 2000. Agama Kekerasan; Membongkar Ekslusifisme. Malang: DIOMA-STFT Widyasasana.
Kamad, Dadang, 2002. Sosiologi Agama. Bandung : Remaja Rosdakarya
Wahyudi, 2009. Manajemen Konflik dalam Organisasi; Pedoman Praktis Bagi Pemimpin Visioner (edisi II). Bandung : Alfabeta
Qomar, Mujammil, 2007. Manajemen Pendidikan Islam; Strategi Baru Pengelolaan Lembaga Pendidikan Islam. Jakarta: Erlangga
Poloma, Margaret M. 1994. Sosiologi Kontemporer. Yogyakarta : Raja Grafindo Persada.
Subakti, 1997. Bahan Kuliah Teori Sosial Makro. Surabaya : Program Pasca Sarjana Universita Airlangga.
Sururin, 2004. Ilmu Jiwa Agama. Jakarta : Rajawali Pres
Fatah, Nanang. 2006. Landasan Manajemen Pendidikan Islam. Bandung: Remaja Rosdakarya Ofset
Danim, Sudarwan. 2006. Visi Baru Manajemen Sekolah; Dari Unit Birokrasi Hingga Kelembaga Akademik. Jakarta: Bumi Aksara
Darajat, Zakiyah. 1996. Ilmu Jiwa Agama. Jakarta: Bulan Bintang
Susilo, Rachmad K. Dwi. 2009. 20 Tokoh Sosiologi Modern, Biografi Peletak Sosiologi Modern. Jogjakarta: Ar-Ruz Media.
Farhan, Hamdan dan Syarifudin, 2005. Titik Tengkar Pesantren, Resolusi Konflik Masyarakat Pesantren. Yogyakarta : Pilar Religia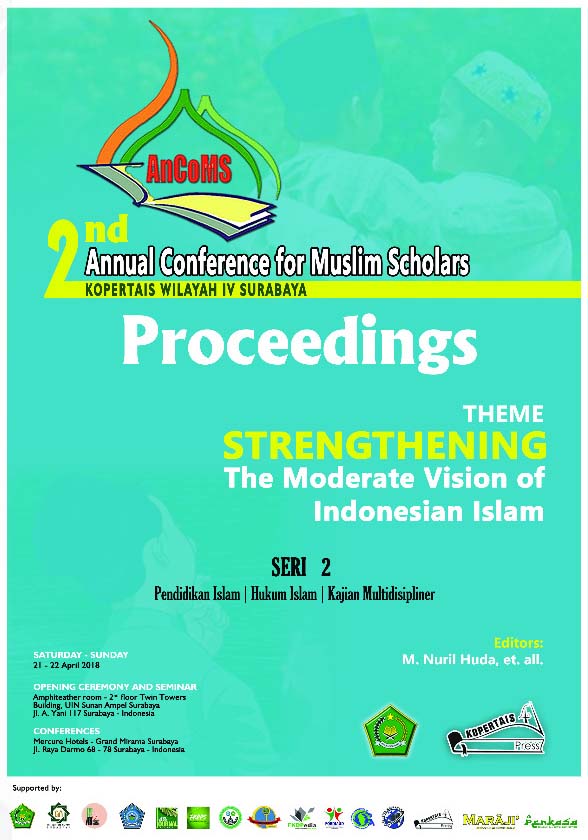 How to Cite
Rozi, S. (2018). Resolusi Konflik Ideologis dan Upaya Mendorong Konversi Keberagamaan Islam Fundamental Melalui Kepemimpinan dan Manajemen Pendidikan. Proceedings of Annual Conference for Muslim Scholars, (Series 2), 691-700. https://doi.org/10.36835/ancoms.v0iSeries 2.171