Penanaman Nilai-Nilai Multikulturalisme Melalui Pengajaran Listening Menggunakan Lagu Islami Berbahasa Inggris
Santiandriyani Santiandriyani

Universitas Islam Nahdlatul Ulama Jepara
Keywords:
multiculturalism values, teaching listening, Islamic English song.
Abstract
Indonesia is one of the countries that uphold the values ​​of multiculturalism. Indonesia is also a country that reflects the concept of multiculturalism with a variety of cultural wealth, customs, tribes, and also different religions. In fact, many conflicts that occur because of the differences. This paper is aimed at analyzing more deeply about the cultivation of multicultural values ​​through the teaching of Listening by using Islamic English songs in the album Salam by a young Muslim singer named Harris J. The writer uses the Dell Hyme's theory in analyzing a song in the album Salam. The results of this study shows that the content of the texts is related to 4 concepts of multiculturalism values, namely (1) tolerance, (2) democracy, (3) equality, and (4) justice. Based on the results of the study, the teaching of Listening through Islamic songs in English gives a significant impact on the cultivation of the multiculturalism values ​​for students.
Downloads
Download data is not yet available.
References
Anam, A. M. (2016). Penanaman nilai-nilai pendidikan multikultural di perguruan tinggi: Studi kasus di Universitas Islam Malang (Doctoral dissertation, Universitas Islam Negeri Maulana Malik Ibrahim).
Budimansyah, D, dkk, (2010), Model Pendidikan Karakter di Perguruan Tinggi, Bandung: Universitas Pendidikan Indonesia.
Burhan, Nurgihantoro,(2010) Penilaian PembelajaranBahasa Berbasis Kompetensi, Yogyakarta: BPFE-Yogyakarta.
Chaer, A. & Agustina, L, (2004), Sosiolinguistik; Perkenalan Awal. Jakarta: PT Rineka Cipta.
Departeman Agama RI, Al-Qur'an dan Tarjamahnya, (2005), Jakarta: Yayasan Penterjemah dan Pentafsir Al-Qur'an.
Halili dan Tigor Bonar Naipospos, (2016), Laporan Kondisi Kebebasan Beragama?berkeyakinan di Indoneisa 2015; Politik Harapan Minim Pembuktian Bandungan Hilir: Pustaka Masyarakat Setara.
Hidayat, A.(2013), "The use of songs in teaching students ' listening ability , Journal of English and Education". dari http://ejournal.upi.edu/index.php/L- E/article/download/322/211/diakses 23-Maret-2018.
Krathwohl, Bloom, and Masia, (1964), Taxonomy of educational objectives: handbookII: affective domain New York: David McKay Co.
Mahfud, Choirul, (2008), Pendidikan Multikultural, Yogyakarta: Pustaka Pelajar.
Nation, I.S.P., & Newton, J, (2009), Teaching ESL/EFL listening and speaking. New York: Routledge.
Suherman, (2005) "Pengembangan PAI Berbasis Multikultural" dalam dalam Zainal Abidin EP dan Neneng Habibah (ed), Pendidikan Agama Islam berbasis Multikulturalisme, Jakarta: Balitbang Agama.
Suyati (2013) "The Effectiveness Of Using Song To Increase Students'Listening Skill Of The Second Year Students Of Smk N I Ambal Kebumen In The Academic Year 2012/2013". Dalam http://ejournal.umpwr.ac.id/index.php/scripta/art icle/view/54/.diakses 25 –Maret- 2018.
Titaley A John, (2005) Beberapa Model Keragaman Agama di Asia: Keunikan Kehidupan Beragama di Indonesia, dalam Alief Theria Wasyim (ed), Harmoni Kehidupan Beragama:Problem, Praktik dan Pendidikan,Yogyakarta: Oasis Publisher.
Yamin, Moh dan Aulia Vivi,(2011), Meretas Pendidikan Toleransi; Pluralisme dan Multikulturalisme sebuah Keniscayaan Peradabaan ,Malang : Madani Media. Richards, Jack C., & Renandya, Willy A, (2002), Methodology in Language Teaching: An Anthology of Current Practice Cambridge: Cambridge University Press.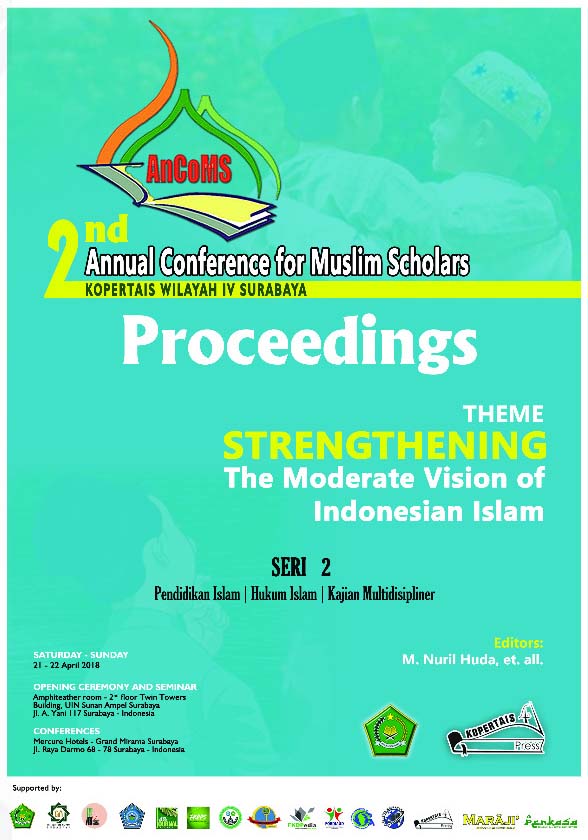 How to Cite
Santiandriyani, S. (2018). Penanaman Nilai-Nilai Multikulturalisme Melalui Pengajaran Listening Menggunakan Lagu Islami Berbahasa Inggris. Proceedings of Annual Conference for Muslim Scholars, (Series 2), 608-619. https://doi.org/10.36835/ancoms.v0iSeries 2.163