Pesantren, Islam Moderat, dan Etika Politik dalam Perspektif Pendidikan Islam
Ismail Ismail

STAI Nazhatut Thullab Sampang
Abstract
The existency of pesantren with all its variations is still needed in order to continue the struggle of Indonesian Muslim scholars who have pioneered the pesantren. Pesantren struggle not only in da'wah tarbawiyyah, but also in other fields in the life of nation and state, to da'wah siya>siyyah (political). Pesantrens are generating moderate Muslims that are urgently needed in the development of the nation and the country in the future, and pesantren equip their generation with strong competence and ethics based on Islam. The relationship between pesantren, moderate Islam, and political ethics is clearly visible from an educational perspective. Pesantren with its various educational and teaching models resulted in output generations of moderate Muslims, who uphold ethical values, which will accelerate the nation-wide development process in various sectors. The principal of political ethics in Islam is at least three things: (1) the political orientation of the amar ma'ruf nahi munkar, (2) the ethics of leadership, and (3) the ethics of government management
Downloads
Download data is not yet available.
References
Asmaran, AS., Pengantar Studi Akhlak. Jakarta: Raja Grafindo, 1994.
Asrahah, Hanun, Sejarah Pendidikan Islam. Jakarta: Logos, 1999.
Azra, Azyumardi, Pendidikan Islam: Tradisi dan Modernisasi di Tengah Tantangan Milenium III. Jakarta: Kencana PrenadaMedia Group, 2014.
A'la, Abd., Pembaruan Pesantren. Yogyakarta: Pustaka Pesantren, 2006.
Baharun, Mohammad, Islam Idealitas Islam Realitas. Jakarta: Gema Insani, 2012.
Departemen Agama RI, Al-Qur'an dan Terjemahnya. Surabaya: al-Hidayah, 1998.
Dhofier, Zamakhsyari, Tradisi Pesantren: Studi Pandangan Hidup Kyai dan Visinya Mengenai Masa Depan Indonesia – Edisi Revisi. Jakarta: LP3ES, 2011.
Fadl, Khaled Abou El, Selamatkan Islam dari Muslim Puritan. Terj. Helmi Mustafa, Edisi ke-1. Jakarta: Serambi, 2007.
Ghazali, Al-, al-Tibr al-Masbu>k fi Nas}i>hat al-Mulu>k. Beirut: Dar al-Kotob al-Ilmiyah, 1988.
__________, al-Iqtis}a>d fi al-I'tiqa>d. Damasyqus: Dar Kotaiba, 2003.
__________, Ihya>' Ulu>m al-Di>n, Jilid I. Beirut: Dar al-Kotob al-Ilmiyah, 2012.
Hasan, Muhammad Tholhah, Ahlussunah Wal Jama'ah. Jakarta: Lantabora Press, 2005.
Hilmy, Masdar, Jalan Demokrasi Kita: Etika Politik, Rasionalitas, dan Kesalehan Publik. Malang Jatim: Intrans Publishing, 2016.
Islamica Vol. 6, No. 1, September 2011.
Karim, M. Rusli, Dinamika Islam Indonesia, Suatu Tinjauan Sosial dan Politik. Yogyakarta: Hanindita, 1985.
Karsa: Jurnal Sosial dan Budaya Keislaman, Vol 24, No. 1, Juni 2016.
Madjid, Nurcholish, Bilik-Bilik Pesantren: Sebuah Potret Perjalanan. Jakarta: Dian Rakyat, t.th.
________________, Islam Universal. Yogyakarta: Pustaka Pelajar, 2007.
Nizar, Samsul, Sejarah Pendidikan Islam: Menelusuri Jejak Sejarah Pendidikan Era Rasulullah Sampai Indonesia. Jakarta: Kencana, 2007.
Qomar, Mujamil, Pesantren: Dari Transformasi Metodologi menuju Demokratisasi Institusi. Jakarta: Erlangga, 2006.
Rachels, James, The Elements of Moral Philosophy, Fourth Edition. New York: MacGraw-Hill Companies Inc., 1998.
Rahardjo, M. Dawam, Intelektual, Inteligensia, dan Perilaku Politik Bangsa: Risalah Cendekiawan Muslim. Bandung: Mizan, 1993.
Sofyan, Ayi, Etika Politik Islam. Bandung: Pustaka Setia, 2012.
Subhan, Arif, Lembaga Pendidikan Islam Indonesia Abad ke-20: Pergumulan antara Modernisasi dan Identitas. Jakarta: Kencana, 2012.
Surbakti, Ramlan, Memahami Ilmu Politik. Jakarta: Gramedia, 1992.
Suseno, Frans Magnis, Etika Politik: Prinsi-prinsip Moral Dasar Kenegaraan Modern. Jakarta: Gramedia Pustaka Utama, 2003.
Teosofi: Jurnal Tasawuf dan Pemikiran Islam Vol. 1, No. 1, Juni 2011.
Wahid, Abdurrahman, Menggerakkan Tradisi. Yogyakarta: Lkis, 2010.
Widodo, Joko, Membangun Birokrasi Berbasis Kinerja. Malang: Bayumedia Publishing, 2011.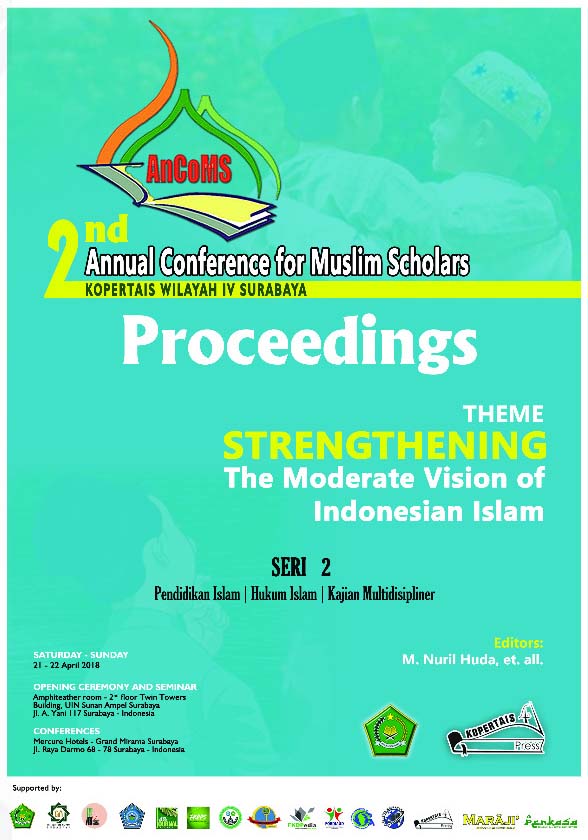 How to Cite
Ismail, I. (2018). Pesantren, Islam Moderat, dan Etika Politik dalam Perspektif Pendidikan Islam. Proceedings of Annual Conference for Muslim Scholars, (Series 2), 585-594. https://doi.org/10.36835/ancoms.v0iSeries 2.161