Krisis Sikap Profesionalisme Guru dalam Meningkatkan dan Memperkuat Karakter Siswa
Mahmuda Mahmuda

STAI Cendekia Insani Situbondo
Keywords:
professional teachers, student character
Abstract
The improvement of professional teachers had become a global focus both in level regional, Nasional, or International. Because teacher has a job and role vital is not only giving some knowledge information and technology, but also shaping attitude and soul who are able to hold out in hypercompetition era that where the era exist balance between cognitive and morality nation become unity as modernization era foundation. With the existing various of education problem who found as like disadvantages and advantages of teachers, the lack of human resources increase till implicit to the least establishment and improvement student character who has become a focus in the purpose this article so that it is necessary to do a research to get  a more detail data in the respond about it because the professionalism attitude is very urgent, consequence it toward character building  if it is not be responded exhaustively. Therefore it is necessary the existence some strategies to achieve target of professional teacher as follow: 1) giving education and training steeply toward teacher, 2) giving reward to master achievement, 3) the existence  special attention toward teacher welfare both in financial or self motivation, 4) the necessary of communication and cooperation between stakeholders. Collectively the aspect is able to be solution in professionalism development along the growing problems and time.
Downloads
Download data is not yet available.
References
Asmani, Jamal Ma'mur, Tips Sukses PLPG, (Yogyakarta: Diva Press, 2011).
Bakar, Yunus Abu, Syarifan Nurjan, Profesi Keguruan (Surabaya:AprintA,2009).
Fitri Oviyanti, "Tantangan Pengembangan Pendidikan Keguruan di Era Global" dalam Jurnal Pendidikan Islam Vol 7 No 2, oktober (Palembang: IAIN Raden Fatah Palembang, Nadwa, 2013).
https://kbbi.web.id/kompetensi diakses pada 31 oktober 2017.
Karwati, Euis, Donni Juni Priansa, Manajemen Kelas (Bandung: Alfabeta, 2014).
Kementerian Pendidikan Nasional. Direktorat Jenderal Peningkatan Mutu Pendidik dan Tenaga Kependidikan, Pedoman Pelaksanaan Penilaian Kinerja Guru (PK Guru) (Jakarta. bermutuprofesi.org, 2010)
Kementrian Pendidikan dan Kebudayaan , Sumber Daya Manusia Pendidikan Dasar dan Menengah (Jakarta: Pusat Data dan Statistik Pendidikan dan Kebudayaan, 2016).
Lynch, Sharon A. & Cynthia G. Simpson. Social Skills: Laying the Foundation for Success: Dimensions of Early Childhood. Spring/Summer 2010, Volume 38, Number 2, p. 3.
Mulyasa, E., Standar Kompetensi dan Sertifikasi Guru (Bandung:PT Remaja Rosdakarya, 2007).
Nurfuadi, Profesionalisme Guru. (Purwokerto: STAIN Press, 2012).
Sudrajat, Ajat, "Mengapa Pendidikan Karakter?" dalam Jurnal Pendidikan Karakter, Vol 1, Nomor I Oktober (Yogyakarta: FIS Universitas Negeri Yogyakarta, 2011).
Sukadi, Guru Malas Guru Rajin, (Bandung: MQS Publishing , 2010).
Tim Penyusun Kamus Pusat Bahasa.ed, Kamus Besar Bahasa Indonesia Cet4 (Jakarta : Balai Pustaka, 2007).
Undang-Undang Republik Indonesia Nomor 14 Tahun 2005 Tentang Guru dan Dosen, (Jakarta: Visimedia, 2008)
Uno. Hamzah B., Profesi Kependidikan Problema, Solusi dan Reformasi Pendidikan di Indonesia, (Jakarta: Bumi Aksara, 2007).
Wibowo, Agus dan Hamrin, Menjadi Guru Berkarakter:Strategi Membangun Kompetensi dan Karakter Guru (Yogyakarta:Pustaka Pelajar, 2012).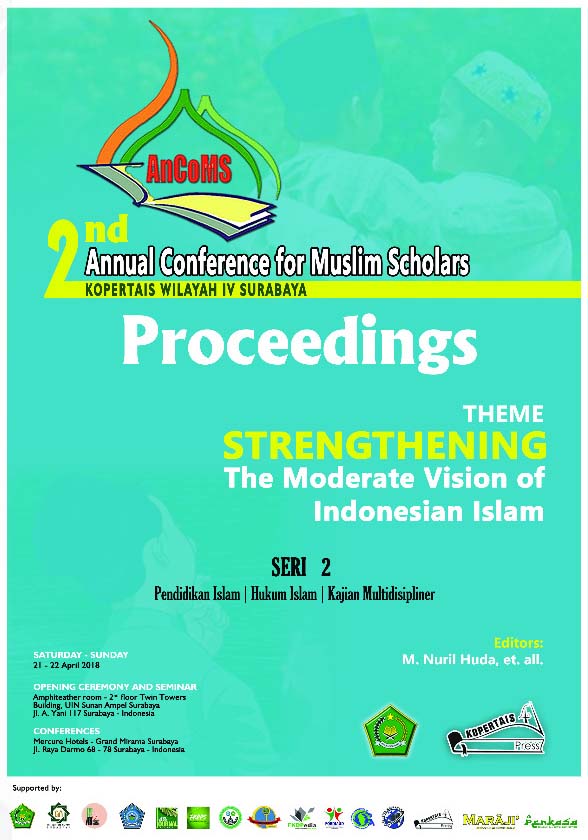 How to Cite
Mahmuda, M. (2018). Krisis Sikap Profesionalisme Guru dalam Meningkatkan dan Memperkuat Karakter Siswa. Proceedings of Annual Conference for Muslim Scholars, (Series 2), 572-584. https://doi.org/10.36835/ancoms.v0iSeries 2.160