Islamic School Culture dan Upaya Menanamkan Nilai-Nilai Religious di SMP Islamic Qon Gresik
Saeful Anam

Institut Keislaman Abdullah Faqih Gresik

Muhammad Sidiq Jaelani

Insitut Keislaman Abdullah Faqih Gresik
Keywords:
Value, culture, Islam and Habituation
Abstract
This article discusses about the Islamic school culture as an effort to instill religious values ​​in school institutions. Where the demand to create a good environmental setting is a necessity in the teaching of Islam, this is aimed not only as an effort to provide knowledge, experience as well as exemplary in religion directly on the learners, so that in life, learners are able to interact well. This research was conducted at SMP Islamic Qon Gresik, a public school institution that has an academic peculiarity with its religious content in it. The results of this study indicate that learners who are familiarized to do good in the process with the given environment setting, then by itself they will get used to doing good without any compulsion from other. The moral development of children in the modern era today requires a role model and direction to learn to be good, without the role model and direction then he will be a blind person to religious values, and finally juvenile delinquency will spread and become the worries of society and become public waste
Downloads
Download data is not yet available.
References
Abdullah, M Yatimin. Studi Akhlak Dalam Perspektif Al-Qur'an. Jakarta: Amzah, 2007.
Abudinata. Metodologi Studi Islam. Jakarta: Rajawali Press, 2014.
Ali, Abu Bakar Ahmad bin Husain bin. Assunan Al-Kubro. Beirut: Darul Fikri, n.d.
Anam, Saeful. "Penanaman Pendidikan Karakter Pada Anak Melalui Tradisi Sedekah Bumi Sebagai Kearifan Lokal Adat Masyarakat Kedungadem." TAPIS 16, no. 1 (2016).
Aziz, Zainuddin bin Abdul. Irsyadul Ibad. Semarang: Alawiyah, n.d.
Berg, Bruce L. Qualitative Research, Methods For The Social Science. USA: Pearson Education Company, 2001.
Character School. Eleven Principles of Effective Character Education. United States of America. Washington: character.org, 2016.
Creswell, Jhon. W. "Research Design (Qualitative, Quantitative, and Mixed Methods Approaches)." New York: Sage, 2009.
Daryanto. Konsep Manajemen Pendidikan Di Sekolah. Yogyakarta: Gava Media, 2013.
Fathurrohman, Pupuh, and Dkk. Pengembangan Pendidikan Karakter. Bandung: Refika Aditama, 2013.
Fauzi, Ahmad. Psikologi Umum. Bandung: Pustaka Setia, 2004.
Herminanto, and Winarno. Ilmu Sosial Dan Budaya Dasar. Jakarta: Bumi Aksara, 2011.
Kemendikbud. "Kamus Besar Bahasa Indonesia." Balai Pustaka, 2012.
Kementerian Agama Republik Indonesia. Al Quran dan Terjemah (2009).
Luqman, Asaduddin. "Pengembangan Karakter Melalui Pembiasaan Dan Keteladanan." Jurnal Pendidikan Islam Cendikia 12, no. 1 (2014).
Mansur. Pendidikan Anak Usia Dini Dalam Islam. Yogyakarta: Pustaka Pelajar, 2005.
Matthew, B., Miles, A. Huberman, M. Qualitative Data Analysis. London: Sage Publication, 1994.
Mulyasa, Deddy. Komunikasi Antarbudaya. Bandung: Remaja Rosda Karya, 2010.
Mulyasa, E. Manajemen Pendidikan Karakter. Jakarta: Bumi Aksara, 2016.
Nasional, Kementrian Pendidikan. Undang-Undang Sistem Pendidikan Nasional No 20 Tahun 2003. Bandung: Fokus Media, 2009.
Nawawi, Muhammad. Sulamu-Taufiq. Surabaya: Al Hidayah, n.d.
Setiadi, Elly M. Ilmu Sosial Budaya Dan Dasar. Jakarta: Kencana Media Group, 2007.
Stake, Robert E. Qualitative Research Studying How Things Work. London: THE GUILFORD PRESS, 2010.
Ulfatin, Nurul. Metode Penelitian Kualitatif Di Bidang Pendidikan; Teori Dan Aplikasinya. Malang: Media Nusa Creative, 2015.
Wardati, and Mohammad Jauhar. Implementasi Bimbingan Dan Konseling Di Sekolah. Jakarta: Pustaka Setia, 2011.
Zainuddin. Seluk Beluk Pendidikan Dari Al-Ghazali. Jakarta: Bumi Aksara, 1991.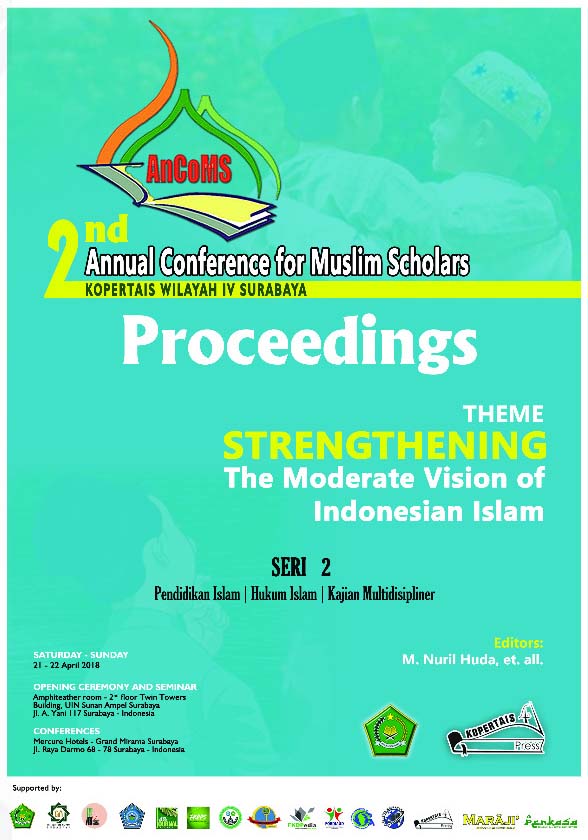 How to Cite
Anam, S., & Jaelani, M. (2018). Islamic School Culture dan Upaya Menanamkan Nilai-Nilai Religious di SMP Islamic Qon Gresik. Proceedings of Annual Conference for Muslim Scholars, (Series 2), 551-560. https://doi.org/10.36835/ancoms.v0iSeries 2.158