Islamic Studies di Indonesia (Pendekatan Fenomenologi)
Yuni Masrifatin

STAI Miftahul Ula Nglawak Kertosono

Muh Barid Nizarudin Wajdi

Sekolah Tinggi Agama Islam Miftahul Ula Nganjuk
Keywords:
Islamic education, phenomenological approach
Abstract
Most Islamic education rarely focus on affective and psychomotor domain. Whereas, education is a learning process in order to student can develop their potential capabilities to get spiritual, Emotional control, self control, personality, intelligence, good character and skill. With phenomenological approach, Islamic education should focus on consciousness process or magical consciousness, naive consciousness and critical consciousness, humanity and good character building
Downloads
Download data is not yet available.
References
Afandi, Khozin. "Hermeneutika Dan Fenomenologi-Dari Teori Ke Praktik." Surabaya: Pascasarjana IAIN Sunan Ampel (2007).
Amri, Sofan, Ahmad Jauhari, and Tatik Elisah. "Implementasi Pendidikan Karakter Dalam Pembelajaran: Strategi Analisis Dan Pengembangan Karakter Siswa Dalam Proses Pembelajaran." Jakarta: Prestasi Pustaka. Science and Technology Course Students in the Unit "Electricity in Our Life". Turkish Science Education 10, no. 3 (2011): 91–94.
Arif, Mahmud. Pendidikan Islam Transformatif. PT LKiS Pelangi Aksara, 2008.
Aulisa, Elsa Silvia Nur. "Islamic Character Building, Membangun Insan Kamil, Cendikia Berakhlak Qur'ani." Jurnal Sosioteknologi 15, no. 3 (2016): 412–415.
Ausop, Asep Zaenal. Islamic Character Building: Membangun Insan Kamil, Cendekia Berakhlak Qurani. Salamadani, 2014.
Cuff, Edward C, Andrew James Dennis, David William Francis, and Wes W Sharrock. Perspectives in Sociology. Routledge, 2015.
Danim, Sudarwan. "Metode Penelitian Untuk Ilmu-Ilmu Perilaku." Jakarta: Bumi Aksara 200 (2004).
Daradjat, Zakiyah. "Kesehatan Psikologi Islam." Jakarta: Hajimas Agung, 1998.
Dewantoro, M Hajar. "Pengembangan Kurikulum Pendidikan Agama Islam." EL TARBAWI (2016): 49–59.
Freire, Paulo. Educação E Mudança. Editora Paz e terra, 2014.
———. Pedagogia Da Libertação Em Paulo Freire. Editora Paz e Terra, 2018.
Fuad, Muhamad. "Pendidikan Sebagai Proses Transformasi Sosial: Telaah Terhadap Filsafat Pendidikan Paulo Freire." FIB-UI, 2003.
H Abuddin Nata, M A. Manajemen Pendidikan: Mengatasi Kelemahan Pendidikan Islam Di Indonesia. Kencana, 2012.
Husserl, Edmund, and Jim Jakobsson. Idéer till En Ren Fenomenologi Och Fenomenologisk Filosofi. Thales, 2004.
Indonesia, Tim Redaksi Kamus Bahasa. "Kamus Bahasa Indonesia." Jakarta: Pusat Bahasa Departemen Pendidikan Nasional (2008).
Karim, Rusli. "Pendidikan Islam Di Indonesia Dalam Transformasi Sosial Budaya." Yogyakarta: Tiara Wacana (1991).
Kridalaksana, Harimurti. Kamus Linguistik (Edisi Keempat). Gramedia Pustaka Utama, 2013.
Kuhn, Thomas S. The Structure of Scientific Revolutions. University of Chicago press, 2012.
Lickona, Thomas. "Education for Character: Mendidik Untuk Membentuk Karakter (Terjemahan Juma Abdu Wamaungo)." Jakarta: Bumi Aksara.(Buku asli diterbitkan tahun 1991) (2013).
Maarif, Ahmad Syafii. Islam Dalam Bingkai Keindonesiaan Dan Kemanusiaan: Sebuah Refleksi Sejarah. PT Mizan Publika, 2009.
Muhaimin. Pengembangan Kurikulum Pendidikan Agama Islam: Di Sekolah, Madrasah, Dan Perguruan Tinggi. RajaGrafindo Persada, 2005.
Ramdhani, Muhammad Ali. "Lingkungan Pendidikan Dalam Implementasi Pendidikan Karakter." Jurnal Pendidikan UNIGA 8, no. 1 (2017): 28–37.
Riyadi, Ahmad Ali. "Studi Islam Dan Radikalisme Pendidikan Dalam Konteks Masyarakat Majemuk." Elpeduaem 3, no. 2 (2016): 13.
Robertson, Roland. Globalization: Social Theory and Global Culture. Vol. 16. Sage, 1992.
Runes, Dagobert D. The Dictionary of Philosophy. Citadel Press, 2001.
Schutz, Alfred. Alfred Schutz on Phenomenology and Social Relations. Vol. 360. University of Chicago Press, 1970.
Setio, Robert. "Kekerasan Dalam Apokaliptisisme" Dalam Alef Theria Wasim, Dkk." Harmoni Kehidupan Beragama: Problem, Praktik dan Pendidikan (n.d.).
Subhan, Arief. Lembaga Pendidikan Islam Di Indonesia. Kencana, 2012.
Suneki, Sri. "Dampak Globalisasi Terhadap Eksistensi Budaya Daerah." CIVIS 2, no. 1/Januari (2012).
Wajdi, M Barid Nizarudin. "HARMONISASI NILAI PENDIDIKAN ISLAM DENGAN KEARIFAN BUDAYA LOKAL." Jurnal Studi Islam: Pancawahana 11, no. 1 (2016): 51–78.
Wilson, Tom D. "Alfred Schutz, Phenomenology and Research Methodology for Information Behaviour Research." The New Review of Information Behaviour Research 3, no. 71 (2002): 1–15.
Zuchdi, Darmiyati, and Rini Rachmatika. Humanisasi Pendidikan: Menemukan Kembali Pendidikan Yang Manusiawi. Bumi Aksara, 2008.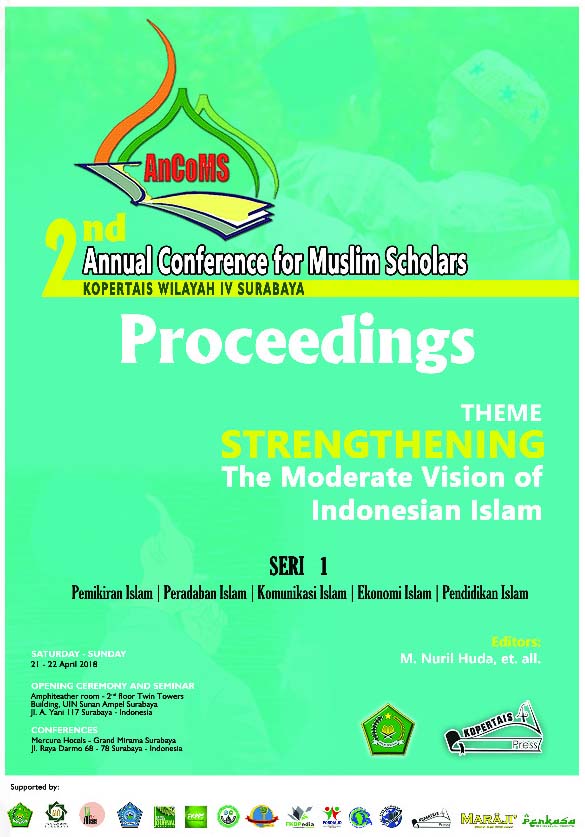 How to Cite
Masrifatin, Y., & Nizarudin Wajdi, M. (2018). Islamic Studies di Indonesia (Pendekatan Fenomenologi). Proceedings of Annual Conference for Muslim Scholars, (Series 1), 531-538. https://doi.org/10.36835/ancoms.v0iSeries 1.156