Konstruksi Moderasi Islam (Wasathiyyah) dalam Kurikulum Pendidikan Islam
Sauqi Futaqi

Universitas Islam Darul Ulum Lamongan
Abstract
KONSTRUKSI MODERASI ISLAM (WASATHIYYAH) DALAM KURIKULUM PENDIDIKAN ISLAM
Downloads
Download data is not yet available.
References
Al-Syaibany, Omar Mohammad Al-Toumy. Falsafah Pendidikan Islam. Jakarta: Bulan Bintang, 1979.
Amin, Abdullah,. "Desain Pengembangan Akademik IAIN menuju UIN Sunan Kalijaga: dari penekatan Dikotomis-Atomistis ke arah integratif-interdisiplinary" dalam Zainal Abidin Bagir, Integrasi Ilmu dan Agama, (Yogyakarta: Pustaka Pelajar, 2008.
Ash-Shalabi, Ali Muhammad Muhammad al-Wasathiyah fi al-Qur'an al-Karim. Kairo: Maktabah at-Tabi'in, 2001.
Arif, Mahmud. Pendidikan Islam Transformatif. Yogyakarta: LKiS, 2008.
Bagir, Haidar Islam Tuhan Islam Manusia: Agama dan Spiritualitas di Zaman Kacau, (Bandung: Mizan, 2017.
Banks, James A. "Approaches to Multicultural Curriculum Reform," dalam James A Bank (ed). Multicultural Education: Issues and Perspectives. London: Allyn and Bacon Press, 2010.
El-Fadl, Khlaed Abou Selamatkan Islam dari Muslim Puritan, terj. Helmi Mustofa (Jakarta: Serambi, 2005
Hanapi, Mohd Shukri "The Wasatiyyah (Moderation) Concept in Islamic Epistemology: A Case Study of its Implementation in Malaysia," dalam International Journal of Humanities and Social Science, Vol. 4, No. 9(1); July 2014.
Hasan, Muhammad Tholchah. Pendidikan Multikultural Sebagai Opsi Penanggulangan Radikalisme (Malang: Lembaga Penerbitan UNISMA, 2016.
Hilmy, Masdar, "Whither Indonesia's Islamic Moderatism? A Reexamination on the Moderate Vision of Muhammadiyah and NU", dalam Journal of Indonesian Islam, Vol. 07, Number 01, June. Surabaya: the Institute for the Study of Religion and Society (LSAS) and the Postgraduate Program (PPs), IAIN Sunan Ampel, 2013.
Kamali, Mohammad Hashim. The Middle Path of Moderation in Islam: the Qur'ānic Principle of Wasaṭhiyyah. New York: Oxford University Press, 2015.
Kuntowijoyo, Islam sebagai Ilmu: Epistemologi, Metodologi dan Etika. Yogyakarta: Teraju, 2004.
Tim Redaksi "Laporan Utama: Pengarusutamaan Islam Moderat di Lembaga Pendidikan Islam," Majalah Pendis Kementerian Agama, Edisi No. 8/tahun V. Jakarta: Dirjen Pendis Kemenag, 2017.
Madjid, Nurcholis. Bilik-bilik Pesantren: Sebuah Potret perjalanan. Jakarta: Paramadina, 1997.
-----------------------. Islam Doktrin dan Peradaban, cet. Ke-6. Jakarta: Paramadina Bekerjasama dengan Dian Rakyat, 2008.
Nata, Abuddin Ilmu Pendidikan Islam. Jakarta: Kencana, 2016.
Qardhawi, Yusuf. al-Kalimat fi al-Wasathiyah al-Islamiyah wa Ma'alimaha. Kairo: Dar al-Shuruq, 2011.
----------------------. Thaqafatuna Bayna Al-Infitah Wa Al-Inghilaq. Kairo: Dar al-Shuruq, 2000.
Suprayogo, Imam Paradigma Pengembangan Keilmuan pada Perguruan Tinggi: Konsep Pendidikan Tinggi yang Dikembangkan UIN Malang. Malang: UIN Malang Press, 2005.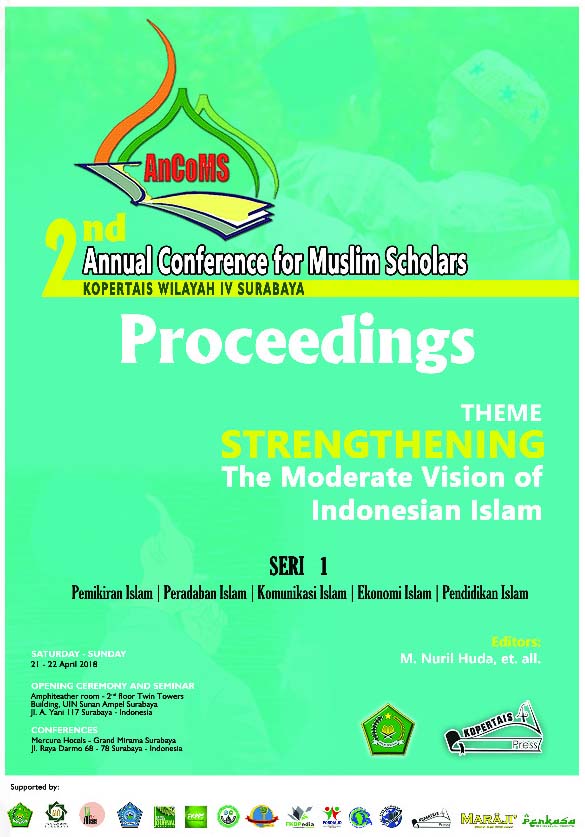 How to Cite
Futaqi, S. (2018). Konstruksi Moderasi Islam (Wasathiyyah) dalam Kurikulum Pendidikan Islam. Proceedings of Annual Conference for Muslim Scholars, (Series 1), 521-530. https://doi.org/10.36835/ancoms.v0iSeries 1.155